Big Mike's Cabin

Two grieving best friends, three unlikely spirit guides, and one weekend in the mystical Ozarks.
Film Independent's Fiscal Sponsorship program opens the door to nonprofit funding for independent filmmakers and media artists. Donate today and help bring Big Mike's Cabin to life.

Logline
A year after closing their flower shop, two women struggle to save their friendship at a cabin in the Ozarks, until they receive help from a mystical maintenance man, a benevolent ghost, and a wise pet rooster.
Synopsis
Marianne and Caroline have been friends for over two decades when they open their flower shop, Flower City. Starting out as a stand at the farmer's market, it's a dream come true to have their very own store. However, when business begins to go south, Marianne uses the inheritance from her Dad's passing to save the store and Caroline secretly books the space during off hours, but all is lost. Heartbroken, angry, and guilt-ridden, the women grow apart.
A year later, Marianne and Caroline reunite for a weekend in the Ozarks, but things between them are strained. They take a mystical and cryptic cave tour, try to reconnect over nachos on a boat, hike through the hills while hungover, and line dance after drinking (possibly) hallucinogenic tea. As their journey continues, the friends will meet eccentric midwesterners and unexpected guides, who help them to confront their feelings. It's a weekend they'll never forget as uncomfortable truths are revealed and the women's friendship is tested like never before.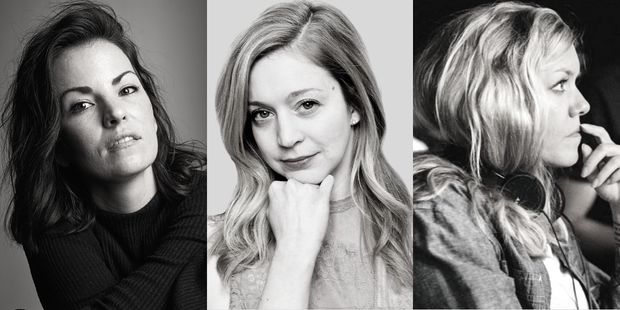 Meet the Filmmakers
Rebecca Holopter & Verity Butler, The Best Brothers Productions – Writers/Producers
● Their short mockumentary, Finding Keanu, is in the film festival circuit.
● Created a 13 episode drama web series, shot in Joshua Tree & Big Bear.
● Raised $65,000 on SeedandSpark.com, to shoot a horror western pilot
presentation.
● Produced and starred in Crimes of the Heart at the Atwater Theatre in Los
Angeles.
● Have 9 completed scripts, ranging from shorts, features, and pilots, along with
16 other concepts they are developing.
● Pride themselves on being indie-do-it yourself/stretch-every-last-dollar
filmmakers. They make shit happen, all while having fun!
Rebecca Holopter – Director
● Co-Director of Silverlake Afternoon, which screened in over 30 film festivals, featured on Price.com and Out.com and distributed on Dekkoo.
● Co-Director of Soiled Doves pilot presentation- budget $100k
● Directed Charlotte's World- one woman play in 2019 Fringe Festival
● Directed/Wrote 30 Second RomCom
● Directing short horror film- currently in pre-production
● 20+ years of acting experience and study and artist/art teacher (so she's great
with composition!)
Rachel Skidmore, Identity Entertainment – Producer
● A Springfield, MO native, Rachel and Rebecca met while working at a locally famous pizza joint called McSalty's (yes, it's real!)
● As a multi-platform producer of award-winning content, Rachel brings her expertise, determination, creativity, vast network, and love of the Ozarks to the Big Mike's Cabin team.
● Former VP of FIlm & TV at Robert Kirkman's Skybound Entertainment, home of The Walking Dead franchise.
● Notable credits include "Dinner Party"which premiered at Sundance in 2018, docuseries "Secret History of Comics" for AMC, and scripted short-form series "Release" for Topic Media.
● With a passion for identifying talent, Rachel collaborated with filmmakers Joe Penna, Angel Manuel Soto, Kris Mercado, Adam Stein and Mike Diva early in their careers.
● Now, Rachel's focus is on bringing women and other marginalized groups and their stories to the forefront of entertainment through fresh, feel-good comedies.
Contact
For inquiries, please contact fiscalsponsorship@filmindependent.org.