Box of Rain

A transformative journey with unlikely heroes.
Film Independent's Fiscal Sponsorship program opens the door to nonprofit funding for independent filmmakers and media artists. Donate today and help bring Box of Rain to life.
Logline
What do you do when you're seventeen, suicidal, and believe that the only thing the world has to offer you is violence and pain? You get in your car and drive across the United States to go see the Grateful Dead of course…at least, that's what you do if you're lucky. And without a doubt, I was very lucky.
Synopsis
A teenage girl desperate to feel safe. An abusive family who, from the outside, seem like they have everything going for them. A group of friends who offer a girl a ride. An assault. A road trip. The Grateful Dead. The Deadhead community. A reason to keep living.
These are the elements of this documentary film, told from the perspective of the girl who left that abusive home and survived that assault.
Me.
I've spent several years revisiting people I met on that life-altering journey. Along the way, I filmed interviews with many of them to document our reunions. When I viewed the footage, I knew I had something special, so I set out to film interviews with a wide-range of other people who found their tribe with the Deadhead community. We explored what made this community different and unique. We shared our stories and our memorabilia. Over the past few years, I have scanned hundreds of photos, footage and memorabilia shared by other Deadheads. I have also researched and located wonderful archival images.
In making this film, I want to situate my story within and alongside the story of this unique and often misunderstood community. I want to show the family that I gained when I found the Deadhead community and tear down the common misconceptions associated with Deadheads. We came from all different walks of life, the only thing we had in common was a love of music and a code of conduct. We respected and cared for one another, for Earth, and for our community.
Without that road trip, I'm not sure where or if I would be right now. It is my hope that this film will inspire other people who don't "fit" to keep looking for their tribe.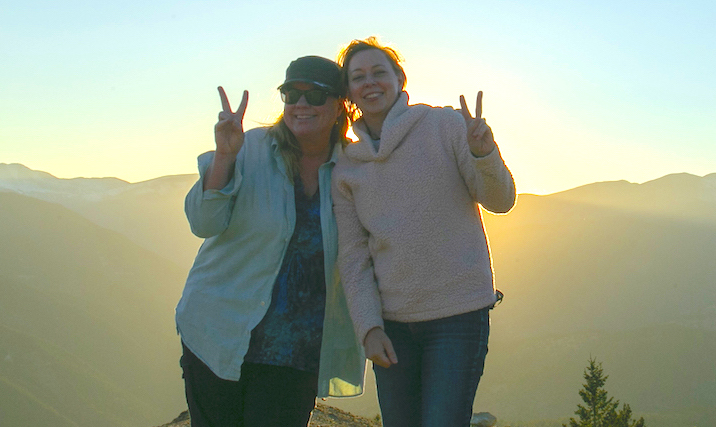 Meet the Filmmakers

Lonnie Frazier — Director
Lonnie Frazier has worked in film production in the San Francisco Bay Area for several years and has been fortunate to collaborate with many exceptional artists. She currently serves as Community Outreach Coordinator for several media organizations and is in post-production on her first documentary film.
Francisca Zapata — Producer
I am a Chilean freelancer living and working in the Bay Area since 2016. I have walked many paths that brought me to where I am, from being a nurse, to being a flight attendant, and finally starting a career in the film industry. I started working as an Assistant for a local Producer. Through that experience I discovered a passion for coordinating and keeping projects on track. This led me to develop an interest for Production at a higher level. I thrive while working in dynamic and sometimes unpredictable environments and am currently working as a Production Coordinator for a Los Angeles based media company.
Elizabeth Kopetka – Editor
I started my career as a graphic designer for a small but busy firm in the DC metro area, prior to the explosion of web-video. The firm ventured into video production at the request of a major client, and I never looked back. After moving to Rochester in 2011, I started my own production company focusing on web-based promotional videos. I enjoy taking on creative projects, working with musicians, artists and filmmakers.
Contact
For inquiries, please contact fiscalsponsorship@filmindependent.org.