Catalina

Set against the backdrop of Catalina Island's enchanting shores, this short film explores the fuzzy and intimate boundary between straight and gay male friends.
Project type: Narrative Short
Project status: Development
Director: Tyler Rabinowitz
Writer/Actor: Sam Digiovanni
Producer: Jeremy Truong
Producer: Luca Piccin
Cinematographer: Oren Soffer
Casting Director: Freya Krasnow

Website: rubbertape.co/

Help independent filmmakers tell their stories.
Make a donation to Catalina today.
Film Independent's Fiscal Sponsorship program opens the door to nonprofit funding for independent filmmakers and media artists. Donate today and help bring Catalina to life.
Logline
Three childhood best friends reunite for a camping trip on the island where they went every summer as children, throwing into stark relief how much their lives have diverged.
Synopsis
Gus, Will, and Brian have been fast friends since middle school. Now in their mid-twenties, Gus is the only one to have left their hometown for New York City, immersing himself in the queer community and finally coming into his own. He returns home for a weekend camping with "the boys" on Catalina Island, and must find new common ground now that he has changed, while discovering how his friends have changed too.
Having always revered the charming and driven Will – whose once bright future is now uncertain – the dynamic of their friendship is inverted. Faced with this, Gus must reconcile with their past, how they've changed, and the new ways in which they may need each other.
Over the course of the weekend, Gus becomes increasingly aware of Will's admiration of him and his affection. This stirs in Gus dormant feelings of confusion and attraction to Will. After a late night conversation over the campfire, during which Will confesses to dropping out of law school and being totally adrift in life, Gus interprets Will's attempt to seek comfort, and goes in for the kiss; only to be gently rejected.
In the cool light of morning, however, it is clear that as fraught as it is to grow up and apart from old friends, the shared love between them is stronger, and the friendship is very much intact.
Meet the Filmmakers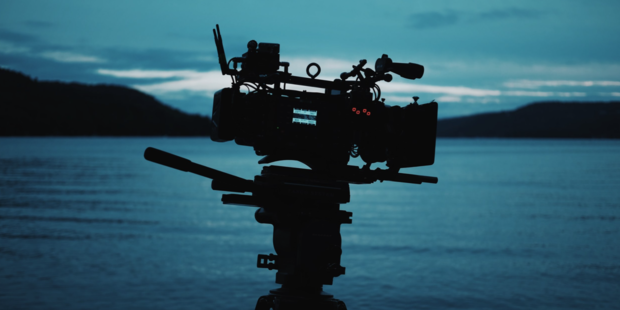 Tyler Rabinowitz – Director
Tyler Rabinowitz is an LA-based writer-director-producer, and a graduate of NYU Tisch School of the Arts. He's currently developing his first feature film, for which his screenplay is a 2020 Academy Nicholl Semifinalist. As a writer-director, Tyler's credits include See You Soon (Short of the Week, NewFest '20 – Special Jury Mention for Acting, Palm Springs International ShortFest '20 – Audience Pick, Outfest '20, Vimeo Staff Pick) and How I Got to the Moon by Subway (Vimeo Staff Pick, Outfest 2019, Palm Springs International ShortFest 2019). As a producer, Tyler's credits include Lavender (Sundance '19, SXSW '19, Vimeo Staff Pick Premiere), which was acquired by Searchlight Pictures, as well as The Mess He Made (SXSW 2017, Short of the Week), and the music video for the platinum hit song Lights Down Low by MAX ft. gnash. Tyler is an alumnus of Tribeca Film Institute's All Access program, the Sundance Creative Producing Summit, Sundance Ignite Fellowship, Sundance Artist Talent Forum, the Inside Out LGBTQ+ Film Finance Forum, and the Jacob Burns Film Center's Creative Culture Fellowship. In 2011, he was honored by President Barack Obama and Secretary of Education Arne Duncan as a U.S. Presidential Scholar in the Arts.
Sam Digiovanni – Writer & Actor
Sam Digiovanni is a writer and actor living in Los Angeles. He attended the William Esper Studio's Two-Year Acting Conservatory, studying the Meisner technique. Upon graduating, he signed with Headline Talent Agency's Film and Television acting board. Sam will be playing the role of Gus in Catalina, and will also be assisting in the production and marketing of the film. He currently works in Copywriting and Marketing Strategy for Wondery, a Podcast Company based in Los Angeles.
Freya Krasnow – Casting Director
Freya is a Casting Director / Casting Associate who currently works at Bowling / Miscia Casting on such shows as Happy!, Quantico and most recently Katy Keene. She also cast the short films Lavender, The Mess He Made and See You Soon. Before moving home to NY, she lived in LA where she worked on films and commercials, such as He's Just NOT That Into You, Ruby Sparks, and Terminator Salvation.
Luca Piccin – Producer
Luca Piccin is a creative producer whose work spans film, art, editorial and fashion. He has worked with director Luca Guadagnino and artist Hank Willis Thomas, and collaborations include Frieze, T Magazine, Helmut Lang, Converse and The Tonight Show.
Oren Soffer – Cinematographer
Oren Soffer grew up between the United States and Israel, nurturing hobbies in painting and photography and avidly watching Coen Brothers and Paul Thomas Anderson movies. These activities laid the groundwork for what would eventually become a passion for cinematography and for crafting bold, cinematic imagery. During his studies at NYU's Tisch School of the Arts, Oren was nominated for the ASC Gordon Willis Student Heritage Award, and was a finalist for the Arri Volker Bahnemann Award for Cinematography. Subsequently, multiple projects he has worked on have won various other awards, including Opera of Cruelty, which won the Alternative category at the Student Academy Awards in 2018, and See You Soon, a short film that Oren lensed, which won the audience award at the Palm Springs International ShortFest before subsequently premiering on Short of the Week and receiving a Vimeo Staff Pick in 2020. Oren has also shot five feature films and hundreds of commercials and music videos for a variety of clients including Nike, BMW, Viacom, HBO, Foot Locker, Grey Goose Vodka, Doritos, Kohler, Wilson Tennis, Marriott Hotels, ACE Hardware, IBM, Crest, Dashlane, Universal Studios, Paramount Pictures, and MTV; and has worked for and apprenticed with acclaimed Directors of Photography Reed Morano, ASC and Greig Fraser, ASC, ACS.
Jeremy Truong – Producer
Jeremy Truong is a San Francisco transplant working as an LGBTQ+ film producer in New York. He is a graduate of NYU's Tisch School of the Arts and is now the co-founder and Head of Production at rubbertape. Attracted to films that feel true to life and focus on impactful, resonating moments, he often collaborates with LGBTQ+ and PoC filmmakers to tell stories that make a difference. Jeremy's producing credits include the feature length film Cicada (BFI '21, Outfest '20) and the short films See You Soon (Palm Springs International ShortFest '20) and Dirty (Sundance '20), which were each featured on Short of the Week and named Vimeo Staff Picks. Most recently, Jeremy produced Grindr's first original series Bridesman, which will premiere later this year.
rubbertape – Production Company
rubbertape is an award winning production company committed to telling stories that move the social needle. Through narrative features, shorts, and branded work, they aim to redefine what representation means both on and off the screen by supporting emerging talent and unique voices in the filmmaking space. Their work has screened all around the world, including at the Sundance Film Festival, Tribeca Film Festival, BFI London, and SXSW.
Contact
For inquiries, please contact fiscalsponsorship@filmindependent.org.