Champion

What does a family look like, when you live 6,000 miles apart?
Project type: Fiction Short
Project status: Development
Writer/Director: Kimberly Han
Producer: Diana Ward
Producer: Angela Wu
Producer: DJ Jiang
Director of Photography: Bongani Mlambo
Editor: Autumn Dea

Website: kimberly-han.com
Facebook: @championtheshortfilm
Twitter: @champion_short

Help independent filmmakers tell their stories.
Make a donation to Champion today.
Film Independent's Fiscal Sponsorship program opens the door to nonprofit funding for independent filmmakers and media artists. Donate today and help bring Champion to life.
Logline
A 9-year-old Korean girl seeks to rebuild a sense of community and mend her broken heart, after moving to California without her father.
Synopsis
It's 1997. It's been a month since 9-year-old Jimin and her older brother Kiwoo moved from Korea and started a new school in California. They live in a dinky motel room with their mother Miran, while their father stays behind in Korea to work and send them money abroad. Jimin has been refusing to speak to her father since they parted.
At school, Jimin refuses to acclimate, hoping that her family will go back to Korea soon. When the IMF financial crisis devastates Korea, however, all hope that her father can join them in America dissipates. Now, Jimin must gather the courage within herself to take the next steps alone.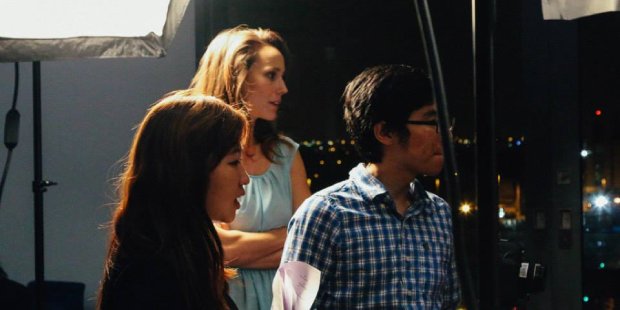 Meet the Filmmakers
Kimberly Han – Writer/Director
Kimberly Han is a Korean American writer-director from Seoul and San Francisco, with a passion for intimate and personal stories. For her day job, Kimberly is a Manager of Scripted TV at NBCUniversal, and she previously worked at Leverage Management and Anonymous Content. She was a Creative Executive fellow with Film Independent Project Involve, where she produced several short films that premiered and won awards at major festivals, including Berlinale and SXSW. Kimberly graduated from the University of Chicago with an Honors BA in International Studies & Cinema Studies. Her hobby is baking cakes for her friends, and her specialty is a fluffy Korean strawberry shortcake, which comes out right 75% of the time.
Diana Ward – Producer
Diana Ward is a producer from Australia, who draws on her Chinese Malaysian heritage, immigrant experience and themes of diaspora and belonging in the subjects of the stories she chooses to tell. Since moving to America, she produced fan favorite feature documentary Roller Dreams, which currently streams on Hulu and Kanopy. Diana has produced numerous award-winning short films, including Liberty (2019 SXSW Best Narrative Short) and stop-motion animation The Coin for Oscar nominee Siqi Song (Best Animation Chilemonos Film Festival). Her films stream on Hulu, HBO, Amazon Prime and Shorts TV. Diana has been featured on the Dear Producer's Producers in Front of the Camera series and is a Film Independent Producing Lab Fellow and recipient of the 2018 Project Involve Amazon Studios Visionary Filmmaker Fellowship.
Angela Wu – Producer
Angela Wu is a Chinese American producer originally from Colorado and currently based in LA. Captivated by the thriller, sci-fi, and romance genres, Angela gravitates towards high-concept projects with subversive themes that use the medium of narrative storytelling to tackle topics of identity and citizenship in our world today. She is passionate about combining her background in public policy with her love of visual storytelling to create social impact and promote social justice. She believes that cinema can be a powerful tool to uplift underrepresented stories, shape our cultural zeitgeist, and inspire long-lasting change. A graduate of Georgetown University, Angela currently works at Dirty Films, Cate Blanchett's production company.
DJ Jiang – Producer
DJ Jiang is a producer and entrepreneur. He has produced over thirty properties in short & feature films, web series, television programs, and commercial contents. He was also behind a number of startups in the field of media and technology. As a producer, he was heavily involved in the pre-production and production process of each project; which included fund raising, budgeting, contract negotiation, story development, casting, crewing and production management. He also facilitated the post-production process and arranged distribution. Noticeably, DJ oversaw two seasons of physical production on Whale Wars for Discovery Channel's Animal Planet. He has also consulted on several foreign projects in Beijing and Shanghai for China's Metan Development Group, CCTV, Le Vision Pictures & Alibaba Pictures.
Bongani Mlambo – Director of Photography
Bongani is a Zimbabwean South African cinematographer based in LA obsessed with telling visually creative and compelling stories and exploring the world. His projects include We're All Gonna Die by Rocketjump duo Freddie Wong and Matt Arnold; All Creatures directed by Collin Schiffli, starring David Dastmalchian and Karen Gillan; Three Days in August by Johnathan Brownlee; Upstream Color by Shane Carruth; and numerous commercials, shorts, music videos, and television. His work has won awards at the NBCUniversal Short Film Festival, SXSW, and numerous other festivals; he is a 2018 Film Independent Project Involve Fellow; and recipient of the 2019 ICG Emerging Cinematographer Award. Beyond his artistic pursuits, Bongani loves to dance, drum, dj, play tennis, and ponder on social issues and the meaning of life.
Autumn Dea – Editor
A Philly native, Autumn is an LA-based editor. Her most recent feature film, Shithouse, directed by Cooper Raiff, won the Grand Jury Award for Best Narrative Feature at SXSW 2020. Her work in television has also received accolades including an Emmy for The Future of America's Past for PBS, and inclusion in the Tribeca Film Festival for the doc feature The Death of My Two Fathers. Previously, Dea was an Assistant Editor on Black is King, Beyonce's 85-minute visual album nominated for Best Music Film at the 2021 Grammy Awards. In 2018, Autumn was one of four editors selected in the competitive Film Independent Project Involve Fellowship. She is represented by the Gersh agency and Whitehouse Post. Dea also volunteers at a neighborhood resource center teaching film to underserved kids.
Contact
For inquiries, please contact fiscalsponsorship@filmindependent.org.