Co-opted

Coming of age in the chaos of a college commune...
Film Independent's Fiscal Sponsorship program opens the door to nonprofit funding for independent filmmakers and media artists. Donate today and help bring Co-opted to life.
Logline
After her father's Alzheimer's diagnosis, a straitlaced college transfer comes of age in the wild chaos of a legendary student commune. Her identity wavers when she volunteers as "virgin sacrifice" for her co-op's black mass party and her "Friend of Christian Camp Past" witnesses.
Synopsis
Co-opted is a coming-of-age dramedy that aims to engage millennials in a conversation about Alzheimer's with irreverence and humor.
The series follows the very realistic, very funny, and often completely absurd and heartbreaking life of college transfer student Iris — a straitlaced, small-town girl— who has been shaken by her father's recent Alzheimer's diagnosis. Iris is questioning: Who is she, really? What if there is no God? If one loses their memories, does anything matter?
And what better place to ponder life's quandaries and push all the boundaries than her new home, Melvin House — the most massive and wild co-op in North America, notorious for its eccentric membership, progressive outlook and outlandish parties.
Iris's desire to find her place in this new world pushes her to test the limits of her faith when she volunteers as a "virgin sacrifice" at her co-op's mock black mass party. The cherry on top is that Iris's best friend from Christian camp, who attends the same university, unintentionally invites herself to witness her childhood pal participate in the satanic ritual.
Through flashbacks between Iris's life in the co-op and the life she left behind at home, each episode will explore an unexplainable connection between Iris and her father that propels her faith journey throughout the series. Within these storylines, audiences will see the daily reality of being a young adult caregiver, and experience how Iris's absence puts a massive strain on her barely functioning family as she pursues her dreams in college.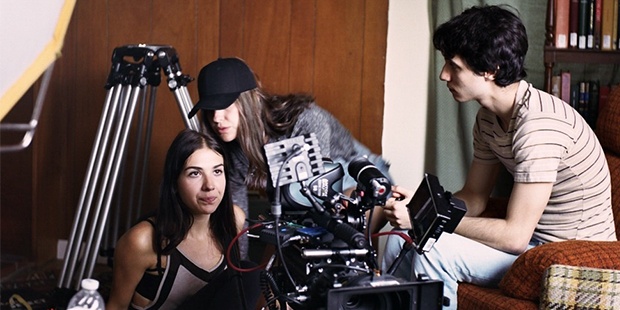 Meet the Filmmakers
Zoë Smurr — Creator/Writer/Lead
Zoë Smurr is a filmmaker, memoirist and performer who loves telling stories about identity, memory and "imagined place." She's a fellow with Film Independent's Incubator Lab developing her web series Co-opted, based on her experiences living in Cloyne Court Hotel & Casino – historical landmark turned housing co-op – when she attended UC Berkeley. Smurr graduated from Loyola Marymount University with her M.F.A. in film and TV production in 2017 and holds a B.A. in English literature from UC Berkeley. While at LMU, Smurr wrote, produced and directed the short documentary-memoir Love, Zoë about her relationship with her father, who has Alzheimer's disease. The film won the Young Filmmaker and Runner-Up Jury Prizes in the 2016 Living With Alzheimer's Film Competition and "Best Film" at Loyola Marymount Film Festival. The half-Armenian writer-director recently premiered What Ana Knew, a short intergenerational drama about an Armenian American family and their secrets, at multiple festivals internationally, including Arpa International Film Festival where it was nominated for Best Short Film and screened in the Egyptian Theatre Hollywood.
Jocelyn Cooper — Director
Jocelyn Cooper is a director and writer. This past year she participated in LMU's Incubator Lab while directing several music videos and short films, with her latest film El Almuerzo premiering at the Austin Film Festival. By day Cooper spearheads the content development department at London Alley Entertainment. In this role, she writes music videos while also developing series, features and short form content. Cooper graduated in 2016 from LMU with a B.A in film and TV production and a minor in business.
Sophie Bruza — Director of Photography
Sophie Bruza received her first camera at the age of 14 and was immediately hooked. Four years later, she moved from Detroit to Los Angeles to pursue her dream of working in the film industry. Currently, she works as a freelance director of photography, camera operator, and assistant camera. Her most recent work includes working as a DP for Blizzard and MLG shooting shoulder content for eSports' Overwatch League. In addition, she DPs independent projects (music videos, shorts), works as a camera operator for companies such as AwesomenessTV and DLP Media, while also working as an AC for commercial productions. She graduated in December of 2016 from LMU's SFTV.
Tess Granfield — Actor
Tess Granfield is an actress from Jacksonville, Florida. Her breakout performance came in 2016 when she debuted as a Muslim American teenager attempting to explore her sexuality and identity while growing up in a conservative, religious household in Hala (selected onto The Black List). She has since starred in Zoë Smurr's What Ana Knew and Heath C. Michaels's The World Over.
Nicole Dubois — Actor
Nicole DuBois is an actress and comedian from Wellesley, Massachusetts. She plays Harley Quinn in the viral video Harley Quinn and the Joker vs. The Real World. She is also featured in various sketches with The Hambone Group. Dubois has a leading role in the feature film Debunkers Inc., which just made its rounds in the Cannes Film Market. She can be seen doing improv around LA and on The Groundlings Garry Austin stage. If she's not acting she's at brunch…that's a guarantee.  
Contact
For inquiries, please contact fiscalsponsorship@filmindependent.org.