Death and Bowling

A Trans For Trans Film...
Film Independent's Fiscal Sponsorship program opens the door to nonprofit funding for independent filmmakers and media artists. Donate today and help bring Death and Bowling to life.

Logline
Two transgender men meet at the funeral of the esteemed captain of the Lavender League, a community bowling club for older lesbians. Grief and desire seep together as the death of a queer matriarch transforms a community left behind.
Synopsis
Every Thursday night, the Lavender League Bowling Club descends upon stained bowling alley carpets, clad in purple and gold uniforms and ready to finger holes and throw balls at a finite horizon. The League is a club for older lesbians led by Susan, a suicidal, wig-wearing ex-real estate agent. The women in the league drink, they laugh, they cry, and they talk about love and death, endings and beginnings.
Susan's unlikely confidante is our nameless, leather-clad, trans protagonist (we call him 'X'). X moved to LA to pursue his dreams of becoming an actor and taking Hollywood by trans storm. He met Susan while picking up extra cash as her pool boy, and is now an active member of the Lavender League.
X is surrounded by transitions. When death strikes the Lavender League, which happens frequently, X serves as the unofficial eulogist. On camera, he is made to kill himself over and over again, following the repetitive direction of supposedly feminist filmmakers.
When Susan dies (on her own terms and with her own flair), her funeral brings a surprise visitor to Los Angeles. Susan's estranged trans son, Alex, appears at her wake. Invisible to all except to each other, X and Alex 'recognize' one another. The sudden knowledge of each's existence pushes the two to revisit their disparate relationships to Susan. Over the course of one transformative weekend, X and Alex explore the dark, sexy, and confusing places where grief meets desire and performance meets self.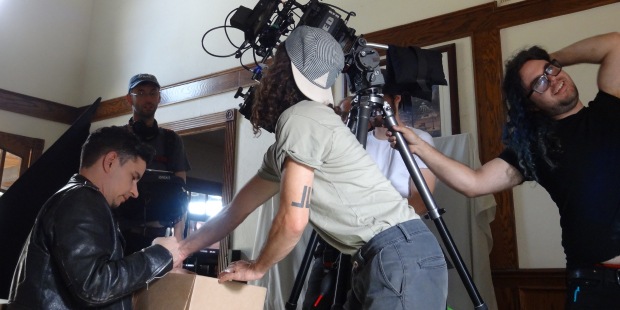 Meet the Filmmakers
Lyle Kash — Writer/Director/Editor
Lyle Kash (he/him/his) graduated from Oberlin College in 2013 and holds a BA in American Studies. After graduation, he worked with Media Mobilizing Project (MMP), a community-based nonprofit that provides media production, training, and advocacy to grassroots organizing campaigns. As a Movement Media Fellow, his work with MMP taught him about the power of filmmaking as a political act, and imbued him with the importance of visual storytelling as a tool for social activism. In the spring of 2015, Kash worked as a Gaffer/2nd Camera on Kairos Dirt and the Errant Vacuum, directed by Madsen Minax. This experience served as technical training, and provided him with boundless creative and aesthetic inspiration. He learned the value and magic of working with and for other trans people to create meaningful, artistically rigorous, boundary-pushing work. Lyle is currently completing his MFA in Film and Video at the California Institute of the Arts.
Ariel Mahler — Producer/First AD
Ariel Mahler (they/them/theirs) is a nonbinary trans filmmaker, producer, AD, and queer/trans rights advocate. Last month, Ariel released Bad Ally (dir. Nyala Moon), an irreverent comedy series they co-created with Daquisha Jones of Philadelphia. Bad Ally tells the story of Mix, a white nonbinary trans person, Harriet, a black cishet woman, and their fierce, fabulous, "femmillennial" friendship. Set in NYC, Bad Ally uses humor to be unapologetically political, leaning in to today's charged climate while simultaneously embracing and critiquing activist culture. To view the series and get more info, visit www.badallyseries.com. Ariel has also worked as an AD on Brothers the Web Series, Tell By Date, a short film, and Pulling Wool, a feature. Ariel is constantly inspired by the many trans filmmakers and artists who are consistently making work and pushing boundaries, especially in such a volatile political culture. But they feel that an intersectional trans media revolution is on the horizon, and they couldn't be more pumped.
Michael Formanski — Director of Photography
Michael Formanski (he/him/his) is a New England-born director, cinematographer, writer, and musician living in Los Angeles. He makes films that range from dealing with deep seated social issues to genre sci-fis. His latest film, The Iron Wall, confronts the impact of masculine identity on the institutionalization of homophobia in working class New England. As a musician, he composes live scores to accompany films from the silent era, such as Murnau's Faust and Fritz Lang's Metropolis. As a cinematographer, Mike develops visual languages that shift and evolve with the characters' stories and emotional arcs.
Sinah Ober — Co-producer
Sinah Ober (she/her/hers) was born in Germany's Black Forest to a carpenter and a tailor. Her films are about personal perspective and individual experience. She is interested in childhood, femininity, sexuality, history/culture, and trauma. After traveling to India, Sinah began her university education at the Albert Ludwig University in Freiburg, where she studied history, linguistics, literature, English and the Holocaust. She continued her studies at the University of Iowa, where she shifted her emphasis to performance art, photography and film theory. Sinah graduated summa cum laude in 2012 with a BA in Cinema. She recently received her MFA in Film Directing from California Institute of the Arts (CalArts). She has completed internships at Human Energy Films, LLC in 2012 and at Nonetheless Productions, Inc. in 2016. In the fall of 2016, Sinah participated in the Telluride Student Symposium and taught a semester long seminar class, Social Media and Storytelling, at CalArts. Currently, Sinah works full time as an independent freelance producer, actor and director in Los Angeles and Berlin. Sinah has worked on over 50 short films. Her films as a director have screened at several venues, including the Student Experimental Film Festival at SUNY, the International Academic Video Festival in São Paulo, and the International Kansk Video Festival in Russia, among others. She is the producer of numerous short films, including The Sacred Disease (2016) and The Creature (2016), Retreat (2017), The Iron Wall (2017), Brisas (2018) and The Boogeywoman (2018). Her films as a producer have recently screened at the Viennale, Portland Film Festival, Baltimore Film Festival, and elsewhere.
Contact
For inquiries, please contact fiscalsponsorship@filmindependent.org.