Delicate Arch

These four campers are terrified of being watched. Let's see what they do...
Film Independent's Fiscal Sponsorship program opens the door to nonprofit funding for independent filmmakers and media artists. Donate today and help bring Delicate Arch to life.
Logline
Four college kids with fracturing relationships take a camping trip to Southern Utah in order to escape an ecological disaster up North.
Alone in the desert, they begin to suspect that their reality might not be as it seems and soon realize they're being watched.
Synopsis
Grant, Wilda, Cody, and Ferg are all college students in Salt Lake City. Grant and Cody are supposed to be best friends, but Grant — a paranoid and spoiled film student — suspects that Cody is secretly hooking up with Wilda, an ex-girlfriend he's struggling to remain amicable with. Their friend is Ferg, Wilda's nonbinary stoner cousin and an amateur student of Theosophy and Ritual Majick.
Fleeing an atmospheric disaster known as "The Inversion" in the Salt Lake Valley, the group decides to go camping in Southern Utah's Arches National Park. As Grant's obsessive voyeurism escalates on-site, the campers begin to sense a malevolent, yet imperceptible force encroaching on them.
Grant, Cody, Wilda, and Ferg attempt (badly) to keep themselves together as this cosmic force begins to manipulate reality around them, placing them in danger and resetting the rules of the game with capricious and fanciful bloodthirst.
The action of Delicate Arch occurs across three film formats and aspect ratios… Alpha, Beta, and Zeta.
The Alpha Reality is our film's primary layer of reality. It will be a filmic look shot in a traditional 2.34:1 aspect ratio on the Sony FX9 camera with vintage Leica lenses from the 1970s for that authentic desert horror feel, light manipulation, and grain.
The Beta Reality is our film's secondary layer of reality. This will be a vintage VHS look shot in the Academy Ratio with a period-appropriate DVX100A mini-DV cam downgraded even further in post-production to resemble TV news footage from the 1990s.
The Zeta Reality is our film's third and final layer of reality. This will be modern smartphone footage shot on a iPhone 13 (or thereabouts) squeezed into a contemporary vertical 9:16 frame and mediated with several overlapping layers of AR filters to create a psychedelic effect.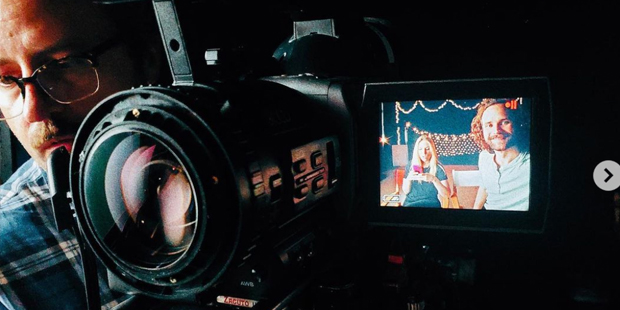 Meet the Filmmakers
Matt Warren – Writer/Director/Producer
Filmmaker Matt Warren is a Utah-raised, LA-based writer, director and producer with 10+ years professional experience creating narrative video content for the web. He has made numerous scripted and unscripted shorts and web series, and has worked as a screenwriter, film critic, entertainment journalist, humorist, blogger, editor, graphic designer and videographer. Delicate Arch is his feature film debut as writer/director.
Larissa Beck – Producer
Larissa Beck is a Salt Lake City based producer with over a decade of experience in the film industry. She has produced a number of feature length films, commercials, and new media content. In 2017, she founded Lars in Jars Productions, a U.S. based company that specializes in production services. She has created content for NBC Universal, Disney, Bose, Coca Cola, Tax ACT, and various other brands. Her films include The Nameless Days (premiered April 1st, 2022), The Seeding (in post-production), Behind You (2017), The Appearance (2018), and Painted (2022). In 2022, Larissa co-founded Sunset City Films, a Cape Town based production company specializing in education and content creation.
Contact
For inquiries, please contact fiscalsponsorship@filmindependent.org.