Dispatchment

A young woman, haunted by a traumatic past, seeks out a controversial therapist who creates hyper-realistic scenarios for patients to live out their violent fantasies against abusers and those who have wronged them. But she's carrying a secret even the doctor may not be ready for.
Project type: Narrative Short
Project status: Development
Writer: Patrick Andrew Jones
Director: Michelle Beck
Producer: Aisha Jordan
Producer: Rafael Jordan
Editor: James Donahue

Help independent filmmakers tell their stories.
Make a donation to Dispatchment today.
Film Independent's Fiscal Sponsorship program opens the door to nonprofit funding for independent filmmakers and media artists. Donate today and help bring Dispatchment to life.
Logline
A young woman, haunted by a traumatic past, seeks out a controversial therapist who creates hyper-realistic scenarios for patients to live out their violent fantasies against abusers and those who have wronged them. But she's carrying a secret even the doctor may not be ready for.
Synopsis
Avery Vaughn, a young woman at the end of her rope, looking for a way to overcome childhood traumas, visits the practice of Dr. Theodore Hubbell, a controversial therapist with a cult-like following. Hubbell promises decisive healing through his technique of Immersive Retribution Trauma Therapy, in which patients or "enactors" carry out their wildest revenge fantasies against those responsible for their trauma through realistic simulations. This offers them a chance to tap into primal urges and a more complete sense of justice than typical therapeutic practice. But what happens when Avery's secrets threaten to upend Dr. Hubbell's carefully constructed world?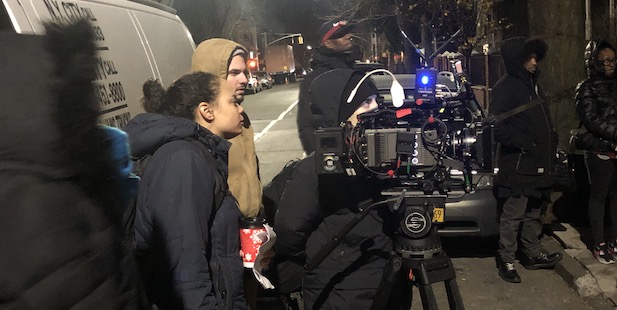 Meet the Filmmakers
Patrick Andrew Jones – Writer
Patrick Andrew Jones is a New York City based actor, writer and producer and is thrilled to share this story with the world. He is interested in telling stories about outsiders, addiction, mental health issues, cults and more through a darkly comedic lens. He recently received his MFA from the American Conservatory Theater and has worked extensively in theater, commercials and film. Select credits: ART/NY, The Lark, Hudson Stage, The Brick, The Kraine, SF Playhouse, Capital Rep, Pacific Rep, Berkeley Rep, ACT, Livermore Shakes, Teatro Delle Due (Italian tour), The Food That Built America, Empires.
He co-wrote, produced and acted in two films The Brandon Tree and Eleven Eleven. He also is a co-founder of Studio 9A, a production company which produced sold out runs of Harold Pinter's The Dumbwaiter and Annie Baker's The Aliens. He is a proud member of Filmshop, a collective of filmmakers based in New York City, Los Angeles, and New Orleans. Read more about him at patrickandrewjones.com.
Michelle Beck – Director
Michelle Beck is a director, writer, producer, actor, and teaching artist based in Brooklyn, NY. Her short film, The Snakes, is currently screening on HBO and HBO Max. The Snakes is set in a parallel future where an isolated Black woman responds to a culture of fear with violent fantasies. The film has screened at the American Black Film Festival as an HBO Short Film Finalist, RSF Martha's Vineyard African American, Pan African, Brooklyn Short Film Festivals, and more. She is currently in post production for an original text 45-minute film version of Romeo & Juliet set in the Bronx. She has also produced various commercials and narrative projects. As an actress, she has had recurring roles on Starz's Power Book II: Ghost and Marvel's Luke Cage. She can also be seen on The Good Fight; Fleischman is in Trouble; Manifest; Homeland; Claws; Madam Secretary; Ovum; Ambition's Debt; Death of a Prince; Spinning Into Butter and more. Michelle is the Director of Film at Epic Theater Ensemble, where students from Title 1 schools generate original theater and film pieces focused on social justice issues. She runs the Brooklyn-based production company: Beck to the Future Films. thisismichellebeck.com
Aisha Jordan – Producer
Aisha Jordan is an Actor, Writer, and Producer in new media. She received her B.A. in The Arts from The New School, Eugene Lang College, and her M.A. in Arts and Politics from NYU Tisch School of the Arts. She is a Podcast Producer at A+E Networks for Lifetime podcast, I Love a Lifetime Movie, The Table is Ours, and Origins of Hip Hop. She is a Staff Writer at the popular culture media site Black Nerd Problems highlighting women of color in media. Jordan has been featured in Title X's PSA on reproductive rights, and HBO's Random Acts of Flyness. Jordan is a current member of the Writer's Guild of America East.
Rafael Jordan – Producer
Rafael Jordan is a Director, Producer, and Actor working extensively on stage and screens. In 2018 Rafael and sister Aisha founded Village Park Productions with their award-winning sketch show #HashtagTheShow. Rafael co-wrote the VPP produced feature film Another Karamazov, and is currently adapting Unapologetically Black: Here for Facilitating Harm Reduction Services for Those in Need Incorporated, originally a short play by Itoro Udofia. Rafael has performed as an actor in large regional theaters around the country, off-broadway New York City, and in living-rooms everywhere on Law & Order SVU, FBI: Most Wanted, Godfather of Harlem, City on a Hill, Blue Bloods, and One Life to Live. Rafael stars in the forthcoming indie feature The Nurse, and short film Christmas Eve currently on Amazon. Rafael holds an MFA in Acting from American Conservatory Theatre. Instagram: @Rafaeliscoolbutrude, @hashtagtheshow, Twitter: @Blackachusetts. More info at RafaelJordan.com.
James Donahue – Editor
James Donahue is a New York City based editor who is passionate about the art of storytelling. After graduating with a degree in film from Virgina Tech, he relocated to New York where he has resided for the past ten years. He currently works at the award-winning editorial house Cut + Run, where he has crafted commercials for prestigious brands such as American Express, Verizon, Gillette, and Mastercard. He also has worked on many music videos, new media, and television pilots.
Contact
For inquiries, please contact fiscalsponsorship@filmindependent.org.