Downstaged

Film Independent's Fiscal Sponsorship program opens the door to nonprofit funding for independent filmmakers and media artists. Donate today and help bring Downstaged to life.

Logline
Two women struggle with self-knowledge as they desperately seek love and validation from men, who in turn can't even love or validate themselves.
Downstaged explores our culture's intrinsic patterns of toxic masculinity, suppressed trauma, self-doubt, and internalized homophobia as some of the catalytic reasonings behind people's motives.
Based on a true story, that, unfortunately, may be relatable to many, it examines our society and its masochistic ways of crafting suffering over suffering, pain over pain.
Synopsis
Hurt people hurt people, and in a society like ours where basic human rights are not accepted, a lot of pain and anger is generated. Downstaged examines this pain and anger, and what it does to people by following our characters, in a story that is life, in a raw, messy, and completely relatable way.
This film shows two paralleling stories of women who live in the same apartment building in New York City as they struggle with societal and self-imposed pressures. The first, Jen, is a young adult who is slowly but surely reminded that she might not be as special as she thought she was, all while dealing with the complexities of her sexual awakening. She wants to be desired by men but also wants to be valued for much more than her outward appearance; a balancing act she hasn't quite mastered.
The second, Val, struggles with self-love. She's tied all of her self-worth into her lover's opinions of her and believes she's only as good as he tells her she is. This opens her up to a lot of emotional manipulation and physical abuse.
Lastly, we follow Patrick. He seems like he's thoughtful and passionate, but he's just really good at knowing how to seem that way. He imagines himself a ladies man, and while it might work for him at times, he is still frustrated by the results. In truth, he has more basic desires. At an early age, he learned how to suppress his true wants, and now he struggles to acknowledge himself, affecting the way he acknowledges others.
All of these stories interlock on one fated night, revealing true character, true feelings, and true voices that had been silenced for a long time.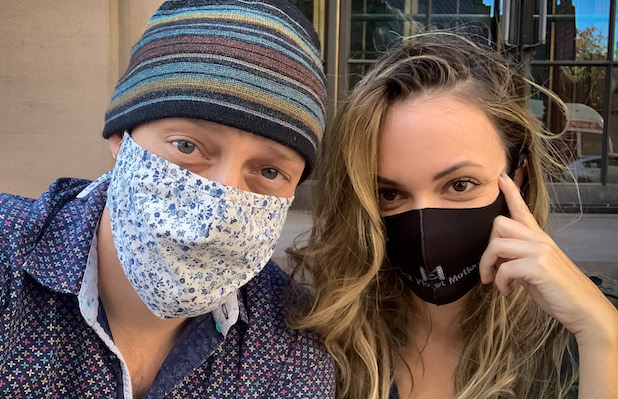 Meet the Filmmakers
Blake Nolan Brown — Director/Writer/Producer
Blake Nolan Brown is a storyteller who understands people and their struggles. As a Director, he specializes in getting nuanced performances, empowering actors to connect with the moment, shooting from the heart, and being patient in the shot. He has been working in the film industry for over a decade as a Cinematographer and Director for narratives, and Creative Director for commercials. This will be his Feature Film Directorial Debut.
Ana-Julia Cavana – Writer/Producer/Actor
Ana-Julia Cavana has always been curious about people and their stories. She became an actor because of her ability to empathize and connect emotionally to experiences. Recognizing her point-of-view and background weren't well represented, she turned to film-making to ensure her voice would be heard. She has since become an accomplished Script Supervisor having worked on various Award-Winning shorts and features with name actors and directors. Now that she understands what happens in front and behind the lenses, she is ready to make her mark in the industry!
Renata Gheller — Producer
London based Brazilian filmmaker passionate about poetic cinema and character-driven narratives with a strong music presence. Renata got her start on the indie scene in New York City and has explored music videos, advertising campaigns, and television. Over the years she has worked in the film and TV industry in many different capacities, but fundamentally as a producer. Her most recent feature, Trouble Will Find Us, is making its way across international film festivals.
Travers Jacobs — Director of Photography
Travers Jacobs is an award-winning cinematographer residing in Venice, CA. He received his Masters of Fine Art in Cinematography from California Institute of the Arts. Other education includes residencies at New York University and University of Southern California. Travers has traveled across the world capturing the different lights, textures, and colors in landscapes and people. He oversees Zone 6 Films, a production company focused on narrative projects.
Contact
For inquiries, please contact fiscalsponsorship@filmindependent.org.