Eddie's Turn

We all need a good second act.
Film Independent's Fiscal Sponsorship program opens the door to nonprofit funding for independent filmmakers and media artists. Donate today and help bring Eddie's Turn to life.
Logline
A burned-out ICU nurse and a retired racehorse with an injury unexpectedly form a bond that leads to a new future for them both.
Synopsis
Who are you when your entire identity implodes?
It comes as a shock to Terry Ballard when she's fired from her job as an ICU nurse, a job she was passionately dedicated to for 15 years. Confused and anxious, Terry accepts her Uncle Sam's invitation to visit his California horse ranch while she ponders her future. She had no idea it would involve a former racehorse named Eddie's Turn.
Eddie had been a champion, but a leg injury ended his racing career, and retirement left him bored and grumpy. Terry feels a connection to the big horse and at peace around him. It was nice not to think of problems for a while. Sam noticed that Eddie's mood had brightened considerably since Terry came to the ranch. But an accident on the riding path leaves Eddie with a huge gash on his injured leg and Terry overcome with guilt and fear.
Terry tries to comfort the shivering Eddie while Sam calls the vet, George. Feeling his physical pain and her own emotional distress welling up inside her, Terry wraps her arms around Eddie and breaks down, releasing a torrent of loss, hurt and regret. Eddie is still, as if listening to her every word. When Terry pauses, Eddie cocks his head toward her and she dissolves into cathartic, joyful tears as they make eye contact.
George explains it was the bonding with Eddie that gave her the strength and security to face her fears. That equine therapy helps with trauma and PTSD, and it gives retired racehorses a fresh purpose. Terry lights up. This connects with her. She's found her new future, still helping people in need, but this time partnering with Eddie. They're both getting a second chance.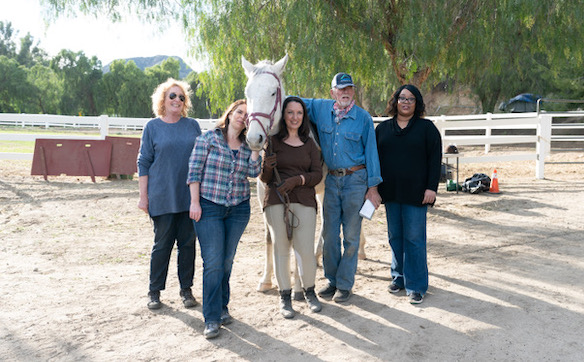 Meet the Filmmakers
Annika Hylmö – Director
Annika Hylmö holds a Ph.D. in communication from Purdue University where she studied storytelling in organizations. Her passion led her to pursue a career in screenwriting and filmmaking. Born in Sweden and raised internationally, Annika credits Pippi Longstocking as an early role model. Annika co-produced Academy Award-nominated Image Makers, and her award-winning short film Dr. Penelope is on the festival circuit.
Annika is a Women in Media CAMERAderie Initiative producer and previously worked for the American Film Institute's Conservatory. In addition to this film, Annika is working on a documentary and is a story consultant. In her free time, whenever she can, she rides a horse called Eddie.
Betsy Pollock – Producer
Betsy was Associate Dean of Production at the American Film Institute for 16 years where she oversaw the production of over 84 short films each year. She also ran the Producing Program at the University of North Carolina's School of the Arts for three years.
Prior to her work in film education, she worked as a Producer, winning an Academy Award for coproducing a short in 2004 called Two Soldiers. She was one of the creators of the Women in Film PSA Program and produced or executive produced a number of PSAs for that organization. Betsy is a member of the Director's Guild of America having worked on many feature films as a 1st Assistant Director.
Contact
For inquiries, please contact fiscalsponsorship@filmindependent.org.