Ekelbrode

A POW aboard a roaming dieselpunk labor camp is cornered on his last day by a radical mycologist who claims to possess the secret to saving their war-ravaged world.
Project type: Narrative Short
Project status: Production
Co-Writer/Co-Director: Benjamin Pierson
Co-Writer/Co-Director: Sascha Montgomery
Executive Producer: Salem Daniel
Line Producer: Brianna Fish
1st Assistant Director: Samuel Bear
Cinematographer: Daniel Kleen

Email: ekelbrodefilm@gmail.com
Website: wagonmanfilm.com
Tik Tok: @roadtoekelbrode

Help independent filmmakers tell their stories.
Make a donation to Ekelbrode today.
Film Independent's Fiscal Sponsorship program opens the door to nonprofit funding for independent filmmakers and media artists. Donate today and help bring Ekelbrode to life.
Logline
A POW aboard a roaming dieselpunk labor camp is cornered on his last day by a radical mycologist who claims to possess the secret to saving their war-ravaged world.
Synopsis
Ekelbrode opens on a man named Cadulbrockt who is serving a sentence aboard a reclamation wagon, a machine that roams the bitter plains, fertilizing the land after it was devastated during a catastrophic civil war.
It is Cadulbrockt's last day of imprisonment.
That night, Malta, a former mycologist, waits in his cell. She reveals that she is serving a life sentence because she used to work for the rebels developing sparocktinum, a secret fungus that could heal the destruction caused by the war. However, when the rebels lost the war, they ordered her and her research to be destroyed. But she escaped.
Now, her work poses a threat to the business interests of her captors. If she were to reveal her secret she would be silenced for good.
It becomes clear that Malta has an ulterior motive and that she is using liquor to lower Cadulbrockt's guard. She succeeds, driving him into a series of traumatic flashbacks laden with guilt and shame.
In the penultimate scene Malta confronts Cadulbrockt. We learn that he and his unit carried out the murder of Malta's colleagues under the false pretense that she was a traitor. Now she's here to ensure that they did not die in vain.
Cadulbrockt panics. Malta attacks him and injects a cyph-wire containing sparocktinum into his arm endowing him with the task of delivering the spore and saving their world.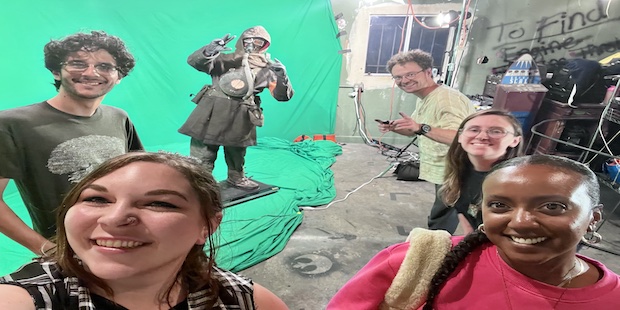 Meet the Filmmakers
Benjamin Pierson – Co-Writer/Co-Director
Benjamin Pierson writes and directs films with Sascha Montgomery in Los Angeles. Raised on a farm in Colorado, Benjamin made war and monster movies with his brothers in the woods near their home and took that hands on, big vision/little means approach with him to CU Boulder where his work received three Grillo awards. Most recently he and Sascha directed Mouth Sounds, a short film that is part of the Interconnected anthology series. He also works with clients such as Sony, Frontline, PBS, the Windward School and musical artists Nice Ghost and Mike Merchant.
Sascha Montgomery – Co-Writer/Co-Director
Sascha Montgomery is a filmmaker in Los Angeles working Benjamin Pierson to build unique worlds and stories. She works in pre-vis, production design, prop creation and color grading. Her versatility makes her impactful in the filmmaking process from start to finish ensuring that every project is cohesive, unique and meaningful.
Salem Daniel – Executive Producer
Salem Daniel is an Ethiopian American director and producer based in Los Angeles specializing in short-form content that points the lens at Black and female-centered narratives.
Salem's film career started at VICELAND where she worked in production on the award-winning docuseries My House. She most recently co-directed the poetic documentary God is A Black Woman, a multimedia feature-length piece that showcases the journey of eleven Black women in their realization of the divinity of self. She has since produced with companies such as XTR, HBO and HOORAE.
Brianna Fish – Line Producer
Brianna Fish is a producer, writer, and special effects makeup artist based in Los Angeles, CA. She specializes in horror and film noir. Authenticity in all facets of film is the drive behind her passion, which is why she combines her talents of production and SFX makeup. She strives to bring stories and fears to life to provide the audience with the most visceral reactions.
Upon graduating from CU Boulder, Brianna's feminist documentary Using the F-Word was an official selection in a New Filmmaker's Festival in Colorado in 2016. She has been the key special effects makeup artist for award-winning short films such as Sonant and The Day Never Dreams in 2020 and 2021. She also wrote and produced the short horror film, Once Inside, under the umbrella of her production company, BriMutations, due to release in 2022.
Samuel Bear – 1st Assistant Director
Samuel Bear is a writer, director, and assistant director from Los Angeles, CA. Being raised in a tumultuous and impoverished environment, Samuel learned to escape with the help of his trusty camcorder; processing his thoughts and feelings through nonlinear visual clusters turbulently clashing with one another, Samuel didn't realize at the early age of 6 that he was creating experimental films. Being taken from his original home by child protective services and placed in a high school film academy allowed him to understand and reconnoiter the art of filmmaking. It was here that Samuel began to refine his thematic habits with politically ambitious horror films. As a screenwriter and director, Samuel was awarded a Presidential Scholarship in pursuit of his film BFA. In college, Samuel found a passion for the role of assistant director, which he would later explore as a production assistant for Netflix, Paramount+, and Nickelodeon projects.
Daniel Kleen – Cinematographer
Daniel Kleen has always been wholeheartedly addicted to the pursuit of knowledge and incredible experiences that only media Creation provides. Over the last 15 years, He has had the privilege of being involved with several studios including Sony, Universal Studios, and Paramount, in multiple aspects and roles of film production. Upon enrolling at the California Institute of the Arts, He shifted his focus entirely to cinematography and is now CEO of Model 05 Productions and Black Axe Media. Creating new media in both narrative and commercial fields with the goal of offering high-quality media to everyone who is passionate about what they set out to create.
Contact
For inquiries, please contact fiscalsponsorship@filmindependent.org.