Everything Goes Dark

A horror short that explores the care and treatment of Black girls in America, mental health for at-risk children, and white fragility.
Project type: Narrative Short
Project status: Development
Writer/Director/Producer: Alexander Casimir
Writer: Mackenzie Chang Russell
Producers: Mackenzie Chang Russell & Lexi Notrica
Executive Producers: Lizzie Frankenthal & Jessica Carlson

Email: manicbeautyfilm@gmail.com
Website: youngandlucidmedia.com

Help independent filmmakers tell their stories.
Make a donation to Everything Goes Dark today.
Film Independent's Fiscal Sponsorship program opens the door to nonprofit funding for independent filmmakers and media artists. Donate today and help bring Everything Goes Dark to life.
Logline
A Black high schooler prepares for senior picture day but insecurities and a tense friendship start to transform her into something abnormal.
Synopsis
An all-star student and fun loving kid, Simone just wants to fit in. But being the only Black girl at a predominately white school makes things a bit tricky. We meet Simone chatting with her best friend, Emma on the morning of their senior photo day. Simone wants her portrait to be perfect. This one photo will be her high school legacy.
School starts with a group photo. As the photographer counts down, one of Simone's classmates makes an offhand remark about her blackness. Before she can respond, a FLASH catches her by surprise. She rushes over to the photographer to see her skin is completely underexposed, her features hidden in pitch black, and with a bad case of red eye. To everyone else, it's just a bad picture but to Simone, it's a ghoulish creature that starts to plague her thoughts.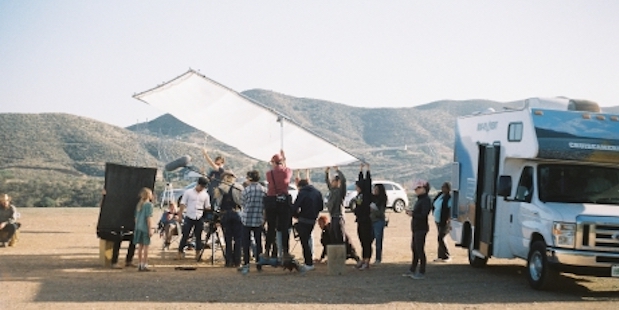 Meet the Filmmakers
Alexander Casimir – Writer/Director/Producer
Alex Casimir is a half Black/half Chinese filmmaker (he/him), born and raised in Brooklyn and a recent graduate of the University of Southern California with a BFA in Film & Television Production. His work looks to explore the intersectionality of history, race, and gender with a touch of magical realism. His short films have screened at international festivals such as LA Shorts, Indie Short Fest, Filmquest, Austin Film Festival, .MOV Film Festival, and USC First Look. More recently, he worked as apart of the Programming Team for the 2021 Tribeca Festival.
Mackenzie Chang Russell – Writer
Mackenzie Chang Russell is a Scottish/ Chinese-American filmmaker born and raised in New York City. She graduated from Hunter College with a major in Film Production and a minor in Theater. Her senior thesis film, Open House, gained recognition from the National Board of Review as well as other domestic film festivals.
Jessica Carlson – Executive Producer
Jessica is all about strategic, inclusive storytelling. At 11-years-old, Jessica began work as a professional SAG actor. Passionate about understanding media from different angles, through the years she has worked in production, fundraising and tech. She is Director of Corporate Development at Sugar23, an Oscar & Emmy award winning multi-platform media company. Previously, she was a Development Executive at a production company where she sourced female and minority driven narratives, built teams and helped pitch to ABC, FOX & NBC. She is a Board Member for a 501c3 Non-profit focused on rare diseases and intellectual disabilities & a trained volunteer for Mental Health Hotline providing solutions for at risk callers. Her focus is on DEI in filmmaking both in front of and behind the camera.
Lizzie Frankenthal – Executive Producer
Lizzie is an entrepreneur and creative producer. She co-created and produced
a web series called "Freelance" (Official Selection at Sydney Webfest). More recently she developed a documentary, "Davis Out of the Unknown" which is nominated for "Best Documentary" at NFFTY. Previously, she freelanced at Saturday Night Live and currently works in creative development and production for Creative Partnerships (Content Innovation Agency) at NBCUniversal Comcast.
Contact
For inquiries, please contact fiscalsponsorship@filmindependent.org.