Everything Stays

A Filipino-American coming-of-age story about being the first one in a giant family to leave home.
Project type: Narrative Short
Project status: Development
Director/Writer: Cole Bacani
Producer: Lily Norris
Producer: Norrie Palmer
Executive Producer: Jason Y. Lee
Cinematographer: Brian M. Tang
Production Designer: TJ Ryan
Editor: Joseph DeRose

Email: hello@everythingstaysfilm.com
Website: everythingstaysfilm.com

Help independent filmmakers tell their stories.
Make a donation to Everything Stays today.
Film Independent's Fiscal Sponsorship program opens the door to nonprofit funding for independent filmmakers and media artists. Donate today and help bring Everything Stays to life.
Logline
Max, a high school senior, has led his younger cousins through childhood; but as the summer after graduation winds down, his cousins have one last chance to tie him down in Illinois, forcing max to decide what's more important: his family or his future?
Synopsis
Everything Stays follows MAX (18), a Filipino-American high school senior, and his younger cousins as their last summer together comes to an end. Max is a deep-thinking, quiet leader among his giant extended family. He films everything they do together. His camera is practically glued to his hand. When he realizes that his dreams are only possible if he chases them to California, his cousins, who are facing a life of being stuck in their small town, are understandably not ready to let him go and are unsupportive. For the past 10 years, he has been there to lead them through childhood. And now they only have until the end of summer to tie him down in Illinois, forcing Max to decide what's more important to him: his family, or his dreams.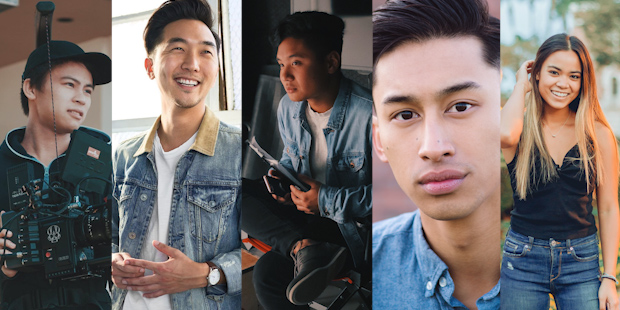 Meet the Filmmakers
Cole Bacani – Director/Writer
Cole Bacani is a director/writer from Illinois who just graduated University of Southern California as a film production major. In 2016, Cole received a National Student Production Award for cinematography from the National Academy of Television Arts and Sciences. Since then, he's had his work featured on NoBudge, Film Shortage, and awarded at NFFTY, Chicago CineYouth, and screened all around the world. He looks up to directors like Greta Gerwig and Lulu Wang and strives to create brutally honest and painfully awkward coming of age stories from his hometown in Illinois.
You can view more of his work here: vimeo.com/cabacani
Jason Y. Lee – Executive Producer
Jason Y. Lee is the co-founder and CEO of Jubilee Media, a company that makes empathetic videos to create a movement for human good. Over the past 2 years, Jubilee has garnered over 5 million subscribers. Their web-series Middle Ground was nominated for best unscripted web series at The Streamy's; and Jason was nominated for Unforgettable Gala's Digital Influencer Award. Jubilee Media was selected as 1 of 5 US YouTube channels to participate in YouTube's CreatorsForChange.
Brian M. Tang – Cinematographer
Brian Tang's work has won numerous awards in the film-festival circuit (such as Telluride), The Student Academy Awards, as well as garnered millions of views through collaborations with reputable companies such as Netflix and Jubilee Media, as well as music videos for clients such as Amber Liu, Meg & Dia, Lil Skies, etc. Recently, his work for the feature length film The Last Whistle, starring Brad Leland and Jim O'Heir, was released in cinemas and VOD platforms this year.
You can view more of his work here: briantangcinematography.com
Contact
For inquiries, please contact fiscalsponsorship@filmindependent.org.