Feral

What is it you want? What is that you've always wanted?
Project type: Narrative Feature
Project status: Development
Writer/Director/Producer: Nihaarika Negi
Producer: Nancy Degnan
Producer: Tobias Reeuwijk
Executive Producer: Ron Yerxa
Executive Producer: Albert Berger
Co-Producer: Pale Rebel Productions

Email: nancy@autotelicpictures.com
Website: autotelicpictures.com
Instagram: @feralmovie

Help independent filmmakers tell their stories.
Make a donation to Feral today.
Film Independent's Fiscal Sponsorship program opens the door to nonprofit funding for independent filmmakers and media artists. Donate today and help bring Feral to life.

Logline
The arrival of a shaman scholar on a colonial estate in 1950s India – causes two part-tribal maidservants to transgress against their English Madame – dismantling the old structures and reclaiming their lost wild mystical powers.
Synopsis
1950's India. Deep in the Himalayas.
A sadomasochist English MADAME has raised two part-tribal SISTERS – to be her domestic servants on a withering colonial estate. Hailing from the Kinnauri tribe – a connection they have long forgotten – the sisters have been trained in all manners of acceptable British servitude. And ever so often, the Madame – accompanied by her precocious micro pig, JAMES, holds these soirees where she parades the sisters around as the finest of her accomplishments.
But the arrival of Madame's latest lover, ZEE (55) – a singer and a shaman scholar – and his search for an ancient forest song, begins to change the alchemy of the estate as the sisters slowly transgress – taking over the house and reclaiming their wild feral selves.
A contemporary folktale about colonial trauma as it presents itself through the bodies of women and the ways in which they dismantle the old structures and regain their lost power.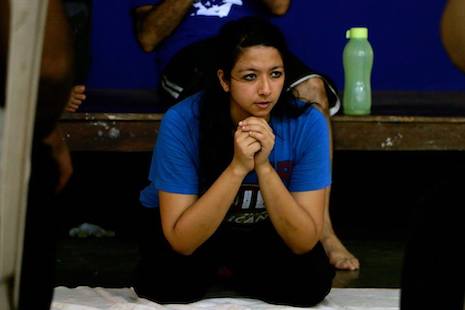 Meet the Filmmakers
Nihaarika Negi – Writer/Director/Producer
Nihaarika is a part-tribal International Interdisciplinary Artist from India – working across film/ theatre/ live art/ new media. By merging genre elements with contemporary performance, folktale and magical realism – she makes work that allows us to celebrate our imaginative potential for healing and change.  Her work has been described as 'revelatory and thoroughly riveting' (Laurence Kardish, MOMA) and work 'that stands at the cusp of what could be an artistic breakthrough for Indian theater' (The Hindu).  
A Berlinale Talent 2021, her interdisciplinary practice has been awarded the prestigious XR Market Award at New Images XR Festival (France); and been supported by Sundance Institute + Women In Film, Venice Biennale Development Labs, IFFR's Cinemart, Breaking Through The Lens at Cannes, TIFF and BFI's Film Markets, French Ministry of Culture – CNC and NFDC Film Labs. Her films have screened at NCPA, MAMI (India), Women Make Waves Film Festival (Taiwan); garnered critical-acclaim and awards at NYIFF, Washington DC South Asian Film Festival; and been broadcast on Channel 4 (UK), Disney's Star Gold & Hotstar (India) and distributed globally by Amazon Prime.  She holds an MA in Physical Performance & Actor-Training (University of Exeter, UK) and an MFA from the Peter Stark Producing Program (USC, LA). 
Nancy Degnan – Producer
Degnan's first feature as producer, award-winning film Buck Run, premiered at the Palm Springs International Film Festival and was acquired by Freestyle Digital Media in January 2021, now streaming on Amazon Prime among 10+ other VOD platforms. Her sophomore feature, Silent Notes, starring Oscar-winning Coda's Daniel Durant, is currently in post-production. Degnan joined the web-series After Forever as an Associate Producer, which won five Daytime Emmys, setting a record for the most Emmys won by an LGBTQ series in one year, which is now streaming its second season on Amazon Prime. 
Tobias Reeuwijk – Producer
Born in Hong Kong and raised in Honolulu, Hawaii, Reeuwijk began his professional career as a multimedia producer at The Wall Street Journal. He was a weekly contributor for the WSJ consumer tech show DIGITS and also traveled across South East Asia to write, produce, and edit short news documentaries. He directed and produced a feature length documentary entitled 1000 Hands of the Guru, which premiered at the Asian American International Film Festival in New York and is now streaming on SVOD platforms worldwide. Tobias is a graduate of USC's Peter Stark Producing Program and previously worked as an Executive Assistant to Producer Suzanne Todd and now works with Iwerks & Co.
Ron Yerxa & Albert Berger – Executive Producers
Albert Berger and Ron Yerxa formed Bona Fide Productions in 1993. Their producing credits include King of the Hill, Election, The Switch, Cold Mountain, Little Children and Oscar-nominated films Little Miss Sunshine and Nebraska.
Their recent films include Somewhere in Queens (Ray Romano, Laurie Metcalf), Last Shift (Richard Jenkins), Juliet, Naked (Rose Byrne, Ethan Hawke, and Chris O'Dowd), What They Had (Hilary Swank, Michael Shannon, Blythe Danner and Robert Forster), Peanut Butter Falcon (Shia LaBeouf and Dakota Johnson) the audience award winner at SXSW, and Blow The Man Down which premiered at the Tribeca Film Festival. Whether comedies or dramas, Bona Fide Productions seeks to produce films with a provocative social vision.
Pale Rebel Productions – Co-Producer
Pale Rebel Productions was established in 2018 by creative producers Emma Foley and Tamryn Reinecke. Hitting the ground running, after only a year of working within the film industry, Pale Rebel produced their first feature, Philip Doherty's Redemption of a Rogue, a dark comedy set in rural Ireland. The micro budget film went on to win Best Film and Best Debut Feature at the 2020 Galway FilmFleadh, where Tamryn and Emma were also nominated for the Bingham Ray New Talent Award. The film has gone on to win numerous awards and travel to reputable festivals including Palm Springs International Film Festival and Glasgow Film Festival. The film had a theatrical release in Ireland/UK and can currently be found on Netflix. The film can now be seen on VOD across North America and will be released later this year in Australia/New Zealand. Pale Rebel's second feature, Antonia Campbell-Hughes debut It Is In Us All starring award winning actor Cosmo Jarvis, premiered at SXSW winning the Special Jury Award for Cinematic Vision.
Contact
For inquiries, please contact fiscalsponsorship@filmindependent.org.