First Feature

"In the film industry...nobody knows anything…"
Film Independent's Fiscal Sponsorship program opens the door to nonprofit funding for independent filmmakers and media artists. Donate today and help bring First Feature to life.
Logline
Intrepid student filmmaker Thomas Reilly-King (affectionately known as TRK) will do anything to complete his first feature film, aptly titled Enduring Destiny. Searching for fame in a production spanning several years, the unflappable writer/director/actor calls in every favor and spends every last dime to realize his vision and bring his hero's story to the big screen.
Synopsis
First Feature documents one indefatigable young man's multi-year quest to complete his first feature film, Enduring Destiny, and his impassioned yet unabashed approach to student filmmaking in the digital age.
Our central character, Thomas Reilly King (TRK), is a local legend in his college town who works four jobs to pay for production and takes on every job on set. From wild hairpieces and over-the-top acting to inexplicable green screens and dialogue replacement, Enduring Destiny has all the makings of a cult classic, much like The Room.
In his film's ambitious and absurd plot, TRK plays Max, a college wrestling star and aspiring CIA agent who finds himself in a wheelchair following a brawl between rival fraternities. Enduring Destiny captures the filmmaker's fantastical and nostalgic style, including how he creates a 1980s-style theme song, commissions Max action figures, and arranges for the film's grand premiere.
Not unlike 1999's American Movie, our film pays tribute to true indie filmmaking. More than a dozen interviewees try to figure out TRK along with the audience, including Greg Sestero (writer of The Disaster Artist), who shares his theories of cult fandom and offbeat artists like his friend Tommy Wiseau.
First Feature follows TRK's unique filmmaking process for nearly four years, with the dramatic tension stemming from viewers' evolving perceptions. As we get to know TRK, and discover his hidden artistic talents, we cannot help but root for him and his film. Given the obstacles of time and resources, not to mention his quixotic vision, we are unsure whether TRK will even finish his film. And if he does, will he be ridiculed – or celebrated? Ultimately, TRK's heart, eccentricities, and perseverance are what make his story worth sharing. In the end, it's the journey that matters more than reaching the destination.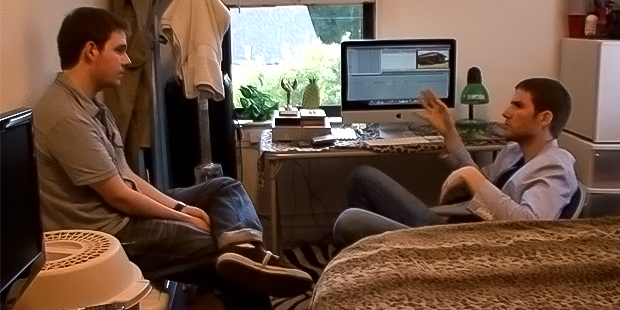 Meet the Filmmakers
Curtis Matzke – Director/Producer
Curtis is a Chicago-based screenwriter and director who also works as a producer and cinematographer. As the founder of Unfurnished Films, Curtis has contributed to dozens of short films and produced four micro-budget features. His work has been included in the Austin, Chicago International, and Cinequest Film Festivals, as well as others both nationally and abroad. In 2018, Curtis was named "Most Diabolical" by the National Academy of Sciences and the Austin Film Festival. H e received a professional development grant from the Illinois Arts Council and recently founded The Chicago Cinema Collective, a compendium of the Chicago film scene. Curtis holds a B.A. and an M.A. in Media Arts and Technology from Michigan State University with a concentration in Television, Cinema, and Radio, a minor in Film Studies, and a Specialization in Design. For more information, visit www.curtismatzke.com.
Ben Sherman – Producer/Cinematographer
Since principal photography of First Feature, Ben has lived and worked in film production as a member of IATSE in Los Angeles. Along with work in the studio system, he continues to chase art and collaborate on independent film projects. Ben collaborated on the feature film Take Me To The River, which was showcased at Sundance in 2014.
Contact
For inquiries, please contact fiscalsponsorship@filmindependent.org.