Jajas for Justice: Stories of Climate Change

Stories from Elders to save our future...
Project type: Nonfiction Short
Project status: Production
Director: Summer Spell
Cinematographer: Alvin K Masagazi
Producer/Operations Manager: Rennie McVicker
Producer/Fundraising Manager: Chloe Vann

Email: admin@jajasforjustice.org
Website: jajasforjustice.org

Help independent filmmakers tell their stories.
Make a donation to Jajas for Justice: Stories of Climate Change today.
Film Independent's Fiscal Sponsorship program opens the door to nonprofit funding for independent filmmakers and media artists. Donate today and help bring Jajas for Justice: Stories of Climate Change to life.
Logline
Follow Ugandan elders "jajas" as they share how climate change has turned their world upside down. Floods, droughts, storms – the once reliable seasonal patterns have turned to chaos. It is unlike anything the jajas have seen in their long lives, and it is undermining their ability to live off the land as they have for decades.
Synopsis
Climate change is not just a problem for future generations-it is a crisis now. Uganda's elderly farmers have, in their lifetimes, seen climate change alter their whole world. They remember the days when the rains were easy to predict and one could grow a bountiful harvest with ease. But now, they say, the seasons have broken, the rhythm is gone, and a good harvest comes with luck.
The great injustice of the climate crisis is that those who are most vulnerable to its effects have done the least to cause it. These jajas' lifestyles produce little to no greenhouse gasses, but with total reliance on the land they are among the most vulnerable to the extreme weather caused by climate change.
However, these Jajas are more than victims. With generations of wisdom in how to care for the land, they offer the solutions the world needs to fight against the crisis. Through wisdom and warnings they guide viewers and younger generations to live lifestyles that are gentle on the earth.
Make a donation to Jajas for Justice: Stories of Climate Change.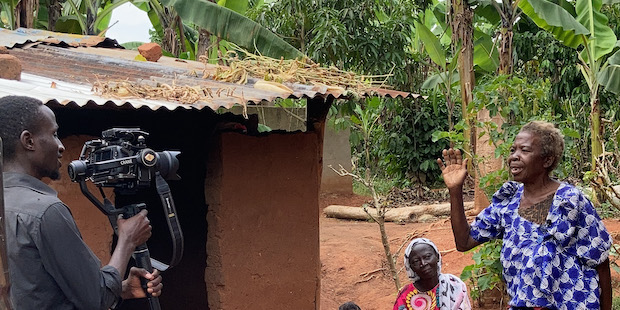 Meet the Filmmakers
Summer Spell – Director
As director, Summer Spell brings her vision casting, creativity, and thought-provoking questions to this project. Previously, she interned with Reach One Touch One Ministries, who we have been closely working with on this project. She brings to this project experiences from her internship with ROTOM as well as community education and sustainability events with her community in America. The combination of these two with her Bachelor's Degree in Global Studies with Honors from Azusa Pacific University makes her the most ideal person to be heading this film up. Additionally, she is skilled in public speaking, art, and writing – her creative and eloquent ways of communicating her ideas to others will be a great help on the production of this documentary.
Alvin K Masagazi – Cinematographer
Alvin K Masagazi is an independent filmmaker and storyteller from Uganda-Kampala. He has 4 years of experience making short documentaries for a variety of NGOs including the E.U. in Uganda, Irise international, H2O4ALL and many more. Alvin also works part-time as a Director of Photography and Editor on local independent film productions in Kampala. His past experience working for new start-ups around the country is very valuable to this project, as he has experience with documenting stories intentionally. What makes Alvin crucial for the project is his mastery of storytelling, his ability to connect with people, and his hard-working attitude.
Rennie McVicker – Producer/Operations Manager
Rennie McVicker is the operations manager for this project. She brings her organizational and strong communication skills to this project. She graduated from Westmont College in 2020 with a Bachelor's Degree in Kinesiology, and has experience as a medical assistant. Along with her passion for women and children and ensuring that they are treated with the dignity and respect that they deserve, Rennie also is driven by her deep care for the planet and fighting the current climate crisis. Rennie's positive attitude and friendly rapport are valuable for this project as interviews are conducted and communication with people in all parts of the world is initiated.
Chloe Vann – Producer/Fundraising Manager
Chloe Vann is the project manager for this project. With a background in social work, Chloe brings knowledge of networking and managing finances, grants, and sponsorships. Chloe has always had a heart for the elderly and has been working in long term healthcare for six years. She is passionate about upholding the dignity and worth of the aging population as well as valuing and recognizing the central importance of human relationships. Chloe is excited to be a part of this project and bring awareness to the climate change crisis we are currently facing. Her determination and outgoing attitude continue to be an asset as the project is moving forward.
Make a donation to Jajas for Justice: Stories of Climate Change.
Contact
For inquiries, please contact fiscalsponsorship@filmindependent.org.