Lara's Kitchen

An elderly Druze woman's journey to self discovery
Project type: Narrative Feature
Project status: Development
Co-Director and Writer: Yaron Yarkoni
Producer: Baher Agrabiya
Co-Director and Writer: Liat Dahan Yarkoni
Co-Writer: Hamed Sharoof

Email: yaron.yarkoni@gmail.com

Help independent filmmakers tell their stories.
Make a donation to Lara's Kitchen today.
Film Independent's Fiscal Sponsorship program opens the door to nonprofit funding for independent filmmakers and media artists. Donate today and help bring Lara's Kitchen to life.
Logline
After 60 years of marriage Amir (87) and Lara (78) both of the Druze faith, get divorced following a foolish argument. According to Druze belief, they are forbidden to see or speak to one another until the day they die. Lara moves across the street with her son and family to start her life anew, while Amir stays at home to cope with his solitude.
Synopsis
Lara (78) offended her husband Amir (87) in public. Amir, a religious Druze divorces Lara with one irreversible sentence – "You have left my heart". Lara moves in with her son sharing a bunk bed with her granddaughter. The homes Amir and Lara live in are only meters apart. According to Druze law, a divorced couple is no longer to see or speak to each other until death and a wall is built between the two homes. Lara is thrown into mourning, trying to figure how one can restart at her age? Tensions arise when she invades her daughter-in-law's kitchen. As to maintain peace, she joins a local cooking class to do what she loves best, discovering that her dishes solve other women's problems; She transforms the separation wall into a kitchen business as reservations start flowing, for the first time she earns her own money! Amir undergoes a certain freedom when he goes on bird hunting adventures with his old friend. However, Lara's absence takes its toll when Lara's delivery-man, requests her hand in marriage. Rumors spread and the fake news of Lara's engagement reaches Amir. Amir has a cardiac event and is rushed to the hospital. Finally, the day of the granddaughter's wedding arrives and Lara lets Amir participate in the ceremony. She bakes Amir's favorite cookies and places them on his doorstep. As the family gathers, Lara sits across the street listening from afar. When the wedding is over Lara heads home when she notices Amir's gaze from across the street. They smile at each other forgivingly. A bus passes in between and Lara is gone. When Amir returns home, he notices Lara's cookies. Making himself tea he goes to bed never to wake up. The next morning Lara sits by Amir's body. Prayers are heard.
Meet the Filmmakers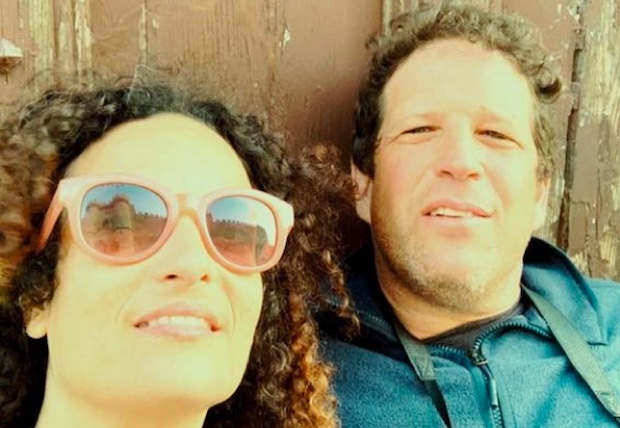 Liat Dahan Yarkoni — Writer/Director
Liat studied FILM at NYU University, winning the Director's Guild of America "Best Female Director" award with her short film Climbing Miss Sophie. She has been directing commercials in Europe and Israel for large scale clients such as Mitsubishi, Seat, Panasonic, Orange, El-Al airlines as well as prime-time TV. Received her Masters in Theatre Directing at the Tel-Aviv University. Since 2017 she has been teaching "Directing The Short Film" at the Tel-Hai Academic College Film School.
Yaron Yarkoni – Writer/Director
After eight years as an officer in an elite IDF unit, he decided to become a filmmaker working at first on film sets from as a truck driver and first AD. He wrote, directed, produced and edited multiple short independent films, music videos and the documentaries Tsur's Kids & Like Rain in Summer. Both were broadcast in Israel, and won awards at international film festivals.
Baher Aghbariya – Producer
A Palestinian-Israeli Producer based in Haifa. He has a Bachelor Degree in International Business. In 2003 began his career in the film industry, and has worked as a line producer for both Palestinian and Israeli films, including Paradise Now (nominated for an Academy Award) by Hani Abu Asaad, Inheritance By Hiam Abbas, Tanathur & Thirst by Tawfik AbuWael and others. In 2012 he established his own production company "MAJDAL Films", and has been independently producing both fiction and documentary films. Among those are notable and prize winning features, including Hani Abu Asaad's films Omar (nominated for an Academy Award) & The Idol 2015, Jesica Habie's Mars at Sunrise, Personal Affairs 2016 by Maha Haj (official selection Cannes UCR) and It Must be heaven Palme d'Or Cannes 2019. www.majdalfilms.com
Hamad Sharoof – Co-writer
Hamed is a 27 year old Druze screenwriter and filmmaker from the village of Mughar. Graduated from the northern Tel-Hai film school. He garnered two Haifa Film Festival film grants for his short films Sarah and Peter screened in the short competition of the Jerusalem International Film Festival. Hamad is currently working as inhouse director for Kan 11 the Israeli public broadcast channel.