Late Bloomers

Two friends go on their last road trip. Only one of them makes it...
Project type: Narrative Feature
Project status: Production
Writer/Director/Actress: Spade Robinson
Director of Photography/Producer: Ayana Baraka
Production Design: Vanessa Plazo Lazo
Costume Design: Whitney Kyles
Composer: Sherri Chung
Executive Producer: Angela Edmond

Help independent filmmakers tell their stories.
Make a donation to Late Bloomers today.
Film Independent's Fiscal Sponsorship program opens the door to nonprofit funding for independent filmmakers and media artists. Donate today and help bring Late Bloomers to life.
Logline
After making a suicide pact, Sunday and Gigi go on their last road trip together, leaving behind their failed careers and relationships. Sunday's grip on reality slowly unravels, as her decision to renege on the pact haunts her every move.
Synopsis
Best friends and artists, Sunday and Gigi live by a thread, waiting for their careers to take off. They make a promise to kill themselves before they take a "regular" job and give up on their dreams. Riddled with addition and depression, they're kicked out of they house they're squatting. Along the way, Sunday paints murals in rest stops and hotel rooms, in blur of drunken nights. Sunday's work slowly goes viral, unbeknownst to her. Simultaneously, Sunday's depression darkens as she approaches Gigi's parent's. Sunday's paranoia and mistrust of the world around her leads to an increasingly abusive relationship with Gigi. After a rather debilitating argument, in which Gigi tries to convince Sunday to kill herself, Gigi disappears. Sunday frantically searches for her but finally relents and submits to the truth. Gigi is gone, she's dead. She's been dead this entire trip. Sunday finally arrives at Gigi's mother's home in time to deliver Gigi's ashes she promised she would bring, but ends up arguing with her, as Gigi's mother gives her unsolicited advice on managing her depression. Sunday has one more interview for an art-related opportunity, but in the depths of depression, she is barely present. She decides to take her own life, but is interrupted by a phone call telling her she didn't get the opportunity. The person on the other end of the phone does convince her to keep her life for now, though. Months late, Sunday is working a regular job at a bank. She's begrudgingly taking Gigi's mother's advice and controlling her thoughts. All is mundane, until her new manager asks if she knows any artists.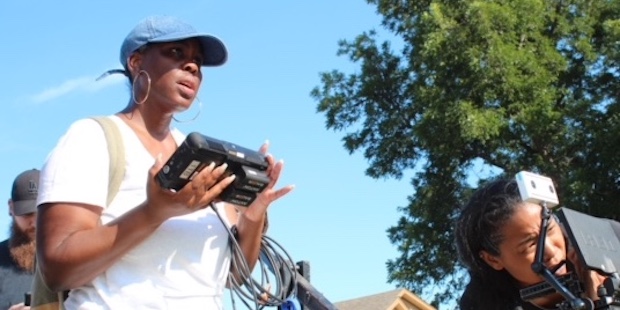 Meet the Filmmakers
Spade Robinson – Writer/Director/Actress
Spade Robinson is an award-winning filmmaker, screenwriter and actress with experience that spans feature film, documentary, television, commercial and stage. Spade is a master's alumnus of USC's School of Cinematic Arts, where she emphasized writing and directing, completing her MFA in Film and Television Production. Since then, she's been commissioned to direct and produce commercial content for by clients ranging from Time Warner and Sundance Institute to Peculiar People and Finding Charlie. Her original works include award winning films such as Seen Also In Men, The Wedding and The Love Life of A Black Girl as well as a host of feature screenplays and television pilots. After a host of award-winning shorts, Spade is mounting her first feature, Late Bloomers.
Ayana Baraka – Producer/Director of Photography
Ayana Baraka was the Cinematographer for "Behind the Curtain: Eclipsed," starring Lupita Nyong'o and Danai Gurira, which documented the 'herstoric' Broadway production of Eclipsed. She was also a cinematographer for the Oscar hopeful, The Hunting Ground, the Emmy nominated film, United Skates, and Giving Voice, which premiered at Sundance 2020. Baraka was named a 'person on the rise' in Hollywood by producer Mel Jones. She's a winner of the 2016 award for Best Cinematography at the Victoria TX Independent Film Festival and the 2019 Culture Catalyst award recipient at the Digital Diversity Network's Innovation & Inclusion Awards.
Baraka is the content creator for a virtual reality experience about Black Wall Street and the Race Massacre of 1921 called Greenwood Avenue. Baraka's foray into immersive storytelling came while attending USC's School of Cinematic Arts for her MFA in Cinematic Art, Film, and Television. She joined a team of innovators at USC's Mixed Reality Studio, a Siggraph winning team for creating photo-real animation in virtual reality. Baraka went on to become a 2018 YouTube VR Creator Fellow, 2018 Oculus Connect Fellow, and a 2019 Black Public Media 360+ Incubator Fellow. Baraka currently resides in Arkansas with her husband and two children.
Vanessa Plazo Lazo – Production Design
Vanessa was born and raised in Guayaquil, Ecuador, but moved to Buenos Aires, Argentina in 2010 to start her career in art department. She finished her studies in Advertisement and specialized in art direction. Vanessa worked on different kinds of productions as well as film, music videos, tv shows, commercials and theater.
Vanessa moved to Los Angeles in 2016, completing her MFA in Production Design at CalArts, where she discovered a new world in the theme entertainment as well. She has developed a strong artistic vision with a wide multicultural perspective, working on dozens of award-winning films, television shows and commercials.
Whitney Kyles – Costume Design
Whitney is a seasoned designer in sourcing fabrics from global markets. She is an expert in procuring vintage and contemporary fashion through designer showrooms, retail stores, internet, and outdoor markets. Whitney brings her knowledge of fabrics, dyeing and storytelling through color, texture and shapes to the screen. Her background as a celebrity stylist has given her the extensive experience of creating looks for a diverse range of characters.
Sherri Chung – Composer
Sherri Chung is a composer for film and television and currently composes the scores for Riverdale (CW) and Blindspot (NBC). Her most recent show, The Red Line, produced by Greg Berlanti and Ava DuVernay, is a limited series which premiered on CBS and currently airs on CBS All Access. Her latest Warner Bros. film, Nancy Drew and The Hidden Staircase was released March 2019 in theaters nationwide. Sherri's compositional work includes both songs and scores for t.v., films, documentaries, commercials, musicals and music libraries. One of her recent films, The Other Side of Home was shortlisted for the 2017 Oscars for Best Short Documentary. A long time collaborator with composer Blake Neely, they have worked together on a number of scores, including those for CW's Arrow, The Flash, Supergirl and DC's Legends of Tomorrow.
Sherri studied Music Composition and Theory at Jacksonville University in Jacksonville, FL, and attended USC's Scoring For Motion Picture and Television Graduate Program in Los Angeles, CA. Not only a composer, Sherri is also a pianist, vocalist and songwriter. She has recorded and produced 2 original albums and performs with her band in Los Angeles. As a vocalist, she has recorded for films, commercials, trailer music, and television (ABC's Resurrection, and CW's Arrow). Currently her voice can be heard on NBC's Blindspot and the Netflix documentary series The Keepers (Emmy nominated for Outstanding Documentary), two scores she also conducted.
Angela Edmond – Executive Producer, CEO Piedmont Avenue Entertainment
Piedmont Avenue Entertainment (PAE) is a development and production company delivering high-quality content across media platforms focused on women and people of color. PAE is comprised of a talented group of industry professionals with over 30 years' experience in film and television, working with leading media companies such as Warner Bros, NBC Universal, Netflix, and Paramount. Through strategic alliances with New York and LA production / distribution companies, PAE is providing opportunities for under-represented groups to tell their stories and participate in all aspects of production.
Angela Edmond is a native of Dublin, Georgia. She graduated from Emory University with a BA in English and Theater, and earned an MBA in Finance from Wharton. Angela has worked in production for theater, film and television. Her most recent credits include: More Than a Game with Hi-Rez and You42, The Challenger on TBS, and She's In Charge on TLC. Angela formed strategic partnerships with production companies in New York
Contact
For inquiries, please contact fiscalsponsorship@filmindependent.org.