Little Adam Example

Project type: Narrative Short
Project status: Post-Production
Director/Writer/Animator: Ahou Alagha
Character & Set Designer/Modeler: Ramin Parvin
Sound Designer: Hossein Mahdavi
Composer: Foad Ghahremani

Email: ahou.alagha@gmail.com
Website: littleadamexample.com

Help independent filmmakers tell their stories.
Make a donation to Little Adam Example today.
Film Independent's Fiscal Sponsorship program opens the door to nonprofit funding for independent filmmakers and media artists. Donate today and help bring Little Adam Example to life.

Logline
The desperate imagination of a child of war draws into his reality a new form of his arms, equipped with guns. But the figure steps into reality to transcends out of this darkness. By searching for something among the ruins of the war, he wants to shape a new form of his being.
Synopsis
Adam, a child of war, out and fear and desperation, imagines himself as a boy with guns for arms. He draws this portrait on paper. However, the figure itself becomes conscious and wants to transcend its ominous feature. To transform, it only has one choice. To come into this reality and pass through the violence and pain of this world, search for something to penetrate the darkness of his mind. For that, he is conceived the night of his father's murder and entered into this world with mutated DNA, as the first human born with guns for arms. He grows up with his single mother in a war-torn city, where people are being killed under bombing every day. For a long time, he didn't know what to do. Until one day, little pieces of broken glass, among the rubbles, catches his eyes. He picks them up and collects them. Quietly at night, he puts together these small pieces. Little by little, he begins to form a new shape from light and color. However, because of his odd hands, his life is in jeopardy very likely. Soldiers look for him everywhere, and he could be caught by them anytime. He continues his search in between the ruins for the colorful shiny piece of glass. As he puts together more pieces, the shape reveals itself more. Finally, right before a soldier breaks into his house, he completed the shape. He gets killed by the soldier in the basement of his house. This is the end of his journey in this reality. Now is the time for the new shape to take the old figure's place on his paper. Gradually, Adam revises the first image as he is able to imagine and draw a colorful and bright figure on his paper.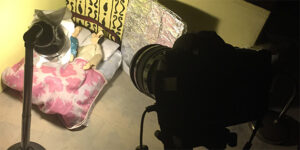 Meet the Filmmakers
Ahou Alagha – Director/Writer/Animator
Ahou is a poet-filmmaker who graduated from school of theater, University of Tehran. She took on to writing poetry at the age of 8. By age 25 she published her first collection of poems entitled "Fruit", which was received with critical acclaim. She worked with Golchehreh Sajadiye a well know Iranian actress on many theater projects in Tehran.  She also directed 5 shorts films and had the honor of working with Shahroo Kheradmand , one of the pioneer of Iranian modern theater in Lieli and Majnon, and Darush Mehrjui a well know Iranian filmmaker in Pearl Tree. www.ahoualagha.com
Ramin Parvin – Character & Set Designer/Modeler
Ramin is a Berlin-based filmmaker, painter, sculptor, and designer. A graduate of the school of film, Sooreh Art University in Tehran. His short films, including After Lunch, We'll Sit & Talk, Dinner for Three, and Manicure have been awarded at many film festivals, including the Experimental film Festival, in Toronto/Canada,3rd Urban Film Festival, in Iran and Parvin Etessami Film Festival. He exhibited his painting and sculptor in galleries all around Europe, including Germany, Austria, and Sweden. RaminParvin.com
Hossein Mahdavi – Sound Designer
Hossein is one of the most successful Iranian sound designers. He is the sound designer for more than 90 feature films and documentaries. Including The Elephant King, by Hadi Mohamadian, an all-time besting selling Iranian animated feature and Goodbye by Mohammad Rasoulof, premiered at the 2011 Cannes Film Festival. He also worked with Maid Majidundi, who was nominated for the best foreign-language film in Academy Award in 1998. He immigrated to the USA in 2018. He is now creating sound for Eye without a face, a film by Ramin Niami and Tara Violet Niami and starring Dakota Shapiro. IMDB
Foad Ghahremani – Composer
Born in Kermanshah in 1983, composer Foad Ghahremai graduated from Tehran University in Ethnomusicology has a strong root in Iranian traditional music. He wrote film scores for many Iranian films, as well as The Wasteland by Ahmad Bahrami, who won Orizzonti Award for Best Film in 2020 and Anticlockwise by Jalal Vafaee, who won IDFA best mid-length documentary 2019.
Contact
For inquiries, please contact fiscalsponsorship@filmindependent.org.