Living Art

A life of love, art and an unbreakable will to survive...
Project type: Documentary Short
Project status: Post-production
Director/Writer/Producer: David Rochkind

Website: ground.media
Email: david@ground.media

Help independent filmmakers tell their stories.
Make a donation to Living Art today.
Film Independent's Fiscal Sponsorship program opens the door to nonprofit funding for independent filmmakers and media artists. Donate today and help bring Living Art to life.
Logline
Living Art follows the life of Mara Clawson, a brilliant visual artist battling a life-threatening genetic disease. As she prepares for the largest gallery show of her young career, Mara inspires everyone around her to help create a world full of love and kindness.
Synopsis
"I always like to be an artist, but my dream is to become a family. That's it. Or to have a good life. That's all. To have a good life. " – Mara Clawson
Everything seemed normal for the first 10 hours of Mara's life. Then, without warning, she was rushed in an ambulance to the pediatric intensive care unit. Mara's disease remained a mystery for much of her childhood – she was unable to walk or speak and suffered violent bouts of pneumonia and vomiting.
Mara's parents did everything they could to help. While Mara was struggling to communicate, and her family fought to understand her condition, Mara was exposed to oil and charcoal painting. Complex thoughts and emotions began to explode out of her and onto paper. Art became Mara's means of communication. Her art is stunning, recognized by galleries, collectors and museums.
Eventually, Mara received an accurate diagnosis. She was born with Familial Dysautonomia(FD), a rare genetic disease that damages her autonomic nervous system. The disease is progressive and degenerative, and her family is unsure how long she will live.
Mara's unique perspective is precisely what makes her art remarkable. Her work deals with the central themes of her life: survival, family, home and loneliness. As Mara's career begins to flourish, she continues to fight for survival. Living Art follows this remarkable young woman as she works to open the biggest gallery show of her life.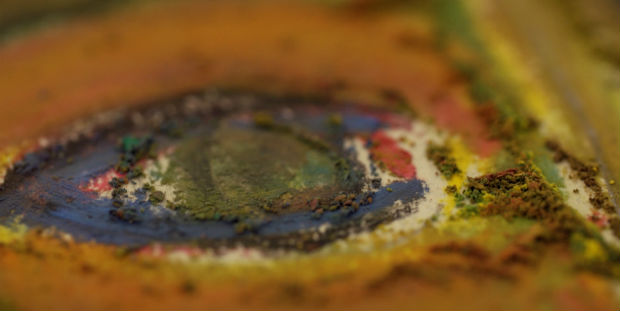 Meet the Filmmaker
David Rochkind — Director/Writer/Producer
David Rochkind is the founder of Ground Media, a visual media production company based in Washington, DC that specializes in social impact storytelling. Rochkind began his career as an international photojournalist, covering stories around the world for organizations like The New York Times, Time Magazine and Rolling Stone. Among others, his work has been recognized by The Pulitzer Center on Crisis Reporting, The World Health Organization and the National Press Photographer's Association. In 2013, Dewi Lewis Publishing released Rochkind's first monograph, "Heavy Hand, Sunken Spirit", which documents the costs and consequences of Mexico's violent drug war. At Ground Media, Rochkind has produced films and directed campaigns for development and commercial clients, including Disney, Johnson & Johnson, CARE and The Global Fund Advocacy Network. LIVING ART is Rochkind's directorial debut of a narrative documentary short.
Contact
For inquiries, please contact fiscalsponsorship@filmindependent.org.