Local Girl

Love means doing anything for someone.
Project type: Fiction Feature
Project status: Development
Writer/Director: Carly Hopkins
Producer: Robert Scott Wildes
Producer: Giulia Di Stravola

Help independent filmmakers tell their stories.
Make a donation to Local Girl today.
Film Independent's Fiscal Sponsorship program opens the door to nonprofit funding for independent filmmakers and media artists. Donate today and help bring Local Girl to life.
Logline
A teenage ballerina who dreams of moving to New York enters into a dangerous romance with an older man who derails her plans.
Synopsis
Jade's natural skill and diligent training have earned her the lead role in the school ballet. Financial difficulties due to her parents' vicious and ongoing divorce prevented her from becoming a professional dancer at age 15. However, there is still an opportunity for her to dance in New York, pending grant application approval. At a house party, Jade has a future-altering encounter with Rhett, an older, captivating stranger. This leads to an electrifying first date where Rhett reveals that he is in recovery from drugs and alcohol and wants to move to Bali. As Jade becomes closer to Rhett, her other relationships start to suffer. One weekend, Jade's mom insists she watches her siblings during their father's scheduled visit. Disappointed by her father's inconsiderate behavior, Jade finds herself unable to resist Rhett's competing invitation to go surfing. When she returns home, she fights with her mother about her whereabouts. Shortly thereafter, Jade's mom reveals that Jade's father has won a long-standing court battle over their family home. Against her mother's wishes, Jade moves in with Rhett. When she does, she finds a bag of heroin on his bookshelf and hides it in her purse. Two weeks later, Rhett drops Jade off at her high school graduation. She gets caught by the event security with the heroin. When questioned, she covers for Rhett. When she confronts him about the arrest, he is casual and dismissive. As a consequence of her arrest, Jade gets a job at a local convenience store. Upon seeing a TV ad for a Balinese resort, She steals money out of the register and goes to Bali alone. In Bali, she sits in a cafe and writes. The entry bell of the cafe rings, and Jade looks up wide-eyed.

Meet the Filmmakers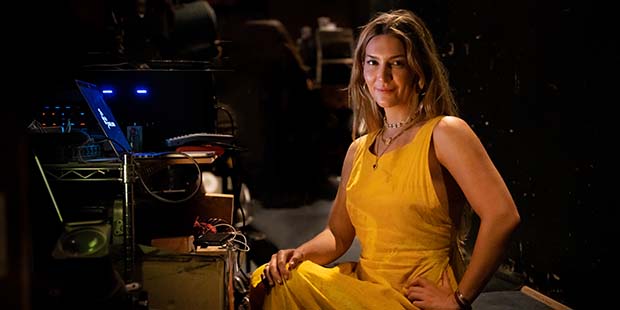 Carly Hopkins – Writer/Director
Carly Hopkins is an independent writer/director based out of Los Angeles, California. She graduated from Pratt Institute with her senior thesis film, On the 99th Night, winning first place at the university's competitive annual Film Festival. Her film was showcased at the Brooklyn Academy of Music. Upon graduating, Hopkins threw herself into the entertainment industry, working in various departments from wardrobe to production design to production coordinating. Currently, Hopkins is revisiting her hometown in Delray Beach, FL, and focusing on her first feature film, Local Girl. Her ultimate goal is to write and direct films that center on the female experience and leave an impact on audiences who crave empowering stories.
Robert Scott Wildes – Producer
Robert Scott Wildes is a writer, director, and producer with over twenty years of experience in the film industry. Originally from the suburbs of New England, he developed a fascination and obsession with suburban American microcosms. His unique, creative voice is focused on telling stories that hold up a mirror to our collective values. After graduating from American Film Institute in Los Angeles, he wrote and directed his first feature film, POOR BOY, which premiered at the Tribeca Film Festival, was nominated for the Best New Filmmaker Prize and screened theatrically worldwide. He has since directed a pilot for Sony Pictures Television and written scripts for Scott Free, Automatik, Timothy Olyphant, GQ, and John Schoenfelder. Recently, he delivered an Australian television series set in the 19th century and is currently writing his next feature, which will be produced by Votiv Entertainment.
Giulia Di Stravola – Producer
Giulia Di Stravola is an independent producer originally from Sao Paulo, Brazil. After working at the United Nations, she shifted her focus to entertainment. Her passion for storytelling, effective communication, and logistics allowed her to rise through the ranks quickly. Now based in Los Angeles, Di Stravola has managed and produced over 20 independent and commercial productions with a variety of clients, from A24 to Vogue to Beyonce. Currently, she is working as the lead creative producer on a feature film that is in pre-production. Her ambitions are to solidify her career as a creative producer and writer on/for narrative feature films.
Contact
For inquiries, please contact fiscalsponsorship@filmindependent.org.