Madhavi

Project type: Narrative Short
Project status: Development
Director/Writer: Jacintha Charles
Producer: Lisa Yadao
Producer/1st AD: Harly Crandall
Director of Photography: Jussi Hayha
Production Designer/Art Director: Emma Scully

Email: jacinthacharles@hotmail.com
Website: madhavifilm.com
Facebook: madhavifilm.com

Help independent filmmakers tell their stories.
Make a donation to Madhavi today.
Film Independent's Fiscal Sponsorship program opens the door to nonprofit funding for independent filmmakers and media artists. Donate today and help bring Madhavi to life.
Logline
An Indian divorcée, struggling to raise her daughter, is forced to confront her violent and painful past at a dinner gathering with old friends
Synopsis
Having survived domestic violence in her marriage, Madhavi, once an up and coming traditional Indian dance performer, is now a divorcée working at the local supermarket struggling to put the pieces of her's and her daughter's life back together.
Having to work long hours to provide for herself and daughter, she spends her downtime time at the beach, expressing her joys, sadness and frustration through her dance.
A chance encounter with a former family friend will lead them to a house gathering where the occasion quickly turns ugly as Madhavi is forced to relive her violent and painful past, causing her to respond in the most honest and powerful way – one that will break new ground in her relationship with her daughter.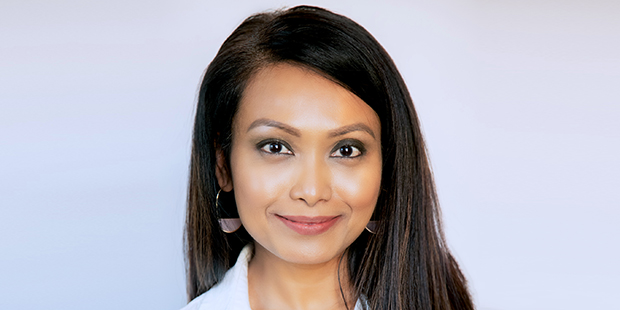 Meet the Filmmakers
Jacintha Charles – Director/Writer
Jacintha Charles is a Singaporean-Indian Filmmaker and Actress based in San Francisco, California. Her works have been funded by the Singapore Film Commission and her latest award-winning short film, The Gift, which she Co-Wrote and Directed, has screened at several film festivals including Dances With Films, Directed by Women Turkey, Feratum International Film Festival, Cinefantasy International Film Festival, Julien Dubuque International Film Festival, Phoenix Film Festival and New Filmmakers LA. Her approach to stories is heavily influenced by her life as a Woman of Color. Her goal is to share stories of the underrepresented, include diversity in front of and behind the camera and champion and encourage others like herself to tell stories of their own. She has just completed working on her first feature script SINGAPURA which is inspired by the 1964 race riots in Singapore and is working on the feature screenplay of Madhavi.
Lisa Yadao – Producer
Lisa Yadao is a Native Hawaiian-Filipina Producer, Director and Screenwriter based in San Diego and San Francisco. Her credits include short films, web series and videos for Bobbie Baby, Lucid Motors, Square, Caviar and FWD Stance.
Lisa is the Co-Founder of Paper Tongue Productions, whose mission is to raise visibility for women, especially women of color, and to champion underrepresented perspectives in film and media. The pilot episode of their food doc series, Roots & Wings, is currently in the film festival circuit as they seek funds to develop and shoot the rest of their series. Roots & Wings profiles WOC chefs who use food as a conduit for cultural awareness and as a means of perpetuating their cultural traditions.
Lisa also produced the award-winning short film, The Gift, currently in the film festival circuit as well. She has most recently worked with baby formula startup and industry disruptor, Bobbie Baby, on their creative content focusing on destigmatizing how we feed our babies.
Harly Crandall – Producer/1st AD
After graduating film school in 2010, Harly worked his formative first years in the film industry while living in San Francisco, CA. Aside from commercial, corporate non-profit organization projects, feature and short films are how he cut his teeth. They include The Dance, Drive Me to Vegas and Mars, The Gift and an upcoming feature film starring Constance Wu.
Harly frequently collaborates with Jacintha Charles since having met at film school and divides his time between the Bay Area and Los Angeles where he has since lived with his two sons, and now works as a freelance cinematographer and producer.
Jussi Hayha – Director of Photography
Jussi's childhood passion for drawing and photography has taken him from film school in Helsinki, Finland to the San Francisco film industry. He has shot award-winning documentaries and short films in Europe, Asia, Africa, North and South America. His commercial work includes clients like Microsoft, Google, Salesforce, Nissan, BMW, Red Bull, Nokia and Carmex. He has enjoyed the privilege of working as an instructor in San Francisco Film School in the past and divides his time between Helsinki and San Francisco.
Emma Scully – Production Designer/Art Director
Emma Scully is a San Francisco-based Filmmaker. She has worked in film and commercial Production Design for the last 5 years, and co-wrote and co-produced the award-winning short film, The Gift, that has played in film festivals across the globe. She has worked on projects with celebrated artist and filmmaker Lynn Hershman Leeson, as well as with actress Tessa Thompson. Emma is currently working at the San Francisco Film School, where she is in charge of adapting the school's course catalog for online and hybrid teaching, and is involved in planning, filming and editing new online filmmaking courses.
Contact
For inquiries, please contact fiscalsponsorship@filmindependent.org.