Morning Joy

A depressed pianist… a cheerful songbird… one magical song.
Project type: Narrative Short
Project status: Production
Director/Co-Writer/Producer: John Henry Hinkel
Producer/Composer/Co-Writer: Ethan Pakchar
Executive Producer: Nemanja Gavrilovic
Lead Animator: Miloš Djurdjevic
Animator: Marko Djuricic
Background Artist: Milan Maksimovic
Recorder: Charlotte Barbour-Condini
Piano: Vicky Chow

Email: jhhinkel@gmail.com

Help independent filmmakers tell their stories.
Make a donation to Morning Joy today.
Film Independent's Fiscal Sponsorship program opens the door to nonprofit funding for independent filmmakers and media artists. Donate today and help bring Morning Joy to life.
Logline
A depressed pianist rediscovers his zest for life through an unexpected encounter with a songbird.
Synopsis
A recently widowed pianist wallows in depression, unable to move forward with his life. When a cheerful songbird sneaks into his house, the pianist tries to chase it out before finally relenting and letting it stay. When the songbird encourages him to play a new song, the pianist finds an unlikely musical collaborator that temporarily lifts him out of his sorrow through the transformative power of their music… but is there more to this songbird than meets the eye?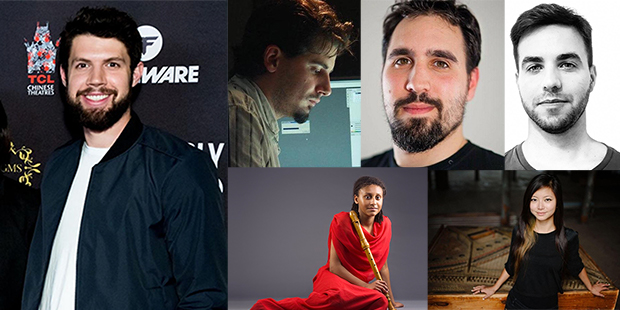 Meet the Filmmakers
John Henry Hinkel – Director/Co-Writer/Producer
John Henry Hinkel is a writer, director, and producer from Atlanta, Georgia. In 2016, he penned the feature-length adaptation of the Oscar-nominated animated short film, THE DAM KEEPER, for 20th Century Fox. In 2018, he produced the independent feature film, AUGGIE, starring Richard Kind.
Ethan Pakchar – Producer/Composer/Co-Writer
Ethan Pakchar is a composer, guitarist and writer. He is half of the music/ theater team "Lyons & Pakchar": FIVE POINTS world premiere (MN Theatre Award for Exceptional New Work, Theatre Latte Da) and BEAU (Adirondack Theatre Festival). As a guitarist, Ethan has played for Sara Bareilles, Lin-Manuel Miranda, Jennifer Hudson, Billy Porter, and the Broadway productions of HAMILTON, WICKED, BOOK OF MORMON, LION KING, and DEAR EVAN HANSEN.
Nemanja Gavrilovic – Executive Producer
Nemanja Gavrilovic is the founder of Talesgate Animation, an award-winning animation studio based in Belgrade, Serbia with a focus on inspiring and entertaining audiences of all generations. He has over fifteen years of experience producing feature films, television series, and commercials.
Vicky Chow – Piano
Vicky Chow has been described as "brilliant" (New York Times) and "one of our era's most brilliant pianists" (Pitchfork). Originally from Vancouver, Canada, she is based in Brooklyn, New York and is currently the pianist for Bang on a Can All-Stars. She is on the Board of Advisors for Composers Now and is also a mentor as part of the Juilliard School mentoring program. Ms. Chow is a Yamaha Artist.
Contact
For inquiries, please contact fiscalsponsorship@filmindependent.org.