Mother/Daughter/Civilian/Soldier

The issue of sexual assault in the military is far reaching and it's time for justice to be served.
Project type: Documentary Feature
Project status: Production
Director: Natalie Avital
Producer: Ryan M Murphy
Co-Producer: Lindsay Perry

Help independent filmmakers tell their stories.
Make a donation to Mother/Daughter/Civilian/Soldier today.
Film Independent's Fiscal Sponsorship program opens the door to nonprofit funding for independent filmmakers and media artists. Donate today and help bringMother/Daughter/Civilian/Soldier to life.
Logline
Four survivors of sexual assault perpetrated by active military members, unite to advocate for systemic, legislative change within the military court system.
Synopsis
A MOTHER, Adrian, seeks justice for her young daughters. The DAUGHTER of a two-star Army Major General, Jennifer, fights against the statute of limitations in the case against her father. They are joined by Kylisha, a CIVILIAN, who survived a brutal assault by an active military member, and Valerie, a SOLDIER, who was forced 'out of the closet' during 'Don't Ask, Don't
Tell' after reporting a sexual assault. Valerie was subsequently dishonorably discharged for revealing her sexuality, while her perpetrator remained uncharged and on duty. With the support of their Victims' Legal Counsel, Ryan Guilds, our four subjects forge a bond and a path as they navigate their own healing, while working together to passionately advocate for change against the systemic shortcomings of the military justice system, as related to its prosecutorial history of sexual assault cases.
Make a donation to Mother/Daughter/Civilian/Soldier.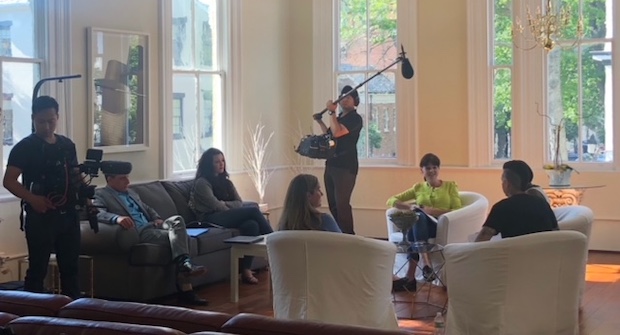 Meet the Filmmakers
Natalie Avital – Director
Natalie Avital is a film and tv veteran across multiple disciplines whose directorial debut, the documentary feature, 3 Hikers (2015) was received with great acclaim. Avital was widely praised for her ability to juxtapose the deeply personal story of three Americans imprisoned in Iran with the larger geopolitical landscape at work, as tensions between the United States and Iran escalated. She is committed to social impact through storytelling and believes in the power of film to create change.
Ryan M Murphy – Producer
Ryan M. Murphy has created, developed, and produced material ranging from reality docudrama to feature films. With over ten years of experience, he began his career with the dynamic production and finance-driven, 1984 Private Defense Contractors. Currently, Ryan is partnered with industry veteran Steve Stabler producing various projects for both network and studio distributors.
Lindsay Perry – Co-Producer
Lindsay Perry is a producer and writer. Recently, she was a script consultant and Associate Producer of the feature film, Hide and Seek (CJ Entertainment 2019) and served as Director of Development at Balcony 9 Productions in Los Angeles. She shares a passion for social impact filmmaking and believes in the fundamental power of storytelling to incite change and promote unity through empathy.
Make a donation to Mother/Daughter/Civilian/Soldier.
Contact
For inquiries, please contact fiscalsponsorship@filmindependent.org.