Mother-Daughter

An unlikely friendship sparks from a wrong number call
Project type: Narrative Feature
Project status: Development
Director/Writer/Producer: Tricia Lee

Website: tricialeedirector.com

Help independent filmmakers tell their stories.
Make a donation to Mother Daughter today.
Film Independent's Fiscal Sponsorship program opens the door to nonprofit funding for independent filmmakers and media artists. Donate today and help bring Mother-Daughter to life.
Logline
A quarterfinalist in the Academy Nicholl Fellowship, this drama feature with a sense of humor is about a lone transgender teen who helps a feisty undocumented Asian woman escape deportation, and they form an unlikely friendship that helps them heal their relationships with their own families.
Synopsis
Wei-Ling, a recently-widowed, karaoke-singing, church-going Asian woman, is undocumented and works at a garment factory. She receives a wrong number phone call from Rachael, who she believes is a teenage girl. Wei-Ling, offers to teach Rachael how to sew to help her get into a prestigious internship with a famous fashion designer.
When they meet, Wei-Ling sees that Rachael is trans and completely rejects her. Immigration raids the garment factory and Wei-Ling begs Rachael to save her from deportation. Rachael puts Wei-Ling in her trunk and gets her out.
An unlikely friendship starts to form as these two women who are struggling with their own families, start to open up to each other. Rachael wants to please her mother who wants Rachael to go to business school. While she's outwardly accepting, Rachael senses that her mom hasn't fully accepted her transition.
Wei-Ling's daughter hid her out-of-wedlock pregnancy from her for 7 months, as she know Wei-Ling disapproves of her black boyfriend.
Through her relationship with Rachael, Wei-Ling learns to face her own intolerance and apologizes (for the first time in her life) to her daughter. And Rachael deals with the possibility that her mother may never accept her, and stands up for herself.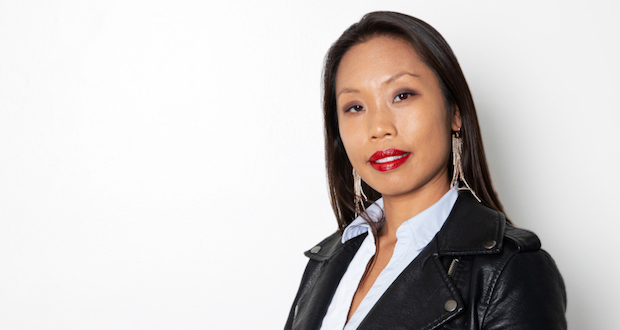 Meet the Filmmakers
Tricia Lee — Director/Writer/Producer
Tricia Lee is an accomplished and versatile director-writer who has directed seven shorts and 3 award-winning feature films. Most recently, Mother-Daughter, her feature script was selected as a quarterfinalist in The Academy Nicholl Fellowship, semifinalist in The Page International Awards, the prestigious Producers Guild of America Power of Diversity Master Workshop, Athena Screenwriting Lab, and received an 8 from The Blacklist, lauded as "an envelope pushing and conversation starting kind of project … The writer has a really strong and fresh voice and does a great job tackling a story like this with a strong point of view". Her feature script Spoken was Top 5 on The BitchList and short script was a finalist in Lena Waithe's AT&T Hello Lab.
Tricia is attached as director to Sonata, a feature film being produced by Viola Davis' company JuVee Productions. Blood Hunters (Audience Choice "Best Feature" – Fright Night Theatre) sold to Hulu and was presented in Cannes by Frontieres. To make this film, Tricia successfully converted 19 tech investors from the highly-sought-after Canadian Angel Investment Networks into movie investors … an unprecedented and laudable feat! Silent Retreat, won Best Canadian Feature –Toronto After Dark, and was theatrically released across Canada with a 2-week run in Toronto. The film was picked up for distribution by Gravitas Ventures and VVS and sold to NBC Universal's Chiller Network.
Contact
For inquiries, please contact fiscalsponsorship@filmindependent.org.