No Handicap

Disabled players and their allies are using advocacy and technology to fight stigmas and enact change to make electronic gaming accessible and level the playing field.
Project type: Documentary Feature
Project status: Development
Director/Producer: Derek Dabkoski
Producer: Ian McClellan
Producer: Paige Draney
Co-Producer/Director of Photography: Nicholas Finn Myggen

Email: dabkoski@gmail.com

Help independent filmmakers tell their stories.
Make a donation to No Handicap today.
Film Independent's Fiscal Sponsorship program opens the door to nonprofit funding for independent filmmakers and media artists. Donate today and help bring No Handicap to life.

Logline
Disabled players and their allies are using advocacy and technology to fight stigmas and enact change to make electronic gaming accessible and level the playing field.
Synopsis
No Handicap will take a deep dive into the world of accessible gaming through the lens of exceptional people using new technologies to participate in the gaming arena on an even playing field with others, both able-bodied and disabled alike.
In the world of adaptive gaming, there really is No Handicap.
In this documentary, we will follow prominent gamers who have found ways to access the games they love and participate at the highest level. From blind Mortal Kombat champions, to World Record holding quadriplegic Call of Duty players, we will come to understand the why and how these gamers do what they do. This includes firsthand glimpses into the world of these players, showcasing the struggles they face in their daily reality, from things like bullying, self-doubt, personal care and more, we too will feel the joy that gaming provides as it grants access to a reality untethered by physical constraints.
We will also meet the all!ies (people whose mission is to support gamers with disabilities) who are devoted to creating tools and content that's accessible to as wide a group as possible, and better learn the empathy with which they operate to get that content created. These people are equally important to the evolution of the accessibility movement in video games.
Through conversations with developers, we will also learn the history of adaptive gaming, from when players had no tools to play at all, into the current world with hardware and software assistance helping them execute moves neither you nor I could possibly imagine.
We want No Handicap to carve out a space in the mainstream for members of the disabled community to tell the world their own stories, their challenges and their triumphs, not only within the gaming world but in their real live experience!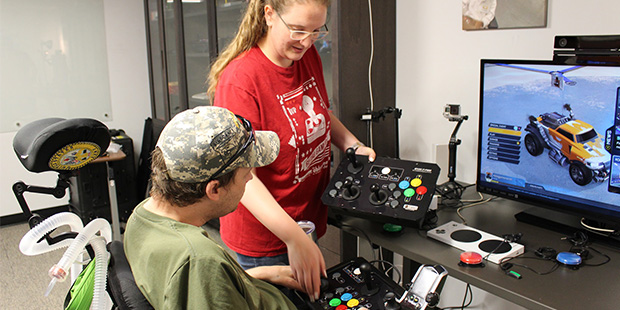 Meet the Filmmakers
Derek Dabkoski – Director/Producer
A native of San Francisco, Derek Dabkoski is an award-winning filmmaker whose films have screened at festivals around the world, including the San Francisco International Film Festival, the SF Doc Fest, the Portland Film Festival, the Imagine Science Film Festival, Indie Memphis, Courage Film Festival and Oaxaca FilmFest. He completed his undergraduate degree from NYU despite a debilitating attack that left him with a traumatic brain injury. After receiving his MFA from USC's School of Cinematic Arts in Film and Television production, he directed his first feature documentary, Derek Changes His Mind, which chronicled his participation in a year-long experiment studying the effects of stem cell therapy to treat his TBI. After learning a lot about his own tenacity and even more about the grueling task of producing, directing, editing an autobiographical feature documentary, he is excited to use this knowledge to explore more stories about the disabled community.
Ian McClellan – Producer
Ian McClellan started as a company electrician on the 2012 Sundance Grand Jury Prize-winning film Beasts of the Southern Wild. He went on to associate produce for Academy Award-winning filmmakers Rob Epstein and Jeffrey Friedman on their documentary The Battle of AmfAR (premiered Sundance 2013). He earned his MFA at USC in film and television production in December 2016. The last thesis he produced, Lalo's House, won a Student Academy Award in 2018. He now runs commercials and narrative content from his production company Island Time Pictures. His feature film Derek Changes His Mind is currently in the festival circuit.
Paige Draney – Producer
Paige Draney earned her B.F.A. in costume design from the California Institute of the Arts and went on to design The Tin Can Brother's Wayward Guide, Neutrogena and Ghetto Film Schools short film En Avant and Open Screenplay's award-winning short film Kin. She began producing after the pandemic, producing the short films Cricket and It's Just True and line producer numerous music videos and commercials. Paige is currently associate producing the feature film First Gens, shooting this fall. She looks for stories that capture the whimsy and sincerity of the human heart.
Nicholas Finn Myggen – Co-Producer/Director of Photography
Born in Panorama City, California, Nick was on and off film sets from the age of eight. Although he started out in front of the camera acting in commercials, Nick was always drawn to the magic behind it. He eventually started working in Video Assist and became an avid student of the craft. For Nick, his love of Photography can be traced to his childhood memories of his Grandfather shooting and developing photos at home.
Attending high school in Sweden his passions accelerated for both photography and motion pictures, as the school had both a darkroom and edit suites. Upon returning to California, Nick studied Motion Pictures & Television with a focus on Cinematography, and a minor in Photography at the Academy of Art University in San Francisco. Today Nick is actively involved in both the independent and commercial aspects of San Francisco's film industry, working as a Producer & Cinematographer for Interface Pictures LLC.
Contact
For inquiries, please contact fiscalsponsorship@filmindependent.org.