Phoenix

Project type: Documentary Feature
Project status: Production
Director: David Henry Gerson
Producer: Odessa Rae
Executive Producer: Katherine LeFrak
Executive Producer: Ondi Timoner

Website: davidhenrygerson.com

Help independent filmmakers tell their stories.
Make a donation to Phoenix today.
Film Independent's Fiscal Sponsorship program opens the door to nonprofit funding for independent filmmakers and media artists. Donate today and help bring Phoenix to life.


Logline
From unknown migrants to international pop-stars – we will explore how various refugee artists have risen above and triumphed over the disparate and desperate circumstances of their lives.
Synopsis
The film weaves together a select group of refugee artists. We will meet musicians, visual artists, filmmakers, breakdancers, following their refugee journeys – in their tents or in their studios – as they struggle to turn the incomprehensible into the experiential. Some of the profiled artists are musicians that have arrived on the shores of Lesvos by dingy while others might be international Pop Stars who grew up in refugee camps. The constant amongst these stories will be the collective struggle to express the chaos of displacement, war, and trauma into art.
The story will begin with the shadows of war, see the journey to find a new home, and then relish in the fruits of the painful struggle to make meaning out of that journey. Marrying the varying narratives, the film hopes to break preconceived notions and expose absurdities and contradictions of the refugee experience. We'll see wildly varied viewpoints and stunning visual possibilities that explore how life's limits have yielded limitless imaginations.
At the core of the film we will see the creative and practical journeys of artists who have been forced into being refugees.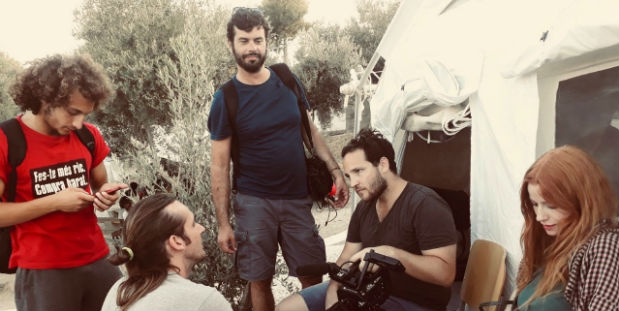 Meet the Filmmakers
David Henry Gerson — Director
David is a Student Academy Award-winning filmmaker whose work has also won prizes at Sundance and other international festivals. Born and raised in Washington DC, he is a graduate of Columbia University and the American Film Institute. David is the recipient of the AFI 2016 Richard P. Rodgers Award for Creative Excellence. His film, All These Voices, tells the story of a young Nazi soldier encountering an avant-garde theater-troupe of survivors celebrating the end of WWII. It won the 2016 Student Academy Award. David's spec screenplay, Above Kings, was nominated to the 2017 Tracking Board Hit List. His short film, American Standard ("Dynamite!" – Abel Ferrara, "Truly excellent" – John Patrick Shanley), about a US Veteran returning home to his undocumented immigrant girlfriend aired on the American Forces Network at every US military base around the world. His film Ultra Violet for Sixteen Minutes ("Totally engaging" – Al Maysles), a documentary about the late Ultra Violet – Salvador Dali's Mistress, Andy Warhol's muse, and a born-again Mormon – screened at over a dozen festivals worldwide, the Pompidou Museum in Paris, and was acquired into the permanent collection of the Museum of Modern Art in NY. As an actor, David has worked in Film, TV, and on Stage with Doug Liman, David Mamet, James Lapine, and opposite Al Pacino. He trained at the British American Drama Academy in London, as well as in the Method and Meisner techniques in NY and LA. He produced and starred in Matthew Lessner's feature Automatic at Sea and short film Chapel Perilous, which won the Audience Award at the 2014 Sundance Film Festival.
Odessa Rae — Producer
Odessa Rae is a producer and actor. As a child, she grew up mostly in India, Japan and Hong Kong where her father ran Mirabaud Group for the Far East and LGT (The Liechtenstein Global Trust). As a producer she was a key instrument in the formation of Ivanhoe Pictures, which produced films such as the recent box office hit Crazy Rich Asians. She is currently producing an untitled Deutsche Bank project with Rosanne Korenberg (I Tonya). Odessa recently directed a short film for the UNHCR that is on a global tour with an installation of thoughtful messages by Syrian refugees which gave birth to Phoenix.
As an actor Odessa began her career in Japan where she became known through commercials she starred in with Brad Pitt. She went on to co-write, produce and star in her first feature film, Jenifa(A widely distributed Japanese movie).
Odessa is also currently starting a foundation with partners Diana Alvarez (producer; Ocean's 8, Hunger Games) and Guilhem de Castelbajac. The foundation was inspired by the refugee artists Odessa has been meeting through the documentary.
Katherine Embiricos LeFrak — Executive Producer
Katherine is a private investor and has lived in Europe and the US, where she lives now. She is Greek and is an ardent supporter of causes in Greece, especially from the time that the Greek financial crisis started to unfold, which she witnessed while working at the European Central Bank in Frankfurt. She has spearheaded fundraising initiatives that have raised over 1 million Euros for Greek causes ranging from childhood education to urgently needed hospital equipment. In 2016, after hearing about the refugee crisis, she went to Lesvos to volunteer and was very affected by what she witnessed there. That galvanized her to organize an emergency fundraiser in New York in support of establishing a home for unaccompanied refugee children in Greece. She is also a member of the board of trustees of the Cycladic Art Foundation. Phoenix is Katherine's first time getting involved in a documentary film, a genre she has always been passionate about.
Ondi Timoner — Executive Producer
Ondi Timoner has the rare distinction of winning the Grand Jury Prize at the Sundance Film Festival twice – for her 2004 documentary, Dig! and We Live In Public (2009). Both films were acquired by MoMA, NY for their permanent collection. Other award-winning features include: The Nature of the Beast (1994), Join Us (2007), COOL IT (2010) and Brand: A Second Coming (2015). In 2017, Ondi created and produced the critically-acclaimed 10-hour nonfiction series Jungletown about the building of "the world's most sustainable town" for Viceland. Mapplethorpe(2018), Ondi's first scripted feature – which she co-wrote, directed, edited and produced through her production company, Interloper Films – stars Matt Smith and premiered at TriBeCa Film Festival – where it won an Audience Award and was picked up by Samuel Goldwyn for theatrical distribution. It will be released in theaters across America this March. MAPPLETHORPE has won the Audience Award for Best Narrative Feature at nearly every festival in which it has screened worldwide. Current projects include WeTalk, her traveling talk show celebrating the women shaping our culture across arts, entrepreneurship, government and technology, and a feature-length documentary (Chrysalis) about the Opioid epidemic through the eyes of an artist. Timoner is a member of the Academy of Motion Picture Arts & Sciences, the DGA, the PGA, the International Documentary Association, Film Fatales and Women in Film.
Contact
For inquiries, please contact fiscalsponsorship@filmindependent.org.