Professor Doctor: Shamanism in the Anthropocene

An·thro·po·cene /ˈanTHrəpəˌsēn/ (n.) : the period during which human activity has been the dominant influence on climate and the environment
Project type: Documentary Feature
Project status: Development
Director/Producer/Cinematographer: Colin Scott
Director/Producer/Lead Researcher: Abby Snyder

Email: csymmscott@gmail.com
Help independent filmmakers tell their stories.
Make a donation to Professor Doctor: Shamanism in the Anthropocene today.
Film Independent's Fiscal Sponsorship program opens the door to nonprofit funding for independent filmmakers and media artists. Donate today and help bring Professor Doctor: Shamanism in the Anthropocene to life.
Logline
In 2015, the tiny West African nation of Togo was named "unhappiest" in the world by the World Economic Forum, yet Togolese subsistence farmer, Vodun ("Voodoo") priest, and aspiring rapper known as "Professor Doctor" manages a high-level of happiness through an interconnectedness with the land. However, decades of clearcutting and erratic climatic patterns have devastated crop yields and biodiversity rates; the distressing reality of climate change threatens to eradicate every aspect of Prof Doc's identity.
Synopsis
Togolese subsistence farmer, Vodun ("Voodoo") priest, and aspiring rapper who goes by the stage name "Professor Doctor," tills the arid Sub-Saharan soil humming the tune of his latest track "Tonkpin-tine (Feeling Fiesta)" stopping only to remark that "the rains don't come anymore." Decades of clearcutting and erratic climatic patterns have resulted in a prolonged dry season, devastating crop yields and causing food insecurity; the distressing reality of climate change for many farmers in developing countries like Togo, Professor Doctor's home.
Climate change coupled with unsustainable land management practices have also led to a dramatic decrease in biodiversity levels in Togo. Subsistence aside, Professor Doctor's role as a Vodun priest – a religion and healing practice inexplicably intertwined with the natural world – is further complicated as local flora and fauna used for traditional medicines and practices become increasingly difficult to procure.
In 2015, Togo was named the "unhappiest" nation in the world by the World Economic Forum. Regardless, Professor Doctor manages a high-level of happiness – even by skewed Western standards – with so much of it dependent upon his music. With much in flux at home, Prof-Doc has aspirations of pursuing his music career in the neighboring nation of Ghana where local artists can explode into intercontinental superstars reminiscent of rappers in the United States. However, will a successful hip hop career, and its material wealth, replace what has been lost? Or are the actions of the developed world, which disproportionately contribute to climate change, forcing subsistence workers in developing countries to seek other means of existence and, therefore, lowering levels of happiness due to a loss of culture? Perhaps, all Prof-Doc needs to be happy is for the rains to come again so he may farm, practice Vodun, and perfect his rap game in peace.
Make a donation to Professor Doctor: Shamanism in the Anthropocene.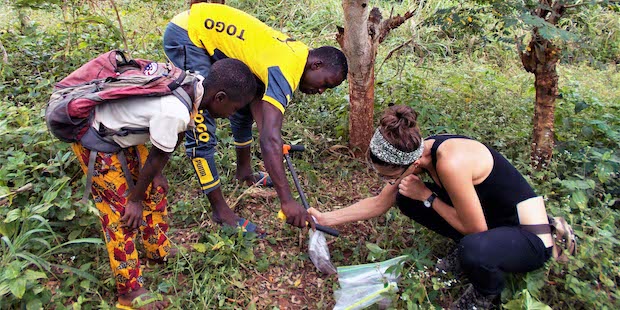 Meet the Filmmakers
Colin Scott – Director/Producer/Cinematographer
Colin Scott is an accomplished writer/director/producer for Tony Stone's Heathen Films (Severed Ways, Out of Our Minds, Peter and the Farm). Following work as an Alaskan fishing guide, wildland firefighter, and Salt Lake City paramedic, Colin completed an MFA from the University of Texas in Screenwriting.
Colin is currently co-producing Heathen's new feature narrative Ted K – starring Sharlto Copley of District 9 – and working to expand the Academy Award nominated short Winter Light into feature-length God's Country starring Thandie Newton of Westworld.
Colin has directed, produced, and lensed a number of highly acclaimed documentaries in some of the world's most remote backcountry settings.
Abby Snyder – Director/Producer/Lead Researcher
Abby Snyder is a Yale University Master's graduate, Fulbright Scholar, Environmental Defense Fund Climate Corps Fellow, World Wildlife Fund Corporate Partnerships Singapore Fellow, and Peace Corps Volunteer with ten years of professional experience in international agricultural sciences and sustainable development. Mission driven with adept cross-cultural skills, she has lived, worked, and conducted field research in Costa Rica, Madagascar, Singapore, Indonesia, Ecuador, and Togo.
In 2018, Abby received Yale's Tropical Resource Institute Fellowship to research a forestry project she established ten-years-prior as a Peace Corps volunteer in Zafi, Togo. Abby has worked with the Environmental Defense Fund, World Wildlife Fund and the United Nations, FAO to mitigate the impacts of climate change. More recently, she authored the WRI and USDA endorsed Greenhouse Gas Inventory Guidance for Dairy Processors to drive transparent and science-based GHG emissions reporting.
Her experiences have cultivated technical expertise in sustainability metric and indicator development, climate science, and the biophysical and sociocultural aspects of environmental sustainability. Abby draws upon her expertise as she grapples with an epoch defined by tremendous human-induced change. She is committed to asking deeper questions that explore the dominant worldview and her anthropocentric assumptions that underlie the definition of, and path toward, "global sustainability."
Make a donation to Professor Doctor: Shamanism in the Anthropocene.
Contact
For inquiries, please contact fiscalsponsorship@filmindependent.org.