Reaching New Heights: Fazlur Rahman Khan and the Skyscraper

The untold story of the father of modern-day skyscrapers
Project type: Documentary Feature
Project status: Development
Director/Writer/Producer: Laila Kazmi
Cinematographer: Ryan Purcell
Graphics and Animation: Begoña Lopez
Associate Producer: Arnila Guha Nolok

Website: www.frkdocumentary.com
Facebook: facebook.com/LailaKazmiStories
Twitter: @KazmLaila

Help independent filmmakers tell their stories.
Make a donation to Reaching New Heights: Fazlur Rahman Khan and the Skyscraper today.
Film Independent's Fiscal Sponsorship program opens the door to nonprofit funding for independent filmmakers and media artists. Donate today and help bring Reaching New Heights: Fazlur Rahman Khan and the Skyscraper to life.
Logline
Story of the American structural engineer Fazlur Rahman Khan, known as the 'Einstein of structural engineering' and 'father of modern-day skyscrapers.' Khan, a Muslim immigrant, designed the iconic Sears (now Willis) Tower and the John Hancock Center in Chicago. His pioneering innovations in skyscraper construction literally transformed the landscape of America's largest cities and paved the way for supertall skyscrapers worldwide.
Synopsis
In 1955, America was experiencing a post-World War II economic boom. There was a flurry of new construction. In Chicago, known as the birthplace of the high-rise, Mies van der Rohe was teaching at IIT, and his modernist ideas had led to the emergence of the Second Chicago School of architecture. A young engineering graduate, Fazlur Rahman Khan, a Muslim immigrant from Bangladesh (then East Pakistan), arrived in Chicago after earning two master's degrees and a PhD in just three years as a Fulbright Scholar at the University of Illinois at Urbana-Champaign. He soon found himself employed at one of the world's top architecture firms, Skidmore, Owings & Merrill (SOM). He had simply walked into the firm's office off the street, requested an interview, and left with a job offer in hand. There, he would go on to design America's tallest building at the time—the Sears Tower (now Willis Tower)—and develop a series of structural systems that would change the course of the skyscraper, allowing builders to go higher than ever before possible.
This is an untold story of pioneering technical achievements by a man who was curious about the world and loved people, music, and poetry as much as he loved science and engineering.
Make a donation to Reaching New Heights: Fazlur Rahman Khan and the Skyscraper.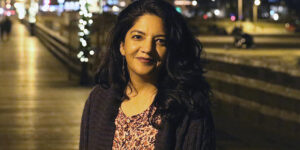 Meet the Filmmakers
Laila Kazmi — Director/Writer/Producer
Laila Kazmi is a two-time Emmy® Award-winning producer, director and editor, and a six-time nominee. Her documentary shorts have aired on PBS television stations, Seattle Channel, streamed on PBS NewsHour, and screened at film festivals. Laila launched and produced multiple digital and broadcast series, including the award-winning immigrants' stories series Borders & Heritage, streaming on PBS.org. She is a two-time SCETV Fellow of the International Public Television (INPUT) Conference in Tokyo and Brooklyn. Laila grew up in Karachi, Bahrain, and Chicago, where she first learned about Fazlur Rahman Khan on a visit to the Sears Tower. The Fazlur Rahman Khan documentary is Laila's first feature-length film.
Ryan Purcell – Cinematographer
Ryan Purcell is a Director of Photography with extensive experience shooting narrative, documentary and commercial work. His work has taken him to locations around the world. His love of fine lighting, lyrical style, and clear focus on content and story helps elevate the projects he works on. Early in his career, he worked under, and learned from such acclaimed cinematographers as Haskell Wexler and Sven Nyquist. He was recently awarded Best Feature Film Cinematography for The Stairs from the European Cinematography Awards. Ryan is an avid reader who spent his youth living in Holland and Germany and traveling extensively with his family across Europe, which left him with a love of travel and a keen interest in people and their stories.
Begoña Lopez – Graphics and Animation
Begoña Lopez is an art director. She has created visual solutions and graphic packages for documentaries, fashion, music videos and publications for renowned art museums and galleries, including Sicardi Gallery, The CAMH, Houston Symphony, Barbara Davis Gallery, and Diverseworks. She co-directed a 12-min video called Bodyworks, which was shown at the Whitney Museum. Her documentary motion graphics collaborations include Cast The First Stone, Gringo Trails, The Memory of Fish, Torah and Trash and Migration, and features Never Open The Door, and Excuse Me for Living. Before moving to the USA, Begoña lived in Buenos Aires where she worked as an art director for TV, Film, and music videos.
Arnila Guha Nolok – Associate Producer
Arnila Guha Nolok is a filmmaker and actor. Her documentary shorts have screened at various film festivals and aired on the North Texas PBS channel. She is working as a cinematographer/editor at Methodist Health System and as a freelance production coordinator/editor. Prior to that, she was an adjunct faculty at the Department of Media Arts at the University of North Texas. She graduated in 2019 with an MFA degree in Documentary Film Production. Born in Bangladesh, raised in Dhaka and Darjeeling, she currently resides in Texas.
Contact
For inquiries, please contact fiscalsponsorship@filmindependent.org.