Reckless

Two disparate teens find common ground, but at a cost.
Project type: Narrative Short
Project status: Development
Director/Writer: Major Dorfman
Producer: Creighton Dorfman
Producer: Grace Merriman
Producer: Justin Gonçalves
Producer: Will Pinke
Cinematographer: Eliot Grigo

Website: majordorfman.com

Help independent filmmakers tell their stories.
Make a donation to Reckless today.
Film Independent's Fiscal Sponsorship program opens the door to nonprofit funding for independent filmmakers and media artists. Donate today and help bring Reckless to life.
Logline
A teenage boy is dropped off to work on a school project with a classmate. The strangers are forced to connect and a harsh reality is revealed.
Synopsis
CODIE (17) is dropped off in a rural part of town. He sees his quiet and awkward classmate SHANE (15), standing in the middle of a field, staring at him. Codie wants nothing more than to complete their school assignment and leave, but Shane seems to be excited at the prospect of making friends with a popular boy from class.
As they meander through the field, the two boys get to know each other and finally begin their art class assignment of sketching portraits of one another. It's not long before Codie begins to coerce Shane into taking his mom's van out for a joyride. "Maybe we should get back to drawing," says Shane softly. But Codie is convincing, and Shane would hate to seem uncool.
In the car, something catches Codie's eye: two toothbrushes in one of the cup holders. Codie then sees more: sleeping bags, framed photos, a graded quiz. Shane ignores the artifacts of his unhoused circumstances. Codie suggests they shouldn't drive, but Shane insists.
The car coasts around in the tall grass, both boys smiling ear to ear. Codie slows to a stop. "You wanna try?" A few moments into Shane's turn, the car lurches as the back tires get lodged in a muddy divot. The boys attempt to push the van out, and Shane begins to panic, nearly on the verge of tears.
The boys wrestle and in the far distance, a woman approaches the boys. "Shane, what are you doing?" Codie, in a panic, runs away, leaving the mess behind him.
On the main road, Lee picks Codie up, muddied and quiet. Codie realizes he's mistakenly placed Shane's portrait in his backpack. He's left staring at a rough portrait of himself, sketched by someone of whom he now has a much deeper understanding.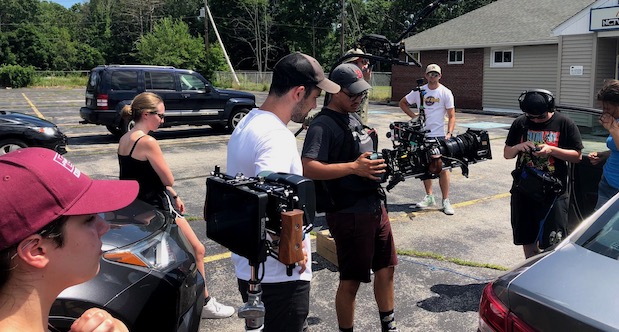 Meet the Filmmakers
Major Dorfman – Writer/Director
Major is a fourth-year MFA Directing student at Columbia University's School of the Arts. From Northbridge, Massachusetts originally, Major received his bachelor's in Visual Arts from Emerson College, graduating Cum Laude. His stories often feature situations loaded with moral ambiguity, and how the characters placed in those situations choose to act. His films Heighs and Fourth of July are currently on festival runs, with the latter earning a Special Mention for Best U.S. Student Short at the 2021 Palm Springs International ShortFest. He currently works as an assistant editor for ABC News
Creighton Dorfman – Producer
Creighton Dorfman is a writer and producer from Boston, MA. He's a recent graduate of Emerson College's Film Program, where he majored in Visual Media Arts. Creighton has written and produced several TV pilots and short films during his time at Emerson. Reckless is the third of 3 short films he's produced with Major. Creighton will be obtaining his Masters in Leadership in Creative Enterprises from Northwestern University starting this Fall. He's currently developing a comedy pilot about a dysfunctional funeral home.
Grace Merriman – Producer
Grace is an independent Film and Theater Producer and recent graduate of the Creative Producing program at Columbia University's School of the Arts. Her mission is to find and support stories that highlight underrepresented voices. Her most recent projects have explored a diverse range of important issues and have gone on to screen at a number of festivals including Miami Film Festival, Sonoma Film Festival, Foyle Film Festival and the London Independent Film Festival. www.gracemerriman.com
Eliot Grigo – Cinematographer
Eliot Grigo is a cinematographer with years of training in both filmmaking and photography from institutions such as FAMU in Prague (CZ), Maine Media Workshops, Rochester Institute of Technology, and Syracuse University. He has worked with brands such as Christian Dior, Nike, Headspace, WeWork, and Maybelline, and has developed a wide perspective on craft-driven filmmaking. His style celebrates the specifics of sculpting both artificial and existing light into natural and dramatic images. Born and raised in Rockport, Maine, he now lives and works in New York, NY. http://eliotgrigo.com
Justin Gonçalves – Producer
Justin is an Emmy-nominated filmmaker based in New York City. As a storyteller, he's drawn to tales of missed connections and the could-have-beens. Prior to attending
Columbia Film, Justin worked as a short-form documentary filmmaker and journalist for Great Big Story, CNN, and the NBA. On the commercial front, Justin has directed and produced content for the Columbia University Film Festival, Verizon, Amazon, Showtime, and Ford Motors. His previous producing credits include Major Dorfman's
RIPS (2021), Family Heirloom (2019), So Good to See You (2021) and Mila (2018).
Will Pinke – Producer
Will is a New York based writer, director, and producer who is currently pursuing an MFA degree in the Columbia University Graduate Film Program. Will graduated from
Princeton University, where he studied Literature and Film, and was a co-founder and head writer for All-Nighter, Princeton's first Late Night Talk Show (now in its 10th season). His most recent short film, Family Heirloom, is currently playing in festivals, and his next short, Daddy's Night, will be premiering in late 2021.
Contact
For inquiries, please contact fiscalsponsorship@filmindependent.org.