Ricky

The road to redemption is paved with sacrifice.
Project type: Narrative Short
Project status: Development
Director/Writer: Rashad Frett
Executive Producer: Mark Manson
Producer: Pierre Coleman, Ramfis Myrthil
Cinematographer: Sam Motamedi
Lead Actor: Melvin Mogoli

Email:
Rickytheshortfilm@gmail.com
Facebook: @Rickytheshortfilm

Help independent filmmakers tell their stories.
Make a donation to Ricky today.
Film Independent's Fiscal Sponsorship program opens the door to nonprofit funding for independent filmmakers and media artists. Donate today and help bring Ricky to life.
Logline
A young ex-convict struggling with new freedom pursues redemption at all costs when given a job from his neighbor.
Synopsis
A week after Ricky's release from prison, he checks in with his parole officer. He's informed that he should be actively seeking a job to avoid violating his parole.
Soon after, James, Ricky's younger brother, teaches Ricky the basics of driving and lets him drive home. Upon returning home, their mother confronts James for letting Ricky drive. After apologizing, Ricky sees an opportunity to ask his neighbor for a job at her restaurant. She's hesitant but gives him a chance under the condition that he works hard and is on time.
That evening, James devises a plan to lock Ricky in a room with a girl that likes him. It backfires.
The next day, Ricky tries waking up James for a ride to work but he's wasted from the night before. Since their mother already left for work, Ricky's desperate. He takes James' car and drives to work on his own. A distraction results in Ricky fleeing the scene of a fender bender.
Ricky arrives on time, nervously starting his new job. On Ricky's lunch break, James rushes to the restaurant, confronting him. Ricky tries to explain his actions, but a pissed off James leaves with his car.
After work, Ricky returns home and lies to his mother saying that James brought him to work. The phone rings, she answers. It's their neighbor telling her to immediately come outside. Ricky follows behind her.
When she gets outside, James is being arrested in front of their house. She finds out James is being accused of fleeing the scene of a "hit and run." James and Ricky exchange looks. Will Ricky own up to his recklessness or does the prospect of going back to prison cause him to let his younger brother take the fall?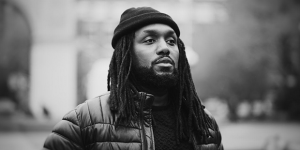 Meet the Filmmakers

Rashad Frett — Director/Writer
Rashad Frett is an award-winning Caribbean American Director, Cinematographer, and Editor. He was always fascinated in the arts but pursued it seriously after experiencing 9/11 firsthand when his Army unit was sent to NYC to help with rescue/ evacuation. Frett wanted to make a positive impact on society and telling stories through the power of media became his passion. Frett furthered his education and honed his filmmaking skills which got him accepted into the NYU Tisch Graduate Film program. He's a Writer/Director MFA alumnus at NYU Tisch and a recipient of the BAFTA – HBO scholarship, Martin Scorsese Young Filmmakers Scholarship, BET Blackhouse Foundation Fellowship at Sundance, the Prestigious King Wasserman Award Winner at NYU First Run, a DGA Student Film Award Winner, and a recipient of the Spike Lee Production Fellowship. Additionally, Frett is a Cinematographer with work that has screened in various film festivals including SXSW, LA Film Festival, SFFilm Festival, ABFF, Urbanworld, Aspen Film Festival, BlackStar, Hollyshorts, Webby Awards, and Berlinale. His 2011 directorial debut The Second District TV pilot received national acclaim and a mention in the Wall Street Journal.
Pierre Coleman — Producer
A native of Newark, NJ, Pierre attended Howard University's School of Communications, earning his degree in Film Production. He is the founder of Solid Brick Entertainment, a company that prides itself in producing compelling stories and creating innovative projects. Pierre worked on the critically acclaimed HBO series The Wire and his extensive production experience led him to work on films starring Queen Latifah, Will Smith, Jennifer Aniston, Tina Fey, Steve Carrell, and Taraji P. Henson. Pierre has written, directed, and produced several award-winning projects that played the film festival circuit and aired on television. Also, an advocate for giving back to his community, Pierre educates inner-city students, providing them with hands-on film experience. He is the creator of comedy series Jackson & Lewis and is currently developing new projects. Some of his clients include Aspire TV, Rutgers University, and Mentoring USA.
Ramfis Myrthil — Producer
Ramfis Myrthil is a New York-based filmmaker who is committed to producing and championing POC and LGBTQ+ stories. Ramfis has produced over 20 films of varying lengths, some of which have been featured at top-tier film festivals such as Cannes and Sundance. In addition, Ramfis is a regular speaker at SXSW and Cannes Film Festival. Ramfis is a proud board member of The Hollywood Radio & Television Society (HRTS), the Program Advisory Committee (PAC) for the Five Towns College Film/Video division and the advisory board of the Long Island Film/TV Foundation. Ramfis is a regular speaker and programmer with The Parity Project which advocates for fair economic and narrative inclusion and equity of black artists, executives and representatives in television and film. He is also a member of BAFTA NY, The Friars Club, and Toastmasters International. In 2018 he was awarded by the STAR Network and awarded the Stars under 40 honor for his work. Ramfis' passion for film is matched by his passion to giving back to the community. He does this through participation with non-profits Mythic Bridge, the I Can Still Do That Foundation, Teach for America, Schools That Can, and Blacks on Wall Street.
Sam Motamedi — Cinematographer
Sam Motamedi is a NYC based Filmmaker/Cinematographer. After graduating with a Dual Degree in Political Science & Persian Studies from the University of Maryland he enrolled in the NYU Graduate Film Program. With experience in commercial and narrative productions, Sam's work has screened on CNN, ESPN and many other local and nationwide stations.
Melvin Mogoli — Lead Actor
Melvin Mogoli is a New York native, of Nigerian and Grenadian descent. His passion for the arts started at a young age in church plays learning how to understand the importance of playing a character for a greater cause. In his sophomore year at Talent Unlimited High School where he landed third place in a Shakespeare Monologue Competition, playing Sebastian from Twelfth Night. Honing his craft even further, Mogoli studied under Marishka S. Phillips at the Susan Batson Studio which propelled him further in dramatic arts. He went on to a professional career, getting his first role of "Ray" in Bedford Park Boulevard which was nominated for a Grand Jury Award at SXSW and a Student Visionary Award nomination at Tribeca Film Festival. Mogoli's momentum picked up landing him a role in Law and Order (Season 20, episode 14, Boy on Fire). Additionally, Mogoli received a Slam Award at Malik Yoba's "The Working Actor Monologue Slam Competition" and snagged an internship with Spike Lee at 40 Acres and a Mule Productions. Mogoli also played a recurring character on the CBS hit show, God Friended Me.
Contact
For inquiries, please contact fiscalsponsorship@filmindependent.org.