Seasick

A coming of age, in one text message.
Project type: Narrative Short
Project status: Production
Director/Writer: Lindsey Ryan
Producer: Samantha Scolarici
Co-Producer: Danny Ryan
Executive Producer: Katherine Doyle
Associate Producer: Eden Strassburg
Cinematographer: Ming Hu
Colorist: Elodie Ichter
Cast - Sadie: Pauline Chalamet

Email: scolarici19@gmail.com
Instagram: @seasickfilm

Help independent filmmakers tell their stories.
Make a donation to Seasick today.
Film Independent's Fiscal Sponsorship program opens the door to nonprofit funding for independent filmmakers and media artists. Donate today and help bring Seasick to life.
Logline
Sadie, a 17-year-old ferry deckhand has her day turned upside down when she tries to delete a love-confessing text message before outing herself to the crew.
Synopsis
An LGBTQ story about the struggles that come with an adolescent knowing they are gay, but not yet out. Everyone's journey and process is different, and sometimes, it's not always easy to navigate. Especially for Sadie, who has only told her best friend about her sexuality. What begins as a normal day quickly turns to chaos when she accidentally sends a love confessing text to Jess, her shift captain and crush. Now, she must decide how to deal with the message that Jess will inevitably read, all while balancing her deckhand duties. The trip across the bay ensues, and Sadie's internal struggles are rampant as she copes with the fact that she may have outed herself before she is ready.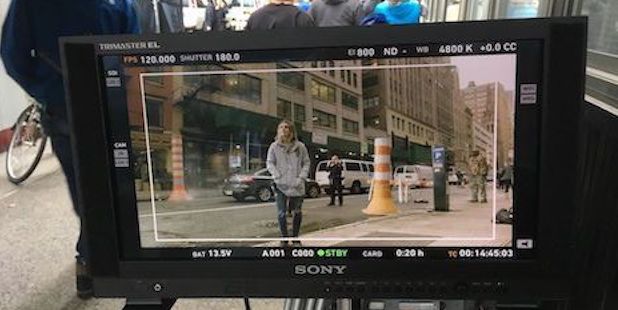 Meet the Filmmakers
Lindsey Ryan – Director/Writer
Lindsey is a filmmaker from Long Island and is currently based in New York. She started her freelance career at the early age of thirteen, where she interned as a camera PA on the MTV Show One Bad Choice. Her credits have grown to include Oscar nominated documentaries, several network and streaming series, major brand commercials and several short form narrative productions. After graduating from Hofstra University with a BS in Film and Television, she began working and receiving mentorship from critically acclaimed director Reed Morano. Lindsey is now directing commercials and developing narrative projects for a New York based production company, Rebel Motion.
Samantha Scolarici – Producer
Sam is a New York based producer, originally from Virginia. She graduated from Hofstra University with a degree in Communications. While at Hofstra, Sam was captain of the women's soccer team and holds the all time scoring record for goals in a season and a career. Since her time at Hofstra, she has worked on productions for MTV, The Jenny McCarthy Show, SNL, Varsity Sports Channel, ESPN, music videos for prominent artists and a variety of award winning short films.
Danny Ryan – Co-Producer
Danny is a New York based producer and director. He is the owner of Bluehaus Productions and has worked on independent films that have screened at major festivals and commercial projects that air on major networks. As a director, his films and virtual reality projects have played around the world from Cannes, to Lisbon, to New York City.
Katherine Doyle – Executive Producer
Katherine Doyle graduated from Syracuse University. Upon graduation she earned the Judith Seinfeld Scholarship for Creative Teaching. She has used her creativity in various fields including teaching, administrative work, graphic design, non-profit organizations, and real estate. Katherine has written, created, and performed in numerous short comedy sketches that have been performed in front of live audiences throughout NYC.
Eden Strassburg – Associate Producer
Eden is a New York based producer, originally hailing from the city of Brotherly Love, Philadelphia. She works as a Researcher on the TODAY Show, recently winning her first Emmy with the show. Aside from live television, Eden has Associate Produced Al Roker's Thanksgiving Day Parade, as well as a number of live and taped segments. Eden has held previous roles with MTV, Paramount Pictures, iHeartMedia, and ABC News
Ming Jue Hu – Cinematographer
Ming grew up in New York where he studied photography before enrolling in the Tisch School of the Arts, New York University. While attending NYU he learned skills under the mentorship of Geoffrey Erb (Law & Order: SVU, The Equalizer). Ming has been working as a cinematographer on feature films, music videos, commercials and fashions films. From high-end commercials for clients such as British Airways, NBA, and Sony to engaging narrative and documentaries, the story always comes first and is always the primary motivation to his approach to lighting and camera work. In 2014 the feature film M Cream, which he shot in India, has won Best Feature Film Award at Rhode Island International Film Festival. It also took home Best Cinematography Award at Madrid International Film Festival. In 2018 Ming was selected as "Rising Stars of Cinematography" by American Cinematographer Magazine and became represented by DDA Talent Agency.
Elodie Ichter – Colorist
Elodie Ichter is a colorist for Harbor Pictures living in Los Angeles, California. Originally from France, she studied cinema and interned at Eclair Laboratoire, the first film lab ever created. After her internship, she began working with colorist, Yvan Lucas known for his work on Se7en and Amelie. After a few years she moved to LA to work for Harbor Pictures as a color assistant to Yvan. Now, Elodie is one of the lead colorists at Harbor Pictures and has worked on films such as The Irishman, Once Upon a Time in Hollywood, and The Hunger Games: Mockingjay.
Pauline Chalamet – Sadie
Pauline Chalamet is a French-American actress, writer, director and producer. She is primarily known for her work in short films and her most recent role in Judd Apatow's latest film, The King of Staten Island, starring Pete Davidson. The older sister of Oscar-nominated actor Timothee Chalamet, Pauline made her screen debut in a 1999 episode of 'One Life to Live'.
Contact
For inquiries, please contact fiscalsponsorship@filmindependent.org.