Season of the Witches

Does doing good make you good?
Film Independent's Fiscal Sponsorship program opens the door to nonprofit funding for independent filmmakers and media artists. Donate today and help bring Season of the Witches to life.
Logline
American PhD students with good intentions volunteer in post-hurricane Puerto Rico and accidentally kill one's two-timing lover days before their flight home, and try to get away with it while a local detective pursues.
Synopsis
Four days before going home to the States, Naomi, Lyndsey, and Mariana, three American Phd students volunteering in post-hurricane Puerto Rico, accidentally kill Naomi's cheating boyfriend (and Mariana's secret lover), Mateo, after a drunken night at the local Witches festival. The women decide to cover up the murder for the sake of their families and futures, setting off a chain of events that ends in betrayal and violence as island Det. Soledad Guerrero, a USMC vet with her own "Ugly American" story, closes in.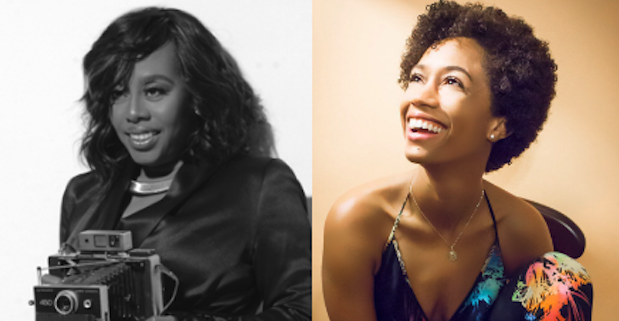 Meet the Filmmakers
Deborah Riley Draper — Director
Deborah Riley Draper is an award-winning and critically-acclaimed filmmaker, motivational speaker and advertising agency veteran. Variety Magazine named Draper to its "2016 Top 10 Documakers to Watch" list. She is a 2018 TEDx speaker and a 2019 Facebook SEEN Initiative participant. Her 2019 short film Illegal Rose starring Jasmine Guy tells the story of a disengaged nurse who accidentally kidnaps a 9 year-old ICE Detention Center runaway. Draper adapted and will direct her next project, Coffee Will Make You Black, produced by Octavia Spencer and Tate Taylor and starring Gabrielle Union. Her 2016 documentary, Olympic Pride, American Prejudice, tells the untold story of 18 African Americans who defied Hitler and Jim Crow in 1936 and was a 2017 nominee for the NAACP Image Awards Outstanding Documentary Film and qualified the 2017 Oscars Documentary Film Festival.
Sherri Daye Scott — Writer/Producer
Sherri Daye Scott has done a bit of it all: produced award-winning shorts, including Brooklyn Reel Sisters Festival fan-favorite, Wanna-Be; co-founded Durham, NC's Colored Pictures short-film festival; penned personal essays for the "Washington Post" and "Women's Health" and created AB+L Radio's popular dating podcast You Can't F*ck Me! Her production CV includes work on feature projects such as Black Knight and The Yaya Sisterhood, a stint as a Full-Frame Documentary Film Festival judge and screenings at the Hollywood Black Film Festival. She is a 2019 Sundance Blackhouse Foundation/ Facebook SEEN "The Future of Storytelling" panelist and was honored by Georgia House of Representatives in 2018 for her work promoting African-Americans in tech through media.
Mikki Taylor — Executive Producer/Creative Director
Mikki Taylor, is the country's leading authority on "inner and outer beauty" for women of color and a highly sought-after empowerment speaker. Taylor, who has 30+ years experience in media, has made telling the stories of women of color her life's work because of her strong desire to bring the beauty, strengths and amazing complexities of womanhood to life. As former Beauty & Cover Director at ESSENCE magazine, she casted and produced covers and branded video content with such notable performers as Janet Jackson, Jada Pinkett Smith, Adam Rodriguez, Iris Elba and others. Taylor has appeared on Good Morning America, The View, "Steve Harvey Show" and CNN, CBS, OWN and BET. Among Taylor's most treasured experiences: the privilege to direct the First Family portrait of the Obama Family in 2008; the joy of serving as an instructor at the Oprah Winfrey Leadership Academy for Girls in South Africa at the special invitation of Oprah Winfrey, and speaking at the 2018 De Beers Global Women's Summit in Botswana to entrepreneurs on consumer engagement.
Cheryl Polote-Williamson — Executive Producer
Cheryl Polote-Williamson is an award-winning entrepreneur, best selling author, speaker, philanthropist, and a noted transformational leader. She is the CEO of Cheryl Polote Williamson LLC and the Williamson Media Group and founder of Soul Reborn—a non-profit providing life still and leadership training to underserved women. A member of the Forbes Coaches Council, Odyssey Media Group, and Christian Women in Media, Cheryl tours nationally, speaking to varied audiences on how to release negative strongholds and move forward unapologetically in power and in purpose. Her ability as a speaker to encourage, captivate, and empower audiences, has earned her numerous awards, including the Female Success Factor Award in 2016, Indie Author Legacy Award in 2017 and 2018, Who's Who in Black Dallas Publishing in 2017, and an African-American Literary Award in 2018.
Contact
For inquiries, please contact fiscalsponsorship@filmindependent.org.