Seeing Diane Arbus

Somebody else's tragedy is not the same as your own.
Project type: Fiction Short
Project status: Complete
Director/Writer/Producer: Lindsay Zibach
Producer: Natalie Heltzel
Executive Producer: Ian Gibson
Director of Photography: Favienne Howsepian
Production Designer: Madelyn Wilkime
Editor: Stacy Pietrafitta

Email: lindsayzibach@gmail.com
Twitter: @seeingdianefilm
Instagram: @seeingdianearbusfilm
Film Independent's Fiscal Sponsorship program opens the door to nonprofit funding for independent filmmakers and media artists.
Logline
A movie theater projectionist with dwarfism has a fateful, frightening reunion with the famously voyeuristic photographer, Diane Arbus.
Synopsis
Seeing Diane Arbus is a live action short film about Hildy, a movie theater projectionist with dwarfism in midcentury Manhattan. She's adapted a majestic movie palace into an accessible sanctuary, far from prying eyes and merciless cameras. But Hildy's world is shaken when famously voyeuristic photographer Diane Arbus finds her way into the projection booth.
Something is wrong with Diane. She wears strange glasses and her signature Rolleiflex camera is missing. Diane takes Hildy back in time—and the audience into black-and-white—as she recounts her fated visit to a kindly camera repair man. Dr. Mobley is obsessed with artistic vision, leading Diane to a truth she could never have imagined. In the end, it's Hildy who sees something truly uncanny.
Seeing Diane Arbus explores the ethics of photographing people considered to be "other" and the implied complicity of an audience
Meet the Filmmakers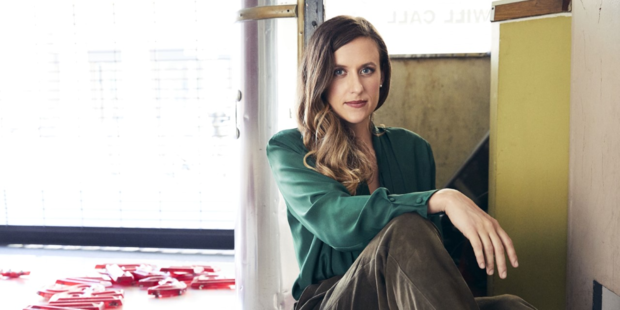 Lindsay Zibach — Director/Writer/Producer
Lindsay earned her first Story Producer credit on a primetime TV series at 21 years old. She went on to assist Oscar-winning Director Guillermo del Toro and accrue writing/producing credits on The Ellen DeGeneres Show, Nat Geo WILD, Syfy, and The Hollywood Reporter. Her short story, "Seeing Diane Arbus," won Francis Ford Coppola's Zoetrope: All-Story Grand Prize in 2016. Lindsay graduated Cum Laude with a BS in Journalism from Cal Poly San Luis Obispo and holds an MFA in Writing from Spalding University in Louisville, KY.
Natalie Heltzel – Producer
Natalie Heltzel is an award-winning producer and filmmaker who has written, directed and produced docuseries and short form narrative content for the last 10+ years. She directed a web series which was nominated for a 2020 Emmy.
Favienne Howsepian – Director of Photography
After graduating from the American Film Institute Conservatory with a Masters in Cinematography, Favienne was the recipient of the ASC Student Heritage Award for her thesis film, Snowplow. Her genre-crossing work ranges from documentaries (Ellen Digital, Amy Poehler's Smart Girls) to commercials (Barbie, Coca-Cola).
Madelyn Wilkime – Production Design
Madelyn started in Art Department on Swiss Army Man and Lil Jon's music video, "Turn Down for What." She has Production Designed music videos, branded content, Facebook Originals, commercials, and numerous shorts, including SXSW & 2019 Vimeo Staff Pick Award, Milton.
Stacy Pietrafitta – Editor
Stacy currently works as an assistant editor on NBC's Emmy and Golden Globe-winning This is Us. Her past credits include Marvel's Agents of S.H.I.E.L.D. for ABC, Reign for The CW, Comedy Central's The Meltdown with Jonah & Kumail and Kroll Show, and 20th Century Fox's feature-length film, Walking with Dinosaurs.
Contact
For inquiries, please contact fiscalsponsorship@filmindependent.org.