Sonny Boy

Sometimes we discover who we really are by failing to reach our dreams.
Film Independent's Fiscal Sponsorship program opens the door to nonprofit funding for independent filmmakers and media artists. Donate today and help bring Sonny Boy to life.
Logline
A once promising playwright returns home to make amends with his dying father while picking up the pieces of a broken dream.
Synopsis
After a failed writing career, a Korean-Italian American playwright struggles to find his way after returning home to reconcile with his dying father. Sonny Caso soon discovers life back home has changed as much as he has. Sonny tries to make peace with a broken dream before finding a second calling as a high school teacher. Still, his gift for shaping young lives falls short of the expectations of an ambitious father. Sonny tries to make amends before it's too late, but still can't find the approval he's always wanted. Just when it seems Sonny has finally forged his own path, he makes an inexcusable mistake with a troubled student. Returning home is Sonny's undoing and the chance to discover who he can still become.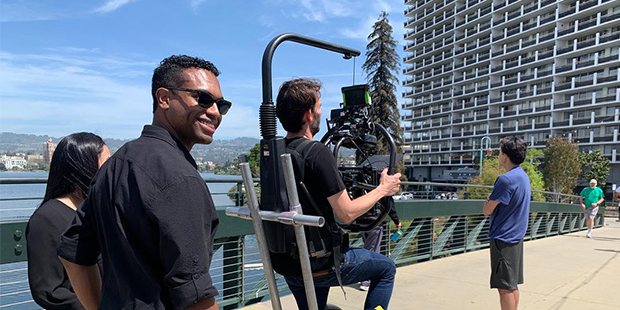 Meet the Filmmakers
Kristen Hansen – Director
Kristen Hansen received her Master's degree in acting from Mason Gross School of the Arts, Rutgers. In 2017 she was a fellow in the Shudder/Project Greenlight program. She has directed countless award-winning short films including: "Already Gone" (Jury Prize Winner), "Reflections" (Award-Winning), " Flesh" (Award-Winning), "Adored", "Wings", and "The Violet Hour", in which Kristen was the first female filmmaker to win the Collaboration Filmmakers Challenge. She also directed the series, "Keeping It 100", which can be seen on Amazon Prime. Kristen is in post-production on her highly anticipated short horror film, "Sticks and Stones", with Pink Clubhouse Productions.
Heather Brawley – Producer
A Bay Area native, Ms. Brawley received a B.S. in Business Administration from the University of Redlands. After graduating she secured an internship and then job at Archstone Distribution (World-Wide Sales and Distribution Company). Over her past twelve years at Archstone she has worked in a variety of roles within Sales, Acquisitions, and Delivery, working on hundreds of films. After taking a short-term producing program at the New York Film Academy, Ms. Brawley realized her love for Producing and began gaining experience in production, serving a variety of on-set roles such as Production Coordinator and Line Producer. Over the past two years she has produced several short films and three web-series which have garnered over 45 festival selections and several wins, and she has also been working with the production team at Archstone, where she is currently VP of Marketing & Operations. Having a background in distribution while working in production has given Ms. Brawley a unique perspective of filmmaking and versatile set of skills as a Producer, a knowledge which she implements from development to delivery.
Antonio A Ayala – Producer
From making budget proposals to the Mayor of San Francisco at sixteen years old, to starting his Video Production Company at twenty-one, Antonio is one passionate young Producer. He received his B.A. in Broadcasting & Electronic Communication Arts at San Francisco State University and his M.A. from NYU Tisch School of the Arts. Antonio is a two-time consecutive Emmy Award Winning Producer and Writer for his Spanish Video Content with The San Francisco Giants Baseball Organization, targeting the Hispanic/Latinx Community. With experience as a Co-Producer & UPM on I Wrote This For You (2019), Sonny Boy will be Antonio's 2nd Feature.
Nick Maccarone – Writer/Actor
Nick Maccarone is an actor, writer, and assistant professor in the School of Theatre at Florida State University. He received his MFA from Columbia University and has performed in feature films, popular television shows, and some of the country's top regional theaters, including the Alley and Guthrie. His passion for community outreach work has taken him to orphanages in Nepal, South Africa, and Haiti. Nick is also a two-time TEDx speaker, world traveler, and former contributing writer to Backstage Magazine.
Contact
For inquiries, please contact fiscalsponsorship@filmindependent.org.