Too Soon: The Comedy of 9/11

Film Independent's Fiscal Sponsorship program opens the door to nonprofit funding for independent filmmakers and media artists. Donate today and help bring Too Soon: The Comedy of 9/11 to life.
Logline
They say Tragedy + Time = Comedy. In the aftermath of 9/11, humor remained America's most vital tool against fear, anger, and pain. Too Soon is the twenty-year chronology of how comedy stopped completely, slowly regained its footing, and finally grew bigger and more powerful than ever, allowing all of us to unite and heal in the process.
Synopsis
Too Soon follows the halt and evolution of comedy following the greatest tragedy in U.S. history.
In the initial 9/11 aftershock, comedy clubs closed their doors for the first time ever. Late-night talk shows leave the air as TV news runs around the clock. The Onion pulls its first New York issue. The Press asks, "Is comedy dead?"
When clubs reopen, audiences are desperate to laugh, but as artists constantly reacting to their environments, comics struggle with how – and even if – they should address the elephant in the room. Eventually, they make inroads discussing the fallout and our reaction to the event rather than the event itself. In response to physical attacks, media misrepresentation, and the building Iraq War, the number of Arab and Muslim comics expressing themselves on stage expands.
Political humor in the wake of 9/11 surges. The Daily Show becomes a Peabody-winning cultural touchstone as it tackles the Iraq War and the Bush, Jr. Presidency. From the 2011 killing of Osama bin Laden onward, 9/11 jokes become prevalent across television, film, and the new medium of podcasts. Comedy has changed national emotions from sorrow and fear to strength and perseverance. It helped us heal in the aftermath of the attacks…and will continue doing so in the most increasingly uncertain of futures.
Make a donation to Too Soon: The Comedy of 9/11.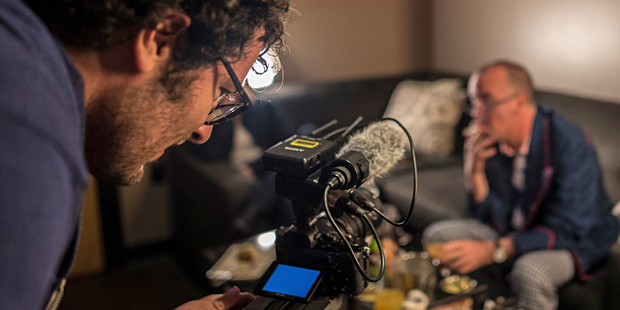 Meet the Filmmakers
Nick Scown — Director
Director Nick Scown is a director/writer/story producer/editor of film and television projects whose subjects have ranged from Oprah to the UFC, and whose talent has been singled out with an Emmy-nomination among other honors. He's been fortunate to work in post-production at Sundance's summer labs, and for networks including Fox, FX, NBC Sports, and ESPN. In addition, Scown edited the documentary Conquering Kilimanjaro for Mark Cuban's HDNET. Nick's true passion has remained independent cinema, making shorts films that have played at festivals across the world. His debut feature, Pretty Bad Actress, featuring Workaholics and Idiotsitter star Jillian Bell is due for release the first quarter of 2018.
Julie Seabaugh — Producer
Producer Julie Seabaugh grew up on a farm in rural Missouri. Covering music and film for the local alt-weekly while attending the University of Missouri's School of Journalism led Julie to discover stand-up comedy and with it a unique mission to tell the stories behind the laughs in a way no one else was. She is now an award-winning comedy journalist of fifteen years, and the only full-time freelance comedy journalist in the entire country. Julie previously served as A&E staff writer at Las Vegas Weekly and has covered comedy for Rolling Stone, GQ, Variety, Entertainment Weekly, The A.V. Club, The Village Voice, The Huffington Post, Spin, Vulture, Paste, Time Out New York, Time Out Chicago, and many more. She has judged competitions, spoken on industry panels, and covered dozens of comedy festivals in four different countries.
Make a donation to Too Soon: The Comedy of 9/11.
Contact
For inquiries, please contact fiscalsponsorship@filmindependent.org.