Stan Bitters Modern Primitive

Film Independent's Fiscal Sponsorship program opens the door to nonprofit funding for independent filmmakers and media artists. Donate today and help bring Stan Bitters Modern Primitive to life.
Logline
Locations like the Ace Hotel in Palm Springs show how Stan's work is a staple of the Mid Century Movement from a California artist working since the 1950s to today. The film is a study of contrasts, Stan, a reserved man, whose work, much like Jackson Pollack's, is the culmination of physical battle with his preferred medium, clay. 
Synopsis
The film explores Stan Bitters origins as a fine art student at Otis Art school in Los Angeles in 1957, whose sculptural pieces transitioned into large-scale Architectural works. Stan's roommate at the time was fellow art student John Baldessari. While at Otis, he met the "father of the California Clay Movement," Peter Voukous, who would become Stan's chief mentor. 
After Art school, Stan secured a job at Hans Sumpf, an Adobe clay company in Fresno. He was to assume the role of resident potter making quaint vases visitors could purchase. However, Stan pursued his own direction, by cultivating a signature style to ceramics works. It was to combine slabs of clay that generated weighty, spontaneous, sculptures. This work evolved into massive murals stretching 40 ft in width and height and integrated with architecture. By the early 1970s demand for Bitter's pieces grew. Stan's abstract large clay works became synonymous with the inherent style of "California living" and soon commissions proliferated throughout the state.  
Two decades later art collectors Scott and Joanna Nadeau sought out Stan because of a love of his work. At 75, Stan became busier than ever with commissions that can be seen at the Ace Hotel Palm Springs, Westfield Mall, Paramount Picture Studios in Los Angeles. Now, Bitters is embraced by an enthusiastic design community. After six decades of following his heart, he has shown us that he is a true master; his work is widely sought by collectors and his radical forms continue to inspire a new generation of artists.
Make a donation to Stan Bitters Modern Primitive.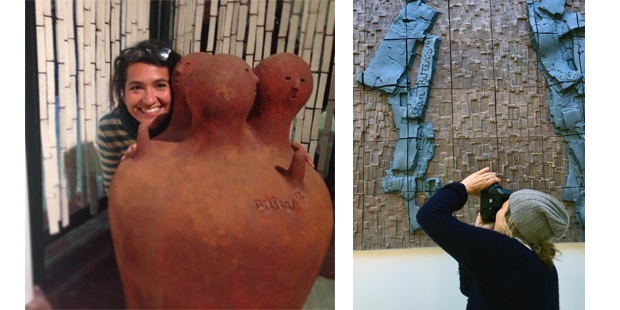 Meet the Filmmakers
Francesca Di Amico — Director/Producer
Born in Palm Springs, California, Francesca was recently named a fellow from Film Independent after participating in the documentary lab for the Mary Woronov feature documentary project. As a writer-director of commercial, new media, and independent films, she has taken the helm on 41 film projects. She is the recipient of 29 Film Awards including Humanitarian Awards from The Anti Defamation League, recognition from and the Smithsonian Institute in Washington D.C. The Los Angeles County Museum of Art honored Francesca as an up & coming director. She graduated from Art Center College of Design, breeding ground to filmmakers like Michael Bay, Sofia Coppola, and Zack Snyder. Journalist Whitney Phaneuf wrote of her film Silence Living in Houses, "…the emotions penetrate the screen through exquisite directing and realistic dialogue…the result is powerful…"
Claudia Unger — Director of Photography/Producer
Claudia is a commercial and fine art photographer. She lived with a Bedouin Tribe in the Sinai Desert of Egypt. Thereafter she completed a photo series on nomadic families. Women in Photography awarded her the Outstanding Achievement in Fine Art Photography award and her exhibition The Name of the Land sold in its entirety. Born in Germany, Claudia moved to California to study photography at Art Center College of Design. In 1994 she was recruited by UPI to shoot editorial and advertising campaigns for Premiere Magazine and Entertainment Weekly. For two consecutive years, she was recognized by internationally prestigious Lucie Awards and honored at the Lincoln Center. She is the Cinematographer for the Mary Woronov Documentary and has been the DP on various Projects for the last 8 years.
Make a donation to Stan Bitters Modern Primitive.
Contact
For inquiries, please contact fiscalsponsorship@filmindependent.org.