Steel Soldier

Healing trauma with combat
Project type: Documentary Feature
Project status: Production
Creator/Producer: Carl Fisk
Director: Jamie Flanagan
Editor/DIT: Derek Evans
Co-Producer: Jordan Letsinger
Cinematographer: Madison McKamey

Email: carlwfisk@gmail.com
Website: steelsoldierdoc.com

Help independent filmmakers tell their stories.
Make a donation to Steel Soldier today.
Film Independent's Fiscal Sponsorship program opens the door to nonprofit funding for independent filmmakers and media artists. Donate today and help bring Steel Soldier to life.
Logline
Veteran suicide is a huge problem in the U.S. today. Steel Soldier follows military veterans and others struggling with PTSD as they use armored combat – an emerging combat sport – to deal with their traumas.
Synopsis
Steel Soldier follows U.S. Army veteran Gary Houle as he works to create the Steel Legion – an all veteran armored combat organization. We will get to hear about his struggles after his discharge from the army, and how armored combat proved instrumental in helping him to reclaim ownership of his life. As we watch Gary and his team prepare for their upcoming matches, we'll learn exactly what the insane sport of armored combat is, and how people train for it. Ultimately, the piece will reach its climax as Gary and Steel Legion get to realize their dream: to put on a demo fight for active duty troops, to show them that there is a home waiting for them when it comes time to rejoin the civilian world.
Throughout the piece, we will be speaking to psychologists that specialize in PTSD to learn exactly what PTSD is, and why armored combat has proven so successful at helping military veterans to transition back into civilian life. In addition, we will be speaking to fighters who suffer from non-combat related PTSD, drawing a parallel between combat veterans, and survivors of sexual or domestic abuse.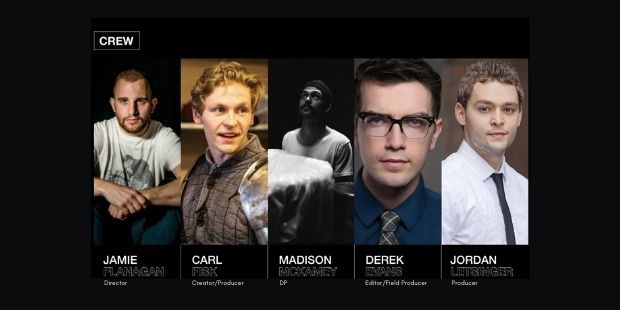 Meet the Filmmakers
Carl Fisk – Creator/Producer
Carl is a multi-hyphenate creative with experience in a variety of roles both in front of and behind the camera. He is experienced in production management and has several fight director credits under his belt. As a performer, Carl has done work as an actor (including a recurring role on The Path) and stunt man.
Outside of the entertainment industry, Carl is a nationally recognized face and multiple-time medalist in the sport of Armored Combat. During his time as a fighter, he realized how incredibly beneficial combat sports are for people with violence-related PTSD, and that they might hold the key to recovery. Carl is incredibly passionate about combining his skills to create this ethos-driven project.
Jamie Flanagan – Director
Jamie Flanagan is a film director based in Atlanta, Georgia. He graduated from Fordham University with a bachelor's in communications before moving to ATL. In 2018 Jamie formed Respectful Productions to grow a community based on strong values that will work together to film stories of all shapes and sizes. Jamie grew up in a Marine Corps household and is proud to be helping the community that helped form him as a person.
Derek Evans – Editor/DIT
Evans has had a diverse career from acting to directing and editing. He directed/edited the independent feature film, The King of Bloody Fookin' Britain, and several short films including the award-winning, Swiped. As an actor, he can be seen recurring in shows like Queen of The South (USA) and Being Mary Jane (BET) with an upcoming role on a series for Disney+.
Jordan Letsinger – Co-Producer
Jordan Letsinger is an executive producer, writer and talent who specializes in digital content production, marketing, and story development. With nearly 10 years of experience, he has produced numerous marketing and advertising initiatives for brands, including national tv commercials, print ads, and digital campaigns for Fortune 100-500 companies. In addition, as a talent, he has also appeared in numerous tv commercials, print ads, and digital campaigns.
Madison McKamey – Cinematographer
Madison McKamey is a working cinematographer and documentary filmmaker based in Los Angeles, CA. Madison has travelled the globe with his passion for cinema and a hunger for storytelling. He has spent the past decade working as a Director of Photography and camera operator in narrative film, documentaries, commercials, and Television for companies like, Vice, Hulu, E!, Disney, and more. When Madison was introduced to the concept and characters of the Steel Soldier documentary, he was immediately drawn to the humanitarian aspect of the project. He hopes to utilize his experience in the field and in the studio to aid in telling the story the best way possible through the lens.
Contact
For inquiries, please contact fiscalsponsorship@filmindependent.org.