Sunburst

Project type: Narrative Feature
Project status: Development
Director/Producer: Mark Wilson
Writer/Producer: Chris Retts
Producer: J.P. Oullette
Producer: Dylan Matlock
Executive Producer: Hilary Barraford
Cinematographer: Thomas Rose
Composer: Jacob Boyd
Sound Editor: Will Digby

Email: c.retts@gmail.com
Website: reflectentertainment.com
Facebook: sunburstfilm
Twitter: @sunburstfilm

Help independent filmmakers tell their stories.
Make a donation to Sunburst today.
Film Independent's Fiscal Sponsorship program opens the door to nonprofit funding for independent filmmakers and media artists. Donate today and help bring Sunburst to life.
Logline
Garrett (17) – a teenage cinephile whose congenital heart defect all-but guarantees he'll die before he's thirty – gets tapped to launch a media campaign for Sunburst Cinemas – a dying, independent movie theater, whose antiquated amenities, inept manager, and hapless, rag-tag employees all-but-guarantee it won't survive the summer.
Synopsis
GARRETT (17), has a congenital heart defect that all-but-ensures he won't live to see his thirties. It's a specter that causes him to forestall any relationship before it begins. That's why Garrett plans to spend his summer vacation locked in his room, working on the one thing he cares about: his films. Cinema-verite-style observations about the mundanity of life, Garrett's short movies are a reflection of himself: a little detached, a little cold, and more than a little solitary.
But all that changes when Garrett's father forces him to accept a job at Sunburst Cinemas, a dying, independent movie theater badly in need of structural and technical renovation. As Garrett begrudgingly lends his video skills to a social media campaign meant to help revitalize Sunburst, he falls in love with its crew of eccentric characters, including JULIE (18), a girl from school that Garrett's always harbored a crush on, SCOTT (50s), the movie theater's naively optimistic, platitude-spewing owner, and FRANKIE (30), a foulmouthed slacker with a heart of gold, who fancies herself a writer.
But even Garrett's considerable talents aren't enough to save the movie theater that seems, like himself, to be doomed from the beginning. To make matters worse, when the truth about Garrett's condition comes out, he lashes out in fear and anger. But a late-night conversation with his parents helps Garrett to realize something about the theater that's equally applicable to his own life: there may be no real long-term shot at survival… but that doesn't mean he and everybody else at Sunburst shouldn't give it their all while it lasts. As the team works to close the doors for good, Garrett goes to work on one last video, this one commemorating the crazy couple of months he's spent with the eclectic group of strangers who have become like family.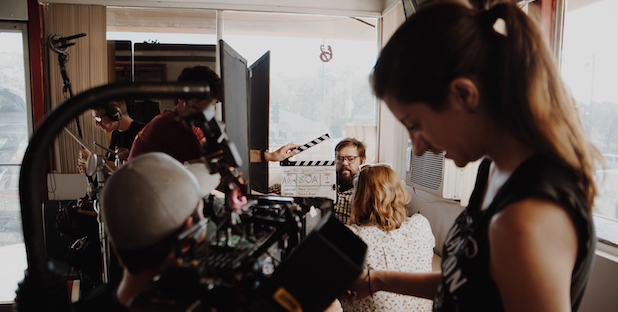 Meet the Filmmakers
Mark Wilson – Director/Producer
Mark Wilson is a director of film, music videos, and commercials, and is director-producer of WADE IN THE WATER, a "phenomenal" (Red Carpet Crash), "21st-Century Taxi Driver" (BRWC.com), "that sneaks up on you and leaves a lasting impression" (Film Threat). The film garnered several awards during its festival run, including the Audience Award at DWF-LA and Best Drama at the Hollywood Reel Independent Film Festival. It was also an official selection of the Austin and Twin Cities Film Festivals. His feature documentary, THE PAINTED WARRIOR, is now streaming. SUNBURST will be his third feature as director and producer.
Chris Retts – Writer/Producer
Chris Retts is the writer-producer of Wade in the Water, the script for which was a semifinalist for the prestigious Academy Nicholl Fellowships and called "a gem" by Diversions L.A. The film counts amongst its fans author Stephen King, who called it "a little movie with a big heart," comic book author Gail Simone (Birds of Prey), who said it was "smartly written and hauntingly performed," and renowned Austin-based Producer Sarah Green (Tree of Life, Mud), who called it "stunning" at one of its two sold-out screenings at the Austin Film Festival. Overall, Chris has placed three times at Nicholl, and has also placed in The Austin Film Festival Screenplay Competition (including, for Sunburst), Script Pipeline (for Sunburst), and the ScreenCraft Film Fund. One of the Austin Film Festival's "25 Screenwriters to Watch in 2020," Chris has written for several production companies in addition to Reflect Entertainment, including that of attorney Brandon Blake (Orange in the New Black, Before the Devil Knows You're Dead) and MarVista Entertainment. His female-driven thriller, Sinister Seduction, starring Hellboy's Kristina Klebe and Designated Survivor's Tanner Buchanan, premiered on Lifetime Movie Network in 2019. Sunburst will be his third produced feature (and second as producer).
J.P. Ouelette – Producer
J.P. Ouelette discovered the power of entertainment quite early in life by using films as an escape from his surroundings while growing up in Boston's public housing system. As a teen, he worked at a video store, where he spent his shifts teaching himself screenwriting format by handwriting his favorite scripts line-by-line in a notebook. The day after JP graduated film school he drove across the country to Los Angeles and worked his way up the ladder of film production from interning to becoming a production assistant on major motion pictures. Next, he assisted creatives such as Richard Kelly, Michael Ohoven, Gary Fleder, and James Manos, Jr., before being hired to write the horror film Captured (starring Brittany Curran) and then launching his own creative shingle, Circa 1888, Inc. JP has since written a true war adaptation "Qaddafi's Point Guard" for a major studio, and an unannounced Biopic centered on the music industry. Most recently, JP produced the Sundance hit Mass, which was released by Bleeker Street in theaters on October 8th. The film is creating Oscar buzz for the 2022 Awards season. JP is currently producing the feature film Little Brother in New Mexico, an indie dramedy starring Daniel Diemer, Philip Ettinger, and JK Simmons.
Hilary Barraford – Executive Producer
Hilary Barraford is a natural-born storyteller and connector, who has produced and acted in numerous projects for film and television. She executive-produced cult horror film The Ice Cream Truck, and helped produce – as well as acted in – Oscar-nominated director John Sayles' drama Go For Sisters starring Edward James Olmos and Mahershala Ali that premiered at SXSW in 2013. She has extensive experience as a production manager and coordinator, overseeing music videos (Leon Bridges "Better Man"), national commercials, industrials, reality shows (Discovery Channel's Renovation Nation, Mystery E.R.) and reshoots for major films (The Expendables for Millennium Films and Street Fighter: Legend of Chun-Li for Hyde Park Entertainment). Prior to moving to Los Angeles, Hilary was Senior Producer for Cramer Productions, Boston's largest production company, where she wrote and produced documentary Boston's Greatest Sports Stories, a FOX Sports special program and numerous commercials, industrials, animations, webcasts and live events. She line produced projects of $1M+ for clients like Dunkin' Brands, SAP/Business Objects and Thomson Reuters. With her company Quotidian Productions, she has produced and appeared in sketches for Funny or Die and YouTube. As an actor, Hilary recently appeared in AMC's Kevin Can F*ck Himself with Annie Murphy, as well as playing Jessica in The Ice Cream Truck, Mary in Lionsgate's Life Like and Katie in Equal Standard with Ice T. Other highlights include Showtime's United States of Tara, upcoming divorce dramedy The Way We Talk and drama Interwoven, starring Oscar-winner Mo'nique. She continues to revel in roles on both sides of the camera and has a slate of projects in development, including a comedy series with Beacon Pictures. She holds a B.A. in English from Williams College in Massachusetts.
Dylan Matlock – Producer
Dylan Matlock has been on the physical production side of over 50 film and television projects, including HBO's The Wire, Live Free or Die Hard, and the found-footage hit Project X. He worked as an associate producer for the hit Comedy Central show Review and writer/producer on the theatrically-released horror feature Along Came the Devil. He also produced the feature Mass, which went on to earn many awards, including the Independent Spirit's Robert Altman Award. He is currently producing Little Brother (starring JK Simmons), and the horror film Do Not Watch.
Thomas Rose – Cinematographer
Thomas Rose is a DP with nearly twenty years of experience who shot Wade in the Water with director Mark Wilson. In addition to his freelance projects, he currently works as an image technology specialist at Panavision's Innovation Department, building lenses alongside the legendary Dan Sasaki for many of the biggest film and television projects in the industry. Most recently, Thomas refurbished the personal camera of Martin Scorsese for special use in the upcoming film, Killers of the Flower Moon. Sunburst will be Thomas' third feature film as director of photography.
Jacob Boyd – Composer
Since graduating from the Scoring for Film, Television, and Video Games Master's Program at Berklee College of Music in Valencia, Spain, Jacob Boyd has been applying his education and collaborative experiences in Los Angeles. In 2016, his music for Tunnel Vision was nominated for "Best Original Score" at the Indie Capitol Awards. Recently, he has written music for films starring Billy Zane, Wesley Snipes, and Anne Heche. Wade in the Water was his most recent feature film success.
Will Digby – Sound Editor
Will Digby is an Emmy-winning sound editor, who has worked at Sony, Warner Bros., 20th Century Fox, Universal, and Formosa Group. In addition to Wade in the Water, his credits include Greyhound, starring Tom Hanks, Defending Jacob, starring Chris Evans, Jaeden Martell, and Michelle Dockery, and Jack Ryan, starring John Krasinski. Will is a member of IATSE Local 700 Union, and has been nominated for eight MPSE Golden Reel Awards, of which he has won two.
Contact
For inquiries, please contact fiscalsponsorship@filmindependent.org.