Sunburst

Project type: Narrative Feature
Project status: Development
Director/Producer: Mark Wilson
Writer/Producer: Chris Retts
Producer: John Burd
Cinematographer: Thomas Rose
Composer: Jacob Boyd
Sound Editor: Will Digby
Casting: Meg Mormon, Sunday 'Sunny' Boling

Email: c.retts@gmail.com
Website: reflectentertainment.com
Facebook: sunburstfilm
Twitter: @sunburstfilm

Help independent filmmakers tell their stories.
Make a donation to Sunburst today.
Film Independent's Fiscal Sponsorship program opens the door to nonprofit funding for independent filmmakers and media artists. Donate today and help bring Sunburst to life.
Logline
Garrett (17) – a teenage cinephile whose congenital heart defect all-but guarantees he'll die before he's thirty – gets tapped to launch a media campaign for Sunburst Cinemas – a dying, independent movie theater, whose antiquated amenities, inept manager, and hapless, rag-tag employees all-but-guarantee it won't survive the summer.
Synopsis
GARRETT (17), has a congenital heart defect that all-but-ensures he won't live to see his thirties. It's a specter that causes him to forestall any relationship before it begins. That's why Garrett plans to spend his summer vacation locked in his room, working on the one thing he cares about: his films. Cinema-verite-style observations about the mundanity of life, Garrett's short movies are a reflection of himself: a little detached, a little cold, and more than a little solitary.
But all that changes when Garrett's father forces him to accept a job at Sunburst Cinemas, a dying, independent movie theater badly in need of structural and technical renovation. As Garrett begrudgingly lends his video skills to a social media campaign meant to help revitalize Sunburst, he falls in love with its crew of eccentric characters, including JULIE (18), a girl from school that Garrett's always harbored a crush on, SCOTT (50s), the movie theater's naively optimistic, platitude-spewing owner, and FRANKIE (30), a foulmouthed slacker with a heart of gold, who fancies herself a writer.
But even Garrett's considerable talents aren't enough to save the movie theater that seems, like himself, to be doomed from the beginning. To make matters worse, when the truth about Garrett's condition comes out, he lashes out in fear and anger. But a late-night conversation with his parents helps Garrett to realize something about the theater that's equally applicable to his own life: there may be no real long-term shot at survival… but that doesn't mean he and everybody else at Sunburst shouldn't give it their all while it lasts. As the team works to close the doors for good, Garrett goes to work on one last video, this one commemorating the crazy couple of months he's spent with the eclectic group of strangers who have become like family.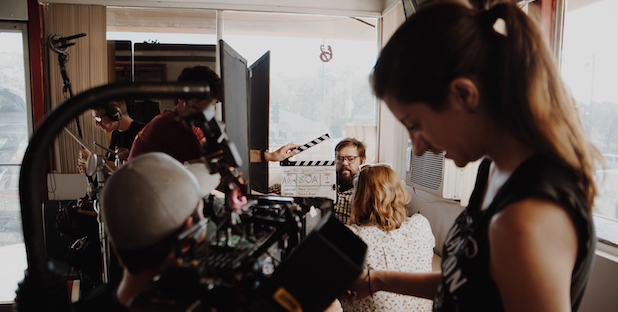 Meet the Filmmakers
Mark Wilson – Director/Producer
Mark Wilson is a director of film, music videos, and commercials, and is director-producer of WADE IN THE WATER, a "phenomenal" (Red Carpet Crash), "21st-Century Taxi Driver" (BRWC.com), "that sneaks up on you and leaves a lasting impression" (Film Threat). The film garnered several awards during its festival run, including the Audience Award at DWF-LA and Best Drama at the Hollywood Reel Independent Film Festival. It was also an official selection of the Austin and Twin Cities Film Festivals. His feature documentary, THE PAINTED WARRIOR, is now streaming. SUNBURST will be his third feature as director and producer.
Chris Retts – Writer/Producer
Chris Retts is the writer-producer of WADE IN THE WATER, the script for which was a semifinalist for the prestigious Academy Nicholl Fellowships and called "a gem" by Diversions L.A. The film counts amongst its fans author Stephen King, who called it "a little movie with a big heart," comic book author Gail Simone (BIRDS OF PREY), who said it was "smartly written and hauntingly performed," and renowned Austin-based Producer Sarah Green (TREE OF LIFE, MUD), who called it "stunning" at one of its two sold-out screenings at the Austin Film Festival. Overall, Chris has placed three times at Nicholl, and has also placed in The Austin Film Festival Screenplay Competition (including, for SUNBURST), Script Pipeline (for SUNBURST), and the ScreenCraft Film Fund. One of the Austin Film Festival's "25 Screenwriters to Watch in 2020," Chris has written for several production companies in addition to Reflect Entertainment, including that of attorney Brandon Blake (ORANGE IS THE NEW BLACK, BEFORE THE DEVIL KNOWS YOU'RE DEAD) and MarVista Entertainment. His female-driven thriller, SINISTER SEDUCTION, starring HELLBOY's Kristina Klebe and DESIGNATED SURVIVOR's Tanner Buchanan, premiered on Lifetime Movie Network in 2019. SUNBURST will be his third produced feature (and second as producer).
John Burd – Producer
John Burd worked six years with MarVista Entertainment in Los Angeles, before leaving in 2017 to form Evenow Productions and pursue filmmaking independently. John has worked on projects for networks including Hallmark, Lifetime, Syfy, Disney Channel, Nickelodeon, UpTV, and Ion. In 2019, he produced a slate of six Christmas movies for Gaumont Television US, and made his directorial debut in 2021 with his script LOVE AT THE CHRISTMAS CONTEST.
Thomas Rose – Cinematographer
Thomas Rose is a DP with nearly twenty years of experience who shot WADE IN THE WATER with director Mark Wilson. In addition to his freelance projects, he currently works as an image technology specialist at Panavision's Innovation Department, building lenses alongside the legendary Dan Sasaki for many of the biggest film and television projects in the industry. Most recently, Thomas refurbished the personal camera of Martin Scorsese for special use in the upcoming film, KILLERS OF THE FLOWER MOON. SUNBURST will be Thomas' third feature film as director of photography.
Jacob Boyd – Composer
Since graduating from the Scoring for Film, Television, and Video Games Master's Program at Berklee College of Music in Valencia, Spain, Jacob Boyd has been applying his education and collaborative experiences in Los Angeles. In 2016, his music for TUNNEL VISION was nominated for "Best Original Score" at the Indie Capitol Awards. Recently, he has written music for films starring Billy Zane, Wesley Snipes, and Anne Heche. WADE IN THE WATER was his most recent feature film success. o
Will Digby – Sound Editor
Will Digby is an Emmy-winning sound editor, who has worked at Sony, Warner Bros., 20th Century Fox, Universal, and Formosa Group. In addition to WADE IN THE WATER, his credits include GREYHOUND, starring Tom Hanks, DEFENDING JACOB, starring Chris Evans, Jaeden Martell, and Michelle Dockery, and JACK RYAN, starring John Krasinski. Will is a member of IATSE Local 700 Union, and has been nominated for eight MPSE Golden Reel Awards, of which he has won two.
Meg Mormon, Sunday 'Sunny' Boling – Casting
Meg Mormon and Sunday "Sunny" Boling met in the feature casting office of 20th Century Fox, working on a variety of films, including ICE AGE, starring Dennis Leary, John Leguizamo, Ray Romano, and Jack Black, FROM HELL, starring Johnny Depp and Heather Graham, UNFAITHFUL, starring Richard Gere and Diane Lane, and BEHIND ENEMY LINES, starring Owen Wilson and Gene Hackman. They opened their own shingle in 2004. Over Mormon-Boling's sixteen years, they have cast over 100 film, television, and new media projects, have been nominated for nine Artios Awards for Outstanding Achievement in Casting, and have won twice. The company credits include THE BALLAD OF LEFTY BROWN, starring Bill Pullman, Jim Caviezel, Kathy Baker, Tommy Flanagan, and Peter Fonda, as well as the award-winning films HELLO, MY NAME IS DORIS, starring Sally Field, Max Greenfield, Stephen Root, Tyne Daly, HARD LUCK LOVE SONG, starring Michael Dorman, Sophia Bush, Dermot Mulroney, and RZA, DRAMARAMA, starring Anna Grace Barlow, Megan Suri, and Nico Greetham, I BELIEVE IN UNICORNS, starring Peter Vack and Natalia Dyer, and MISSISSIPPI DAMNED, starring Malcolm Goodwin, Tessa Thompson, DB Woodside, and Malcolm David Kelley. Meg and Sunny also cast the hugely-successful feature film WAITRESS, starring Keri Russell, Nathan Fillion, Jeremy Sisto, Cheryl Hines, and Andy Griffith, which premiered at the 2007 Sundance Film Festival and went on to become a successful Broadway musical. STEAL ME, and ME & YOU & EVERYONE WE KNOW, also cast by Sunny and Meg, were at Sundance in 2005. The following year, ME & YOU & EVERYONE WE KNOW went on to win the Special Jury Prize for Originality of Vision and the Golden Camera Award at Cannes.
Contact
For inquiries, please contact fiscalsponsorship@filmindependent.org.