Survival Skills

Project type: Narrative Feature
Project status: Development
Writer/Director: Quinn Armstrong
Producer: Colin West
Director of Photography: Allie Shulz
Editor: Keara Burton
Lead Actor: Stacy Keach (The Narrator)
Lead Actor: Vayu O'Donnell (Jim)

Website: SurvivalSkillsMovie.com

Help independent filmmakers tell their stories.
Make a donation to Survival Skills today.
Film Independent's Fiscal Sponsorship program opens the door to nonprofit funding for independent filmmakers and media artists. Donate today and help bring Survival Skills to life.
Logline
Meet Jim. A police cadet fresh out of the academy who gets in over his head when he tries resolving a domestic abuse case outside the legal system. Good luck, Jim.
Synopsis
We open on a crackling VHS title sequence where our Narrator introduces us to the movie: a police training video starring Jim, a police cadet who is anxious to begin his life on the force. Jim gets assigned a partner, the no-bullshit Allison, and the newly paired team get a domestic abuse call, heading out to investigate. They find Mark and Leah fighting, but when they both deny any violent acts occurred, Jim is struck by his inability to help the situation and Allison informs him that sometimes the law trumps morality.
Overcome by his duty to do "good", and going against the advice of the narrator and his partner, Jim begins to stray from police protocol in order to help this family. He goes so far as to convince their daughter, Lauren, to go on tape about her father's abuse, and persuades Leah to testify in court. When Leah refuses to testify at the last minute, Jim is completely disillusioned and the narrator reminds us that this is all too common in the life of a police officer.
That night, Jim gets a call from Mark, telling him he's going to harm Lauren and Leah. Jim find and pursues Mark on the highway while the narrator argues with him over his life choices. Jim finally catches up to Mark, who pulls over under a deserted overpass and they have a brutal fistfight where both men succumb to fatal knife wounds. Nice try, Jim.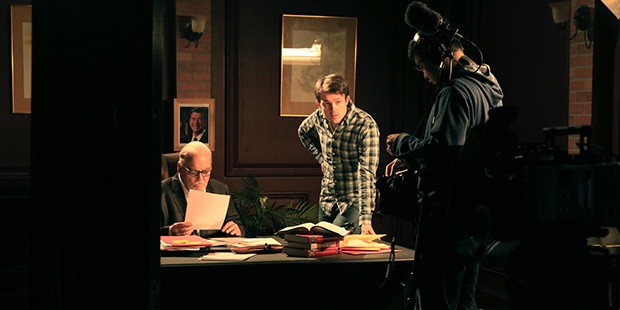 Meet the Filmmakers
Quinn Armstrong — Writer/Director
Quinn Armstrong is an award-winning writer, director, and actor formerly based in the Pacific Northwest. Beginning as an actor, he appeared on professional stages in a variety of roles and on screen in national commercials and broadcast TV shows, including NBC's Grimm. Since taking up writing, his plays have been professionally produced on stages across Seattle and his work has been supported by numerous Pacific Northwest luminaries, including Brian Yorkey, Pulitzer Prize-winning dramatist. As a film director his early short films found traction by winning awards at the Local Sightings Film Festival and the 48 Hour Film Festival, among others. He is a Kreielsheimer scholar as well as the recipient of a McCune Foundation grant and attended USC's School of Cinematic Arts under the mentorship of Jennifer Warren and Jeffrey Lengyel.
Colin West — Producer
Colin West is an award-winning producer, director, and screenwriter based in Los Angeles. He worked professionally as a Multimedia Producer for MacArthur winning visual artist Ann Hamilton, and then as a Producer for CBS Broadcasting. He's since been a freelancer in production for commercial and television shows across LA and worked in film & television development for Matt Reeve's (Dir. Cloverfield, Dawn of the Planet of the Apes) company, 6th & Idaho, in association with 20th Century Fox. Since 2007, his narrative films, including two adaptations by Eisner Award-winning cartoonists, have been showing at festivals internationally and have garnered hundreds of thousands of views online. His films have been featured on io9, GeekTyrant, LaughingSquid, FilmShortage, and CNET. Colin is an Annenberg Graduate Fellow at the University of Southern California's School of Cinematic Arts.
Allie Schultz — Director of Photography
Allie Schultz is a graduate of the Savannah College of Art and Design in Georgia, where she received her BFA in film and television. She also studied in Lacoste, France, where she shot the documentary Les Artistes Des Lacoste, which went on to be an Official Selection at the Szolnok International Film Festival in Hungary. In 2014, she shot the award-winning short films The Peripheral, Take With Water, and Afterlife, the latter receiving first place in the Project Yellow Light PSA Competition. In addition, Allie also served as a camera intern on the critically acclaimed series, The Walking Dead. She earned her MFA in Cinematography at the AFI Conservatory.
Keara Burton — Editor
Keara received her BFA in Motion and Graphic Design from Cornish College of the Arts in Seattle, WA. Since graduating she has worked as a freelance graphic designer, film editor, video producer and studio manager. She discovered a knack for editing while competing in the 48 Hour Film Project in 2012; many of her films winning awards including Runner Up for the City of Seattle, Audience Favorite, Best Use of Genre and Best Editing. She has an MFA in Editing from the AFI Conservatory.
Stacy Keach — Lead Actor (Narrator)
Stacy Keach, winner of both a Golden Globe and Primetime Emmy for his work in film, has played to grand success in classic and contemporary theater's greatest roles, and he is considered a pre-eminent American interpreter of Shakespeare. Perhaps best known around the world for his portrayal of hard-boiled detective Mike Hammer, Keach is also known for his portrayal of Ken Titus in the Fox sitcom Titus, Warden Henry Pope in the hit series Prison Break and Robert "Pops" Leary in the FX series Lights Out. Other notable portrayals occurred in The Traveling Executioner, That Championship Season, The Ninth Configuration, Escape From LA, and American History X.
Vayu O'Donnell — Lead Actor (Jim)
Vayu O'Donnell is an actor, writer, and voice-over artist splitting time between New York and Los Angeles. He is a graduate of Yale University where he majored in American Studies with a concentration in Cultural Theory and minored in theater. He then graduated from the Tisch School of the Arts Graduate Acting program. His selected credits include BROADWAY: Man And Boy (Roundabout, Basil, u/s Beeston) and Golden Boy (Lincoln Center, Driscoll). NEW YORK: Cherry Smoke – Fish (Working Theater), Jester's Dead (The PIT), L(y)re (Ars Nova), Desperate Writers (Union Sq. Theater), Tales From the Tunnel (Bleeker St. Theater), The Picture of Dorian Gray – Lord Henry Wotton (Theater Row), Dance Dance Revolution – Moonbeam (Les Freres, Ohio Theater), Perfect Harmony – Lassiter (Theatre Row), Two Gentlemen of Verona – Proteus (Poor Tom Productions) REGIONAL: Double Indemnity – Jackson, Sachetti, Norton (Old Globe, San Diego), Edward II – Gaveston (Shakespeare Theater D.C.) Tamburlaine – Callapine (Shakespeare Theater D.C.); Midsummer Night Dream – Puck (Shakespeare Theatre of New Jersey), Of Mice and Men – Curly (Cleveland Playhouse/Buffalo Studio Arena), Sweet Bird of Youth – Bud (WTF – Williamstown Theatre Festival), Harmonious Pimps of Harmony (Williamstown Theater Festival), FILM/TV: I Just Want My Pants Back; The Weekend; created and co-wrote the new web-series "80/20" with Christopher Oscar Pena.
Contact
For inquiries, please contact fiscalsponsorship@filmindependent.org.