Swearing

A Filipino-American coming-of-age story...
Project type: Narrative Short
Project status: Development
Director/Writer: Mary Bronaugh
Producer: Natalie Galdamez
Cinematographer: Cole Bacani
Editor: Joseph DeRose
Leading Role/Executive Producer Sari Arambulo

Facebook: facebook.com/swearingpilot

Help independent filmmakers tell their stories.
Make a donation to Swearing today.
Film Independent's Fiscal Sponsorship program opens the door to nonprofit funding for independent filmmakers and media artists. Donate today and help bring Swearing to life.
Logline
Swearing is a dramedy short film about GOD, SEX, and GROWING UP.
Synopsis
Ninabelle Navarro is a spirited young Filipino woman whose sheltered perspective is obliterated by a chaotic first week of college. Accidentally recruited for the campus comedy troupe, Nina will discover a world where provoking God is a prerequisite – and she'll let loose the surprisingly loud and angry voice inside her.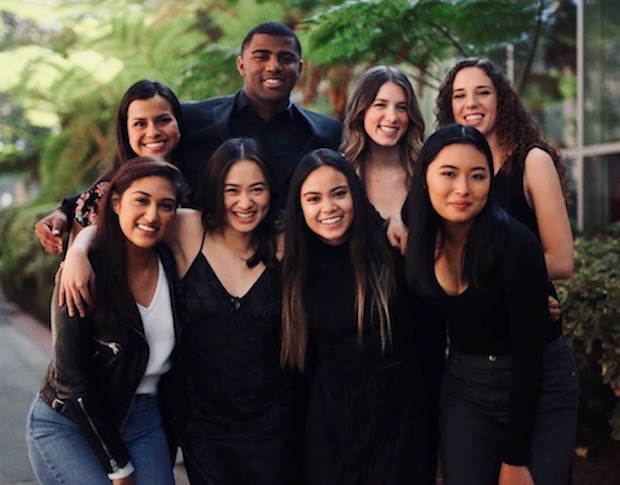 Meet the Filmmakers
Mary Bronaugh — Writer/Director
Mary Bronaugh is a BFA Writing for Screen and Television graduate from the USC School of Cinematic Arts who writes, directs, and produces comedy and dramedy features and television. She is currently the Apprentice Writer on the five-time Emmy-nominated Disney Channel show Big City Greens. She has also been a Finalist in The Launch Million Dollar Screenplay Contest and Finalist in The Humanitas David and Lynn Angell College Comedy Fellowship. In 2019, her feature screenplay Jade and The Legend of The Lost Emperor made The Red List as one of the top 10 Best Animated Feature Screenplays of The Year. In addition to her film/TV work, Mary has directed several full-length community theatre plays and musicals, such as Harvey, The Musical Comedy Murders of 1940, Oklahoma!, and original plays.
Natalie Galdamez — Producer
Natalie Galdamez is a recent USC School of Cinematic Arts graduate with an extensive producing resume of high-end commercials and indie short films with budgets of up to $90k. She currently produces high-end video marketing content for Culprit Creative, serving as lead producer on commercials for companies such as Mercedes Benz, General Mills, Facebook, Starbucks, Dell, Tesla, Virgin Atlantic, and more.
Cole Bacani — Cinematographer
Cole Bacani is a Filipino-American cinematographer and USC School of Cinematic Arts BFA Film and Television Production senior based in Los Angeles. He has won several prestigious accolades for his work including the Audience Award for his film Sometimes, Maybe at the National Film Festival for Talented Youth, 2nd Place and Achievement in Writing for In Her Eyes, as well as Best in Show for Sometimes, Maybe at the Screen Test Student Film Festival. His films have also been Official Selections at the DC Independent Film Festival and the LA Cinefest.
Joseph DeRose — Editor
Joseph DeRose is a freelance editor and BFA Film and Television Production senior at the USC School of Cinematic Arts who specializes in coming-of-age and documentary films and web series. In addition to his portfolio from USC, Joseph has edited projects for Jubilee Media, DoGoodery, and Song Paper Pictures.
Sari Arambulo – Leading Role/Executive Producer
Sari Arambulo is a professional actor who is best known for portraying "Grace" on the NBC hit comedy AP Bio, which is now going into its third season. In addition, she has also guest-starred on shows like ABC's Modern Family and The Middle, Disney Channel's Girl Meets World, and Netflix's Alexa and Katie. She has had leading roles on Nickelodeon's Chase Champion and Disney Channel's Abby Normal. In addition to her on-screen work, Sari has a strong interest in working behind-the-scenes. She has interned in marketing at Hulu and Showtime, as well as worked in production and development at Luminoustudios and Footprint Features. Sari is excited to play the leading role of Ninabelle in Swearing, as well as serve as an Executive Producer on the project – blending her passions for acting and production.
Contact
For inquiries, please contact fiscalsponsorship@filmindependent.org.