tender

Finding intimacy in unlikely places...
Project type: Narrative Short
Director/Writer: Felicia Pride
Producer: Regina Hoyles
Cinematographer: Ludovica Isidori

Email: felicia@felixandannie.com

"We have officially completed our short film, tender! Going into the new year, we're off to the races getting our baby out into the world and we couldn't have done it without all of our wonderful donors. Thank you so much. We are now applying to film festivals and looking to share the film as much possible through other screenings, a mini-tour of sorts. Please do reach out if you know or work with entities who might be great to hold a screening. Click to see our official poster!"
- Regina Hoyles, Producer
Film Independent's Fiscal Sponsorship program opens the door to nonprofit funding for independent filmmakers and media artists.
Logline
After an unexpected one night stand, two women at very different stages of their lives, share an even more intimate morning after.
Artist Statement
the impetus
I am not a director. That's what I used to tell people. Another way for me to hide and deny myself the opportunity to grow as an artist and step out of my comfort zone.
Enough of that.
Tender marks my directorial debut and I'm am so freakin' excited. And I'm scared AF, but I'm doing this anyway.
I've learned that there are certain stories that I need to be a part of telling from start to finish. In order to do that, I have to step into the director role, learn, grow, fail, challenge myself. I've spent the last year or so taking classes, working with actors, workshopping material and now… it's time to actually do it.
the story
tender is a simple story, close to my heart, about the bonds between women, black women. I'm fascinated and fortified by the bonds I have with black women and I wanted to try to capture that power, but between seemingly strangers.
These days between social media and tinder, genuine connection is so often lost. I also like playing with age and class and am compelled to write Gen X female characters (like me and my friends) who are actively reflecting on their life. And in this film's case a reflection through the eyes of your seemingly younger self.
Lastly, because I'm a champion of joy, this is also a film about joy and how we can find it in unlikely places if we allow ourselves too.
the plan
We're in the midst of pre-production! Identifying crew, location, going out to cast. All of that!
We plan to shoot this bad boy at the end of August (whoa!), employing a predominantly female crew, especially a female DP.
Since this is my debut, I wrote the story to be simple and contained. I'm not trying to do too much right out the gate. The story is told over one day via two actors in one location.
Short films can be costly. Even with a production-friendly story like ours, the costs add up.
We're looking at $10,000+ to do this film right and do justice for the story.
Once the film's done, we'll submit our baby to film festivals and then look to an online release for the world to see.
the plea
I know that folk direct films every day. But this is a HUGE deal for me.
Your support would mean everything and would go directly to funding the production + post-production of tender.
My gratitude is already running over that a team is forming to bring this baby to life. I'd love for you to be a part of that. Visit us online at tendermovie.com and follow us on this journey on IG and Twitter at #tendermovie.
with so much joy,
Felicia Pride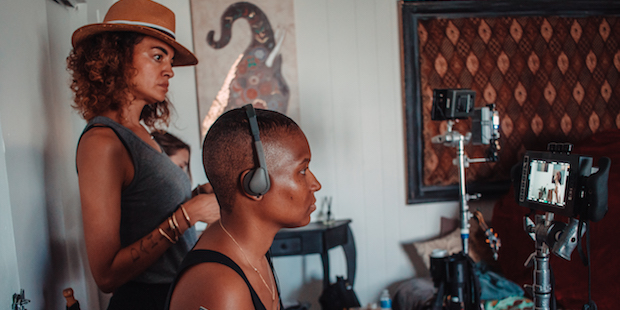 Image credit, Avery Archie
Meet the Filmmakers
Felicia Pride — Writer/Director
Felicia Pride began her writing career as an entertainment journalist who went on to write several books, including a YA novel and the essay collection, "The Message: 100 Life Lessons from Hip-Hop's Greatest Songs." In between, she worked in New York book publishing, taught freshman comp at various colleges, slummed in several major cities, and started a film marketing business.
Since it became clear that she will never run out of stories, the Baltimore native moved to Los Angeles in 2015 to pursue film and television writing. By day, she worked as a film distribution exec, and in 2016, she was selected as a Film Independent Screenwriting Fellow. Her feature film Really Love is currently in post-production and is being produced by MACRO. In 2017, she was an NBC Writer on the Verge for comedy.
Most recently, she sold a drama pilot to Universal Cable Productions and was a writer on Ava DuVernay's Queen Sugar. She holds an M.A. in writing from Emerson College and is founder of The Create Daily, a community she started in 2012 to help underrepresented storytellers create full-time. Tender marks her directorial debut.
Regina Hoyles — Producer
Born and raised in the south suburbs of Chicago, IL, Regina Hoyles is a multi-hyphenate artist who got her start in the entertainment industry as early as nine years old. She is a recent graduate of New York University's Tisch School of the Arts where she majored in drama and minored in the business of entertainment.
Known to work behind the scenes and in front of the camera, Regina is committed to wearing several hats in the development and production process. Naps, a web series she created that has been featured in publications such as Shadow and Act and screened at several festivals across the U.S., was recently handpicked to stream on iONE Digital's aspaceforcreators.com. As an actor, Regina can most recently be seen on Season 2 of The Marvelous Mrs. Maisel on Amazon Prime. As a filmmaker, Regina is currently attached as a producer to several projects, many of which contain storylines that focus on some aspect of the Black woman experience.
She most recently wrapped on her latest work, Adullam, a sci-fi short film which she wrote, directed, and starred in.
Ludovica Isidori — Cinematographer
A vibrant, Italian, cinematographer, Ludovica Isidori holds an MA in Cinema and Television studies from IULM, Milano and a MFA in Cinematography from AFI, Los Angeles; there she received the Olivadotti Scholarship for craftsmanship excellence.
While studying, she filmed a documentary on autism, Meraviglia, that screened at several Italian Film Festivals. Since then, her path has been validated by a combination of artistic experiences, improving her technical skills and training her photographic sight. While living in Milan, she worked for the esteemed fashion photographer, Gianguido Rossi and she assisted Francesco Zanot, a highly valued photography curator. Their collaboration expanded Ludovica's knowledge of Art History and Photography, as well as her understanding of the aesthetic rules and social relevance of visual art.
In 2013, Ludovica's graduated from the American Film Institute with a thesis shot on 35mm, Bamidbar. The short won the Best Short at the LAJFF and screened at numerous film festivals (Shanghai International Film Festival, Hof International Film Festival, Fort Lauderdale International Film Festival and the Champs-Elysees Film Festival.)
In 2015, Ludovica was selected as a Cinematography Fellow for Project Involve, the diversity program of Film independent. Since then, her projects have premiered at SXSW, Slamdance, HBO, Outfest, Diversity in Cannes and many other.
In 2017, Ludovica shot her first feature, The Blackout, for the Argentinian director Daniela De Carlo. In October 2017, Ludovica Won Best Cinematography at the Gary International Black Film Festival for her short, Intercept, directed by Jackie Stone. The year 2018 started with another prize for cinematography, il Premio Daniele Cipri per la fotografia at the Movie Valley Film Festival, in Italy, for Ludovica's work on the short movie Peggie.
In 2018 she shot her third feature, Test Pattern, for director Shatara Michelle Ford; the piece, an independent piece about love and consent, has now started its festival run.
Contact
For inquiries, please contact fiscalsponsorship@filmindependent.org.