The Disruptors

A social media agency gets a new client...
Film Independent's Fiscal Sponsorship program opens the door to nonprofit funding for independent filmmakers and media artists. Donate today and help bring The Disruptors to life.
Logline
A social media agency gets a new client; a corporation who wants to run for president.
Synopsis
Jean, Ben, Charlie, Ric, Toby, Sam and Sam Bennett work together at a social media agency called The Disruptors. Their boss, Gabbie, signs a new client, United Engines Ice Cream – a small wing of a large multinational oil company looking for a radical new kind of campaign.
The Disruptors decide to create a fake politician in order to sell United Engines' Ice Cream.
That fake politician ends up being a huge success and before they realise what is happening their fake political candidate is running in the real presidential race, in the United States.
The film has been shot in the style of FYRE: The Greatest Party That Never Happened. We did character work with each of our talented actors and then interviewed them to create the bones of the story. Then we layered stock footage over the interviews and finally shot fake "archive" footage to illustrate key moments.
THE TONE:
The Disruptors is a fake documentary.
The story is outrageous and balances the insane reality of working in a social media agency with the chaotic nature of the current political climate.
We have used a very inclusive creation process, where a group of people create a script as a team. We believe filmmaking is a collaborative medium and a great film is not singularly down to great performances from the actors, a rousing script from the writer, or an innovative vision from the director, but rather, from all of these elements working together to create a story.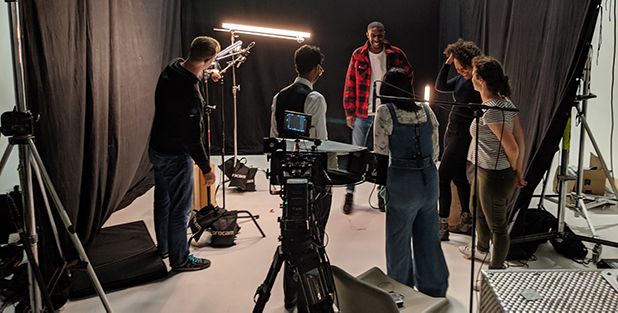 Meet the Filmmakers
Isabel Steuble-Johnson — Director
Isabel Steuble-Johnson is an award-winning independent producer and director committed to creating timely films that challenge the status quo. Selected for the 2017 London Calling Slate for her film, Home Girl, Isabel was also a finalist in the Underwire Film Festival (Best Producing Award) for her film, National Anthem. Isabel has consistently worked on films, while simultaneously producing work for big brands – her experience stretches from lottery funded short films to million pound advertising campaigns. Isabel's clients have included Coca-Cola, DPDHL, DHL Express, Aldi, Channel 4, Old Vic: New Voices, The Art Directors Club, The Bushwick Film Festival and Youth On Target.
Amy H C Wilson — Director
After graduating from Film School as runner up 'Best Cinematographer of the year 2010', Amy has spent the past 8 years working within the camera department in both Film and TV, with credits such as Star Wars: Rogue One (2015), Ben Wheatley's Happy New Year, Colin Burstead (2018) and most recently BBC's Silent Witness (2018). Across that time, Amy has shot numerous short films, most recently winning the Best Cinematographer Award at the European Cinematography Awards 2018 (Today is a Good Day), whilst being nominated for Best Cinematography at Around Films International Film Festival 2018 (Knock at the Door) and nominated for Best Cinematography at Fisheye International Film Festival 2018 (Knock at the Door).
Léa Barisset — Co-Producer
Léa Barisset is a multidisciplinary, having built a solid career in film armed with skills ranging from video editing and producing. She started her career in post-production on short stop-motion films like Tati Ramitsu and edited videos for Vogue, The British Fashion Council amongst many other fashion heavy hitters before going into production roles. Based in London, Léa worked on Anarchy! The McLaren Westwood Gang aka The Last Revolution (2015), National Anthem (2017) and she has a proven track record of working with Award-Winning Filmmakers, troubleshooting and creating outstanding work.
Emily Carlton — Writer
Emily studied Politics at Cambridge University, worked on development projects in Nigeria and England, ran away to New York, ran back to London and finally started writing. She spent two years as a journalist at OutThere, a gay men's arts, fashion and travel publication, before leaving to pursue film. She is now a screenwriter and producer with Seek Films. She has had three short film scripts produced: All of Me (2017), which has played at 25 international film festivals to date, The Invaders Song (2018) which premiered at Palm Springs and Full English(2018) which won 'Best Screenplay' at the LiftOff Awards 2019. She recently wrapped on her directorial debut, short film Exit to Stage (2019) made with the support of Directors UK and ARRI. She's a co-founder of 'Breaking Through The Lens' and an active member of WIFTV and BAFTA Crew.
Contact
For inquiries, please contact fiscalsponsorship@filmindependent.org.