The Giver Gives to Give

In a world of givers and takers, sometimes it's not so black and white.
Project type: Narrative Short
Project status: Post-Production
Co-Director/Writer: Silken Weinberg
Co-Director/Camera Operator: Angela Ricciardi
Executive Producers: Angela Ricciardi and Silken Weinberg
Producer: Riley Bradford
Director of Photography: Robert Nachman
Production Designer: Lieyah Dagan
Editor: Manoli Despines
Graphic Design: Chase Shewbridge
Original Score: Sasami Ashworth
Sound Design: Poppy Jean Crawford and Angela Ricciardi

Email:
rbradfordfilm@gmail.com
Website: a-ricciardi-s-weinberg.com/The-Giver-Gives-To-Give

Help independent filmmakers tell their stories.
Make a donation to The Giver Gives to Give today.
Film Independent's Fiscal Sponsorship program opens the door to nonprofit funding for independent filmmakers and media artists. Donate today and help bring The Giver Gives to Give to life.
Logline
A lonesome clown in search of means, understanding and unconditional love joins the circus only to find themselves more lost than ever.
Synopsis
The Giver Gives to Give is a black and white silent film starring a clown in search of a stage, an audience, a friend. Amidst their travels, they stumble upon a mysterious bar where they meet a boxer and a fisherman. These like-minded souls engage in a game of cards, a game of give and take. Once the stakes are decided and the cards are dealt, the infamous Ringmaster appears to whisk the clown off to the circus where they can perform for the masses and fulfill their purest lifelong dream: to love and be loved by all. In due time, the golden gilded guise of the circus turns as the clown grows tired. The Ringmaster's disappointment and rage drives the clown to madness in a spiral of self-doubt. In their darkest hour, where all feels lost, the clown remembers the rules of the game: the giver's spirit can be defeated but never destroyed. The clown burns down the circus and gives the performance of their life standing atop the rubble.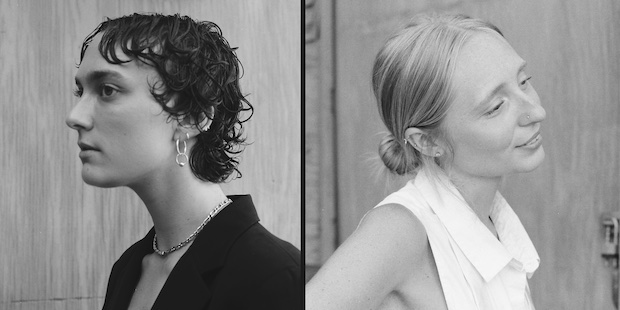 Meet the Filmmakers
Silken Weinberg – Co-Director/Writer
Silken Weinberg is a director and creative living in Los Angeles working across film, fashion, and music. Inspired by experimental filmmaking and non-narrative forms, she hopes to inspire others to bridge disparate parallels; simultaneously making their worlds bigger and more interconnected. She has a B.A. in Communication and Cinematic Arts from the University of Southern California with a Styling Intensive Certificate from Central Saint Martins. She is currently the Music Editor At Teeth Magazine.
Angela Ricciardi – Co-Director
Angela Ricciardi is a visual artist based in Los Angeles. Inspired by the chemical reactions and manual processes of analog media, her experimental films and still photographs explore surreal landscapes of the psyche. In intuitive works that combine meticulous intentionality with divine accidents she seeks to reveal aspects of her subjects — and herself — that lie hidden beneath the surface.
Riley Bradford – Producer
Riley Bradford is a digital producer and production coordinator based in Los Angeles, CA. He currently produces the Snapchat series Batter Up! for Scout Productions as well as a variety of short form narrative pieces. He's received awards from River Run International Film Festival and the Broadcast Education Association for his work uncovering conversion therapy at America's premier religious institutions. He holds a Bachelor of Fine Arts in Cinema and Television Arts from Elon University.
Robert Nachman – Director of Photography
Robert Nachman is a director of photography based in Los Angeles, California. They are a graduate of American Film Institute Conservatory and has had their work featured in film festivals around the world (SXSW, Clermont Ferrand, Seattle, Atlanta, Palm Springs, AFI Fest & Outfest) . Their work has received a BAFTA for Student Live Action as well as won a Student Academy Award (Miller & Son). Their work has been featured on Short of The Week & selected as a VIMEO Staff Pick. Robert received an ASC Vision Mentorship Award for 2021.
Lieyah Dagan – Designer
Lieyah Dagan is a multidisciplinary designer whose work explores new ways of making and playing. Lieyah created her own major at UC Berkeley, where she explored a variety of design disciplines. Today, her practice includes but is not limited to: set design, object design, toy design and interior construction.
Manoli Despines – Editor
Manoli Despines is a film editor, filmmaker and artist from Pittsburgh, Pennsylvania. He is a graduate of Syracuse University, where he earned a B.F.A. Film Degree at the School of Visual and Performing Arts in 2019. He currently lives in Los Angeles.
Sasami Ashworth – Composer
Sasami is the solo musical project of composer and songwriter Sasami Ashworth. Sasami spent her early years studying classical French horn, and after graduating from the Eastman School of Music in 2012, she scored and made orchestral arrangements for films, commercials and studio albums. She also spent many years before touring full-time as a music teacher in Los Angeles, where she is currently based and makes music. Whether she has strings, horns, or a rock band in her employ, Sasami is a modern composer who tackles an emotional spectrum as broad as her arrangement choices and creates a dynamic show with her musically dramatic offerings. Hushed vocals, guitar wails, violent yelps and tender harmonies can all be expected at a Sasami show. Most recently it was announced that Sasami would be opening for Haim's 2022 tour.
Contact
For inquiries, please contact fiscalsponsorship@filmindependent.org.