The Hanapepe Massacre Mystery 1924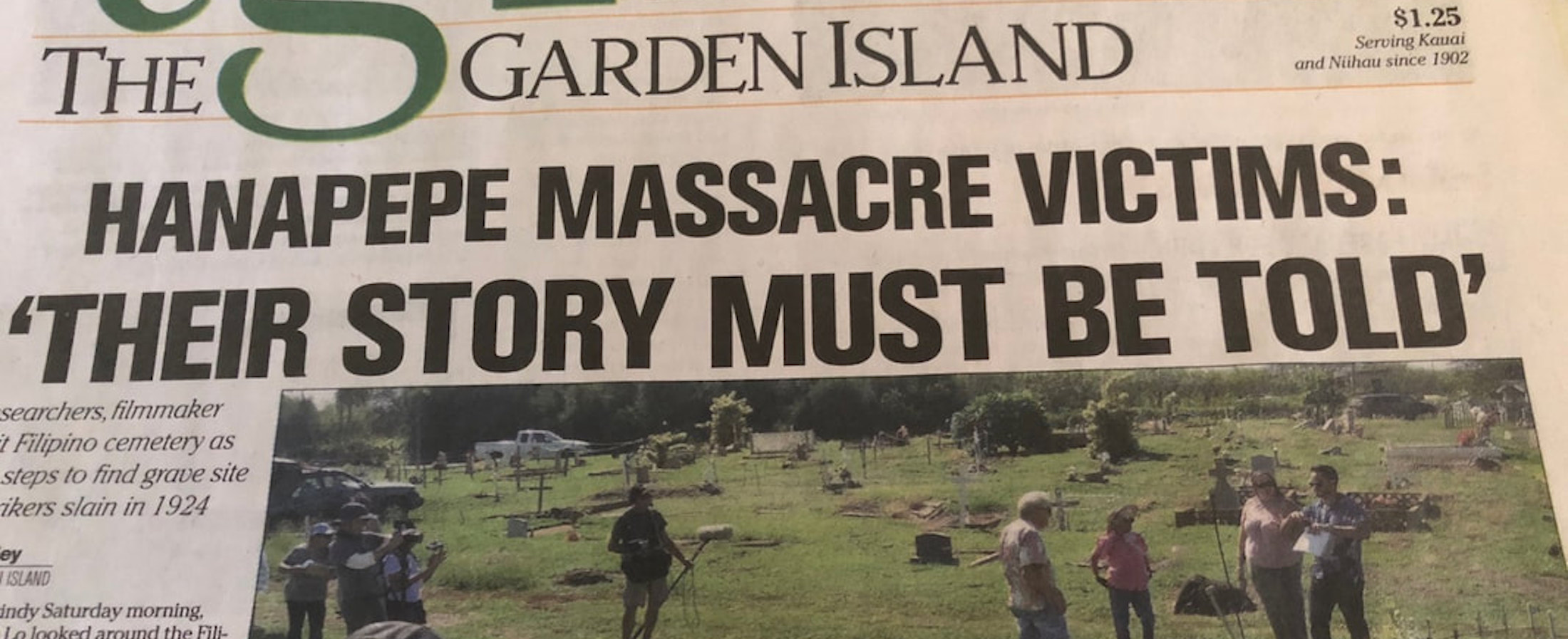 PARADISE LOST: SLAUGHTER IN HAWAI'I 1924
Film Independent's Fiscal Sponsorship program opens the door to nonprofit funding for independent filmmakers and media artists. Donate today and help bring The Hanapepe Massacre Mystery 1924 to life.
Logline
A Filipino sugar cane workers' strike in Hawai'i in 1924 becomes explosive, leading to the deaths of 16 strikers and four police deputies. A fog of fear and reprisals in its aftermath grips Filipinos, as surviving strikers are arrested, tried and many jailed or deported. The young Higher Wage Movement is crushed during this tumultuous beginnings of Hawaii's labor history. Suppressed for 95 years, this virtually forgotten history must be told.
Synopsis
The Hanapepe Massacre Mystery 1924 will answer the question of what happened on September 9, 1924 in the island paradise of Hawai'i when 20 people were killed in an explosive batte-turned slaughter between police and striking Filipino sugar cane workers. 30 minutes in length with a rock-opera score, this docudrama will tell its tale using documented sources, actors, illustrations, sound design with a guitar-driven rock music score, and a first-person narrator who witnessed the tragic event. The film is intended as an introduction to this historic tragedy and will be an integral part of state-wide, educational public forums planned for all screenings. The film will answer WHAT HAPPENED and the forum will address and explore the questions of WHY this happened. The narrator will lead us through the story, and all details will come from source documents. Re-enactments of the day of the massacre, of the slaughter that followed and the resulting aftermaths will be dramatized with actors or with illustrations. The story starts with the narrator's telling of the events that led to the battle; photographs of the town and illustrations will provide the imaging, while live actors in a costumes enact scenes of Filipino strikers sharpening their cane knives, which will be intercut with the scene of a cadre of 40 sheriff deputies arriving with rifles. The battle scene will be shot expressionistically, rather than literally. Camera positions from multiple view points, and scenes shot with close-ups and extreme close-ups visualize the fear, the violence and the horror.
Make a donation to The Hanapepe Massacre Mystery 1924.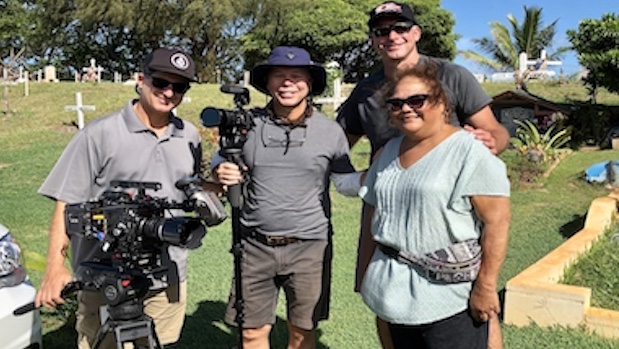 Meet the Filmmakers
Stephanie J. Castillo – Director/Executive Producer
Stephanie is an EMMY Award-winning independent filmmaker, who has made documentaries for more than 30 years. This is her 11th documentary; her first one won an EMMY in 1993. It was for a film about Hawaii's leprosy epidemic of the late 1800's and Father Damien's intervention. SIMPLE COURAGE: AN HISTORICAL PORTRAIT FOR THE AGE OF AIDS took a look back at Hawaii's leprosy epidemic to look forward and asked how would we deal with the AIDS epidemic in the late 1980's. Her documentaries include social and cultural histories, biographies and mini-documentaries for nonprofit organizations. She is based on Kaua'i and has filmmaking partners in Honolulu, New York City and in other parts of the U.S., and in Europe.
Randy Francisco – Executive Director, Head of Operations & Fundraising
Prior to moving to Kaua'i, Randy had a career in the University of Hawai'i system at several campuses where he held positions as a project coordinator. He managed several grants at the county, state and federal levels. His last assignment before relocating to Kaua'i was serving as a Dean of Continuing Education, Economic & Workforce Development at Leeward Community College, which included management of the unit as well as grants administration. He is past president of the Kaua'i Chamber of Commerce and served the County of Kaua'i as the Kaua'i Film Commissioner. He is the current President of the Kaua'i Filipino Chamber of Commerce. He is currently retired and volunteers on several boards and organizations, including on the Board of Directors of the Kaua'i Philippine Cultural Center.
Christopher Ballesteros – Producer, Lead Researcher
Chris, whose family first came to Hawai'i from the Philippines in the early 1920s to work on the sugar plantations, wrote a capstone academic paper about the Hanapepe Massacre while studying history at Harvard. After spending several years in management consulting and venture capital, he is currently working at a digital health startup in Boston, although his family is still on Kaua'i. He has experience with non-profit fundraising and worked in technology investing with producers of other documentary films. In addition to his work on this project, he is publishing a book on the Massacre based on his Harvard thesis and more recent investigations into the tragedy.
Make a donation to The Hanapepe Massacre Mystery 1924.
Contact
For inquiries, please contact fiscalsponsorship@filmindependent.org.