The House Is Still Dark

Not all rainforest mysteries are enchanting; there are those that are filled with unspeakable terror.
Project type: Documentary Feature
Project status: Production
Director: Felipe Roa Pilar
Producer: Thor Hampus Bank
Producer: Dara Nicole Díaz Ríos
Director of Photography: Jorge Roa Pilar

Email: daradiazgarmendia@gmail.com
Website: empathizerdoc.com

Help independent filmmakers tell their stories.
Make a donation to The House Is Still Dark today.
Film Independent's Fiscal Sponsorship program opens the door to nonprofit funding for independent filmmakers and media artists. Donate today and help bring The House Is Still Dark to life.
Logline
Deep within the Nicaraguan jungle, a mysterious mental disorder appears among isolated indigenous communities. A psychologist sets out on a dangerous journey to find the cause of the illness. Along the way, he witnesses frightening testimonials and symptoms that seem related to acts of violence, rape, and murder by land grabbers.
Synopsis
Grisi Siknis, or "Crazy Sickness", is a mysterious and contagious illness that has plagued Mayangna communities in Nicaragua for several years. Ejas Patron, the only Mayagna psychologist in the territory, embarks on a challenging mission to research the enigmatic illness that endangers his people. He travels from one village to the next, interviewing people who were recently affected by Grisi Siknis, taking notes using a dictaphone every night before going to sleep. Ejas' attitude towards his research is cold and professional, but he starts feeling afraid of the supernatural world and its evil forces, an inner struggle emerges between his "western" education and his old Mayanga beliefs in the spirit world.
Ejas' search for people afflicted by Grisi Siknis has the ultimate goal of witnessing a Grisi Siknis outbreak. However, he can never seem to be in the right spot at the perfect time. Instead, he finds himself in the middle of an intensified land conflict impacting the entire Mayangna territory. Ejas theorizes that the illness could relate to the distress caused by the heavily armed land-grabbers who roam the forest in search of timber and land trafficking for agriculture and livestock.
The emotional peak occurs when the outbreak comes to the village where Ejas is waiting. A small number of young teenagers begin to exhibit Grisi-Siknis symptoms. Having witnessed an outbreak, Ejas heads back home. He is unsure what to do because the mystery has only grown larger with each testimony along the way. Ejas decides to travel to the University of Managua to share his experiences in a last effort to raise the authorities' awareness. However, there is little to no interest from the people in the capital. The film ends with Ejas on the bus, heading back home.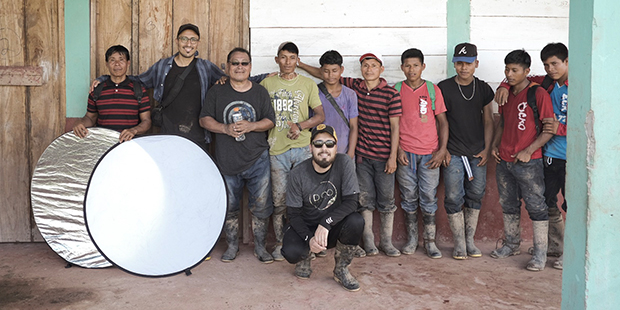 Meet the Filmmakers
Felipe Roa Pilar – Director
Felipe was born in Santiago, Chile. He has a diploma in Documentary Filmmaking from Universidad de Chile and degrees in Anthropology and Environmental and Conflict Analysis from Escuela Nacional de Antropología e Historia (Mexico) and Aarhus University (Denmark), respectively. Early in his career he worked as a VJ/director in Chile for BBC, AP, and others. For the last 9 years he has directed short and medium length documentaries in Chile, Bolivia, Mexico, Palestine among others. He is focused on stories about people living in vulnerable conditions, and he has a special interest in the challenges faced by indigenous people and their cultures. His work has been selected for several international film festivals. The House Is Still Dark is his first feature film.
Thor Hampus Bank – Producer
Thor is a co-founder of GotFat Productions and holds a Master of Arts in Media Studies from Aarhus University. He has worked as a producer since 2012 and has gradually moved into longer formats such as feature documentaries, and has through the years participated and/or pitched projects at Sheffield MeetMarket, DocForward, Nordisk Panorama, Jih.lava, WKFF and more. In 2020 he was selected for the talent programme "Doc Forward" (prev. "12 For The Future").
Dara Nicole Díaz Ríos – Producer
Dara is a Nicaraguan documentary producer based in Managua and Los Angeles. She recently graduated in Media Production from Emerson College. Recently, she was selected for the "Leading Lights" talent program of the Australian International Documentary Conference: AIDC. Dara is a 2022 IDFA Pitch Forum participant, DOC NYC Industry Roundtables fellow, and a Film Independent & CNN Intensive fellow. Previously, she produced and directed fiction and non-fiction shorts on local legends and latin american indigenous affairs, which have premiered at international film festivals in Latin America and Los Angeles. When she's not making documentaries, she runs an annual summer storytelling camp for indigenous children in Nicaragua in partnership with FNE International 501(c)(3).
Jorge Roa Pilar – Director of Photography
Jorge is a filmmaker and post producer with more than 12 years of experience. He has a bachelor degree in filmmaking from La Escuela de Cine de Chile and a number of diplomas and classes related to postproduction. Throughout his professional career Jorge has participated in different cross-disciplinary projects that have included filmmaking, animation and photography. As part of these experiences, Jorge has built a strong grounding in lighting and film composition after working many years as Animation Director in different international video games. From then on, Jorge has explored the medium of video and photography in which he has participated in documentaries, music videos and commercials in different countries. Some of his photographic work has been shown in National Geographic.
Since 2017, Jorge and Felipe have worked together in more than seven short documentary projects.
Contact
For inquiries, please contact fiscalsponsorship@filmindependent.org.