The Imperfect Picture

Film Independent's Fiscal Sponsorship program opens the door to nonprofit funding for independent filmmakers and media artists. Donate today and help bring The Imperfect Picture to life.
Logline
In a world obsessed with perfection, an eclectic woman realizes that life is better imperfect.
Synopsis
Anna is an eclectic woman in her 30s. One morning, she stumbles upon a show called Living the Perfect Life. The ideal pitched by the TV host is far away from Anna's own existence and it makes her feel like an outsider. To escape her frustration, she dives into her imaginary world, until a call from her funny and intellectual friend Jean, distracts her from her thoughts. Jean challenges her to face the real world and observe things from a different perspective. The dialogue between them brings back Anna's memories from the past and makes her relive all the feelings that have shaped her journey.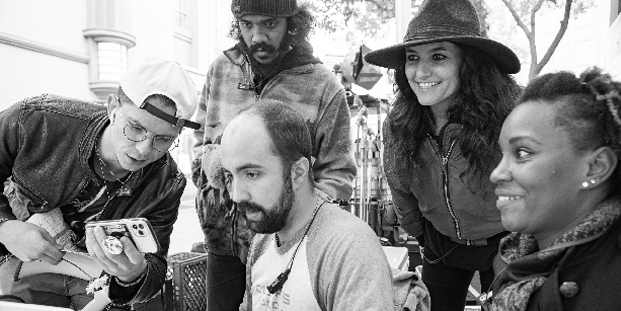 Meet the Filmmakers
Coxy Chiara Rodoni — Writer/Director/Executive Producer
Coxy was born in Italy and raised between Milan and Paris. Films have been her greatest passion ever since she was a kid. Coxy started her career in fashion where she has worked as creative for international luxury brands, including Gucci, Dolce & Gabbana, Roberto Cavalli, Prada, Ralph Lauren among others. She has de-signed their collections as well as produced their ad campaigns, videos, and look books. Coxy has moved to Los Angeles in 2013 to follow her dream of becoming a filmmaker and ever since has created & directed Fashion Films, Short Films and Branded Content targeted for the new media. Her work has been featured on Vogue, Marie Claire, L'Officiel, among other international magazines as well as at the Triennale Museum of Design in Milan. Her films have been featured at Inter-national Film Festivals and won several Awards.
Tre'Shonda Sheffey — Co-Producer
Tre'Shonda was born in Texas, but was raised in Okinawa, Japan. Living overseas shaped her worldview around her passion for music, tv/film and policy. She always knew she would work in a field to make a difference and impact change. Tre'Shonda graduated with degrees in Marketing and Spanish from Auburn University and attended law school for two years, but later decided to advocate in politics creating digital media campaigns with stories of those impacted by policies in their local communities. After a few years in Washington, D.C., she decided to leave politics to combine her love for film and advocacy by producing stories that have the power to transform people and evoke change.
Adam Hahn — Producer
Adam is a director, producer, cinematographer and camera operator from Baltimore, MD with a BFA in Film Production from Chapman University. In 2017 he started Omada Cinema LLC, and currently acts as co-founder and operator of the company. Since then he's worked with clients such as C2O Coconut Water, Def Jam Recordings, Gucci, Mariu De Sica, ISKO, and GrandArmy as well as various other commercial companies, agencies, and musical artists.
Dan Punshon-Smith — Producer
Dan Punshon-Smith is a Producer, Editor, VFX artist, from Baltimore MD, and co-founder and operator of Omada Cinema LLC. Since moving to LA in 2017, he has thrown himself in the deep end of the production world, working on any project he could get his hands on. In the span of two short years he has worked with a wide variety of talented directors, agencies, and artists. Though his time in LA has been short and he's still got a lot to learn. He's found that there is a difference between doing something well and doing something perfectly. Simply put, he's never learned from perfection, he learned from his mistakes. Learning to embrace these imperfections, these human errors, is what makes his work unique and what has propelled his career.
Andres Garzas — Director of Photography
Andres is originally from Madrid, Spain. He felt in love with films after watching E.T. when he was 4 years old. He studied at Global Cinematography Institute (US), Es-cuela San Antonio de los Baños (Cuba), Maine Media Film School (US), Budapest Cinematography Masterclass (Hungary) and has a MA in Communication Science at Universidad Complutense of Madrid (Spain). Andres started his career working as an AC with directors such as Pedro Almodóvar, Milos Forman, José Luis Garci and Pan-cho Lombardi, while focusing on independent projects in order to develop his career as a cinematographer. His work includes Films and short films (Cuddle Toys, Echo, Through the Breaking Glass, Alterations…) commercials (Coca Cola, Google, Toyota, Samsung…) documentaries (Kings of Cuba, Sweet Home Havana…), tv-shows and music videos (C Canela, Lil Wayne, Ray J, Miguel Bosé…).
Christopher Canullo — Production Designer
Christopher Canullo is an LA based production designer with a fine arts back-ground, working on independent artistic productions as well as main stream crea-tive installations, print, media, and presentations. Past clients have included: Toyota, Ralph Lauren, Calvin Klein, Maison Martin Margiela, Vanity Fair, Laura Mercier, IBM, D Squared, Hermes, and others.
Contact
For inquiries, please contact fiscalsponsorship@filmindependent.org.