The Prisoner

An atmospheric meditation on the detained immigrant experience, memory, trauma and what it means to be free in America.
Film Independent's Fiscal Sponsorship program opens the door to nonprofit funding for independent filmmakers and media artists. Donate today and help bring The Prisoner to life.
Logline
A teenage migrant escapes a detention center and confronts his past traumas, hopes and fantasies of living in the promised land – America- but it isn't the America he was expecting.
Synopsis
A South American teenage migrant boy has been detained by border agents in a detention center and is being held in a prison in upstate NY.
We begin by seeing him ESCAPE into the rural forest. Amidst running through the swaying trees, he struggles with his memories of crossing the border, memories of his final moments with his mother and brother, and struggles with his conscience as a rebellious teenager.
The storytelling grammar of the film is told in present – flashback structure. Each memory is all emotionally related to Carlos in the present as he reflects while on the run.
The final twist at the end: what we thought was an escape turns out to be a fever dream as we learn that Carlos is in fact still imprisoned, sick with the flu and dying on the floor of his cell.
The entire escape has been a fantasy/fever dream, an emotional projection of a soul's confession of his final moments.
This film hopes to create an emotional experience of the immigrant experience to raise awareness and pay tribute to the immigration crisis at the southern border.
The script has been listed on Coverfly's Red List, Official Selection at Hollyshorts Screenwriting Competition, Semifinalist w/ Honorable Mention at Barnstorm Fest, Semifinalist at ScreenCraft Drama, Finalist at WeScreenplay Shorts Contest, Semifinalist at Filmmatic Short Screenplay Awards & Semifinalist at Your Script Produced!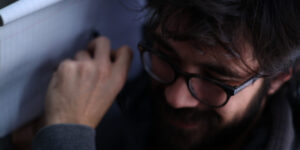 Meet the Filmmakers

Justin Ferrato — Director/Writer/Editor
Justin Ferrato is a Brooklyn based filmmaker – his previous short film Tiphany had its world premiere at Cinequest Film Festival and screened at more than a dozen festivals. The film was also purchased for a TV world premiere in 2017 in Canada. His first short film, This Mess We're In premiered at the NY shorts film festival and sold for TV broadcast with ShortsTV, airing in North America, South America, Europe & Asia.
Justin is also a writer-producer in creative services at HBO where he produces and edits trailers, & behind the scenes content for shows including Sharp Objects, Game of Thrones, The Outsider & Sesame Street.
Daniel Maldonado — Producer
Daniel Maldonado is an award winning filmmaker whose work has been featured in the New York Times, Remezcla and NBC NEWS. His feature film, a LatinX narrative drama H.O.M.E (starring Mexican Ariel winner, Jesus Ochoa and Produced by Darren Dean of The Florida Project), premiered at the Museum of the Moving Image followed by screenings at the American Cinematheque and over 25 top international festivals. Completing its journey, the film garnered a Best U.S Latino Film nomination from Cinema Tropical and several awards for Best Feature & Best Director.
Since graduating from the School Of Visual Arts, Daniel has written/produced and directed many diversified short films which have been exhibited in museums , galleries and international film festivals as well as broadcast television.
Contact
For inquiries, please contact fiscalsponsorship@filmindependent.org.