The Stolen Children

Am I One Of The Stolen Children?
Project type: Documentary Feature
Project status: Development
Director: Elizabeth Jacobs
Producer: Breanna Lynn
Producer/Assistant Director: Phoebe J Yung
Director of Photography: Britney Bautista
Sound Technician: Shorif Suhel
Cinematographer: Corey Clark
Sound Technician: Noah Penkrat
Cinematographer: Shalyn Delhaes
Gaffer: David Fernandez
Executive Producer: Darsh Thakker
Executive Producer: Avi Zephyra

Website: thestolenchildrenfilm.com
Email: thestolenchildrenfilm@gmail.com
Facebook: facebook.com/thestolenchildren
Twitter: @stolenchildren3

Help independent filmmakers tell their stories.
Make a donation to The Stolen Children today.
Film Independent's Fiscal Sponsorship program opens the door to nonprofit funding for independent filmmakers and media artists. Donate today and help bring The Stolen Children to life.
Logline
Upon adoption, filmmaker Elizabeth Jacobs was the only baby out of her fellow adoptees to not receive a single piece of information about her family background. Now, twenty one years later, she returns to Cambodia for the first time since childhood in order to uncover the truth about her adoption, as she is determined to find out why, and why her.
Synopsis
In the year 2000, young Elizabeth Jacobs was adopted from Phnom Penh, Cambodia. After being taken care of at a small orphanage in Roteang, she was promptly moved to the United States and since then has been raised in a town just outside of Boston, Massachusetts. Now, at twenty-one years old, Elizabeth is discovering who she truly is as a person, where she stands in society, and what she aspires to make of herself. Despite all of these desires, Elizabeth knows that she has to come to terms with her past before creating her future. After revisiting documents and photos back from her early life in regards to adoption, she noticed inconsistencies that raised questions about her past and uncovered much more than what was previously known.
The lack of information Elizabeth holds about her biological family has forced her into contemplation about whether she herself is a victim of the Cambodian baby trafficking scandal or not. Elizabeth's adoption occurred just months after Cambodia's adoption ban was put into place following the Lauryn Galindo child trafficking scandal. With this in mind, Elizabeth looked back to her adoption documents and ran through them with her mother to double-check that there were no inconsistencies in her adoption. Now, there is clear evidence that there is a reason for doubt concerning her "legal" adoption. Suspicion grew from both Elizabeth and her mother, and as time passed, more evidence arose that the adoption may have not been 100% legal.
That said, twenty-one years later, Elizabeth has grown up to be the woman she desires to be. The final step is to revisit her past and confront any unresolved issues that were kept hidden for so many years.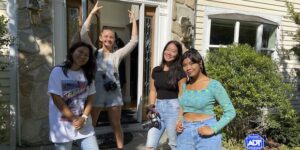 Meet the Filmmakers

Elizabeth Jacobs — Director
Elizabeth Jacobs is a Senior at The University of Massachusetts Amherst triple majoring in Film Studies, Marketing, and Communication. Her passion for film grew in college and she strives to focus on the communities she identifies with, such as, the Asian American community, the female filmmaker community, and the LGBTQ+ community. Her work also tries to advocate for mental health awareness as that topic is very important and is very personal to her. She has directed a few short films in her UMass classes and at the UCLA Summer Film Institute, she was the gaffer, colorist, sound op, and graphic designer for a couple of short films. She has had a total of five internships at her university, the Cannes Film Festival, and Echo Lake Entertainment.
Breanna Lynn — Producer
Breanna Lynn is a Los Angeles based director, editor, photographer and graphic designer focused on empowering marginalized groups through her work, specifically focusing on women centric narratives; she is determined to diversify the voices in the entertainment industry. Upon graduating from UCLA in 2020, Brea took on a producorial role with The Stolen Children to help Lizzie tell her story, continue the conversation surrounding identity, and stand for education through empowering media.
Phoebe J Yung – Producer/Assistant Director
Phoebe J Yung is a sophomore at New York University Tisch School of the Arts studying film and television. As a student filmmaker, she has won awards for exploring the difficulties of relationships and enjoys character driven narratives. Her most recent project as co-director, Sunflower, wrapped in July, and she is
now working on producing multiple short films this upcoming school year. Phoebe has completed several internships in scripted development and sales, working at the Cannes Film Festival and the European Film Market in addition to interning with Academy Gold partner, Fremantle, this summer
Britney Bautista – Director of Photography
Britney Bautista is an award-winning director and cinematographer, most known for her documentary work that centers around her Asian heritage, culture, identity, and feminism. She is passionate about amplifying the voices of small communities and raising awareness about social issues through filmmaking. Her work has screened in theaters across the globe, from Times Square, New York to Kerry, Ireland. Britney is currently studying film/video at Pratt Institute, and is an Assistant Editor at Wieden + Kennedy. She is currently in the pre-production process of her third short film, Peaches, which explores the topic of mental health in Asian culture.
Corey Clark – Cinematographer
Corey Clark is a rising junior at Columbia College Chicago. He is currently working towards a Bachelor's degree in film with a concentration in cinematography. He has directed, shot, and edited multiple short films, two of which have screened in film festivals. The Stolen Children is the first feature-length film that Corey has worked on, and he is excited to be involved.
Shalyn Delhaes – Cinematographer
Shalyn Delhaes is an international sophomore at Columbia College Chicago, pursuing a BFA in directing. Over the last year, she interned for a start-up production agency called "Chaotic Neutral" and worked on several student films as Assistant Director, Assistant Camera, as well as Production Coordinator. In addition, she shot and edited her own short films and music videos. For her most recent project Sunflower, which wrapped in July, she wrote the script, co-directed, and produced. She's always had a passion for photography and is particularly interested in shooting on film.
Shorif Suhel – Sound Technician
Shorif Suhel is a film graduate from Full Sail University. While at school he helped out on many projects in different roles such as G&E, production/post sound, and directing. His future aspirations are to direct feature-length films & documentaries as well as dive deeper into the importance of sound potentially as a re-recording mixer.
Noah Penkrat – Sound Technician & Music Composer
Noah Penkrat is a New York composer and sound designer whose repertoire stretches countless genres. While on set, he's usually the go-to sound person when it comes to anything technical with software or equipment. As a composer, his main focus when creating the score is the story. He takes great care in the whole process from initial sketches to the final composition. Currently, Noah is working as a sound technician and composer on The Stolen Children.
David Fernandez – Gaffer
After graduating from Full Sail University where David got his first electric jobs, he pursued work in and moved to Los Angeles. He has worked on productions for companies such as HBO, Netflix & Disney as a Health & Safety Monitor; a position born from the COVID-19 pandemic. He has also done additional Grip and Electric work on music videos and smaller short film productions. Outside of his electric work David has interned at the film market in Cannes with Voltage Pictures.
Darsh Thakker – Executive Producer
Darsh is a senior pursuing a BFA in Producing at Columbia College Chicago. He was born and raised with a Hollywood mindset in Orange County, California. With his business partner, Avi Zephyra, he runs a production agency corporation and two narrative production companies respectively titled Chaotic Neutral LTD, Captured By The Views LLC, and Arrival Studios LLC. He has gained a lot of experience very early in his college career by working on sets as much as he can. In the past three years, he has contributed to over 70 film sets. He aspires to tell stories that are not only entertaining but also meaningful.
Avi Zephyra – Executive Producer
Avi Zephyra is a producer and entrepreneur with a passion for collaboration. He builds and leads successful teams to craft stories that transport people. Avi loves to find new ways to solve difficult problems and help filmmakers unleash their greatest potential.
Contact
For inquiries, please contact fiscalsponsorship@filmindependent.org.