This Crooked World

"Get away with what you can...."
Film Independent's Fiscal Sponsorship program opens the door to nonprofit funding for independent filmmakers and media artists. Donate today and help bring This Crooked World to life.
Logline
This Crooked World is a deliciously playful thriller that follows two women and the nefarious characters pursuing them across the US-Mexico border. It draws inspiration from Fargo, Snatch, and Thelma & Louise.
Synopsis
When masked thief Gina breaks into an apartment, the last thing she expects to find is a woman tied to the radiator. But Nancy, the kidnap victim, needs Gina to help with her escape. Conflicted, Gina gives into Nancy's pleas, and soon the two are escaping side-by-side.
Once on the street, they're spotted by Nancy's mean kidnapper, Fielder, sparking a chaotic pursuit that crosses borders, loyalties, and familial ties.
Meet the Filmmakers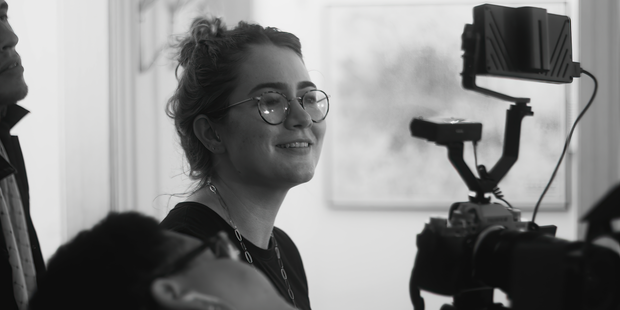 Lisa Donmall-Reeve – Producer
Donmall-Reeve migrated to film from a successful and extensive career in theatre, where she spent over twenty years as a performer playing many leading roles in London's West End and internationally. As a creative, she has assisted some of the world's finest directors and choreographers on numerous projects. LDR Creative was launched in 2016 with the aim to make an impact; building creative teams that inspire, to deliver a product that makes a difference. Awarded over ten major film festival awards in its first five years of production, LDR Creative has enjoyed its role in creating excellence in film entertainment and looks forward to creating, collaborating and producing the current and future generation's vision in film.
Tom Wilton – Writer & Producer
Tom Wilton is a self-taught filmmaker with over 20 years experience on dozens of projects. Wilton started out in the world of no-budget cinema, often shooting movies with a crew of less than five people and filling any number of roles. More recently, Wilton settled into the roles of writer, producer, and director, though he occasionally still freelances as a cinematographer.
Maria McIndoo – Director
McIndoo started out studying Film Studies at the University of St. Andrews. After graduating, she went on to write and direct her first feature at 22. Following that, McIndoo began working in the New York television world while continued to write, direct and produce her own work alongside Tom Wilton on many no-budget projects. More recently, she is in development on several TV shows in the UK and US, including working with Jo Hartley (After Life) and Lee Ellenberg (The Tonight Show Starring Jimmy Fallon). She is currently in post-production on her short film, Lulu, and is writing on Fox's upcoming show Monarch.